Connecticut Farms with Homemade Ice Cream and Fun Activities for Kids and Families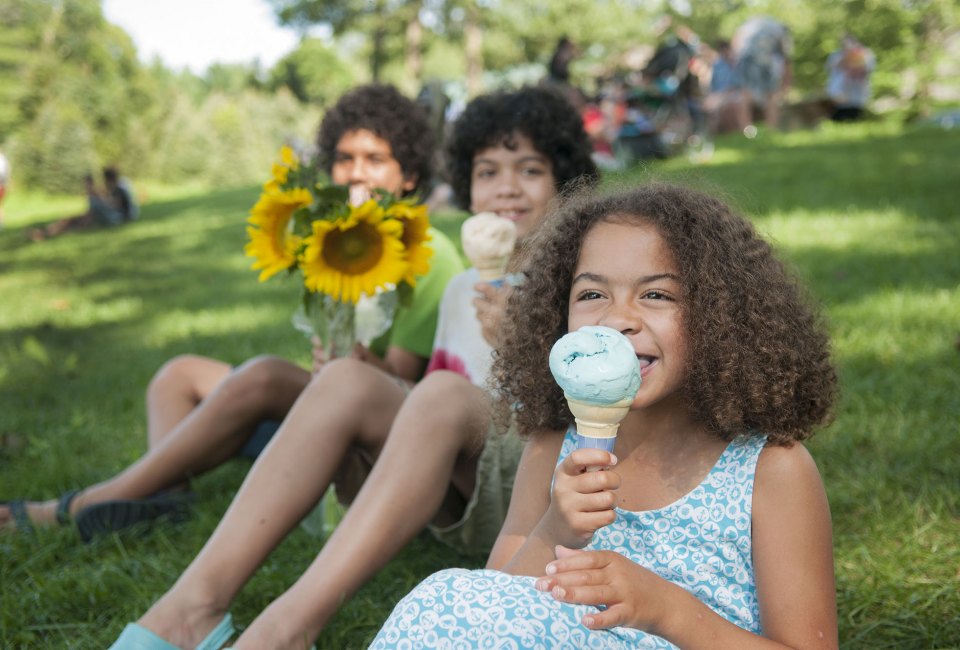 7/14/19
- By
Jennifer Coe
After a long, hot day at a Connecticut beach, pool, or summer camp, there's no better treat than creamy, cold ice cream. And best yet is homemade ice cream served at one of Connecticut's local farms. While some farms are best for picking berries, peaches, and other summer produce, others are even more famous for their delectable dairy products. Check out these family-friendly farms that offer delicious ice cream as well as rolling green hills, fields, and even animals to check out before or after your treat.
Farms with Ice Cream in Fairfield County
Ferris Acres flavors include Campfire, Elvis's Dream and Bada Bing. Photo courtesy of Ferris Acres Creamery
Ferris Acres Creamery - Newtown
Voted one of Thrillist's 31 best ice cream shops in America, Ferris Acres is open 7 days a week till 9:30 for even a late-night run to get a treat. This dairy farm is run by generations of Ferris' and has been making ice cream since 1996. You can choose from dozens of flavors including: Bada Bing, Radical Razz, Mint to Be, and Rum Raisin. They even offer three kinds of vegan ice cream!
Farms with Ice Cream in Hartford County
Bloom Hill Farm - Bloomfield
This place is a great stop on any warm evening. It's beautiful with tons of fresh and blooming (get it?) flowers but it also has a bunch of cute as cute animals for your kids to be entertained by like peacocks, llamas, and guinea pigs. Service is really nice and friendly and you can choose from three different kinds of cones and some delicious flavors like mango, rum raising, peach, and lemon pie.
Robb's Farm - South Glastonbury
Robb's is a popular place to visit for a few reasons. The cute rabbits, cows, chickens, pigs and donkeys on the property are really adorable, but they also serve some delicious farm-made ice cream (made from Guida's milk). Dip your spoon into Black Raspberry, Chocolate Caramel Turtle, Coconut Chip or Birthday Surprise. Quarts and pints are available to take home.
Farms with Ice Cream in New Haven County
Rich Farm Ice Cream Shop - Oxford
Creamy, swirly, and don't forget "rich," the ice cream at Rich Farm tastes delicious. They offer cones or cups, waffle cones, ice cream cakes, Greek frozen yogurt, flavored ices, shakes, floats, and more. Choose from 25 flavors like Maple Walnut, Peaches and Cream, Toasted Almond, Cake Batter. You can also check out their second location in Brookfield.
Farms with Ice Cream in East Connecticut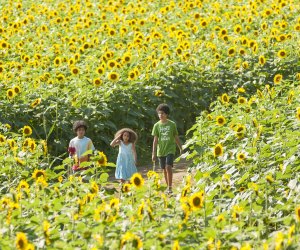 Buttonwood Farm has 14 acres of sunflowers! Photo courtesy of Visit CT
Buttonwood Farm - Griswold
Two words sum up this fun place: sunflowers and ice cream. Open till 9 every night Buttonwood has over 50 flavors, so they are bound to have something all your kids will love. They also make their waffle cones fresh, on-site. Kids will love seeing the herd of cows playing nearby and be amazed by the fields of blooming sunflowers. Many pictures will be taken.
Farms with Ice Cream in Tolland County
UCONN Dairy Bar - Mansfield
If you live in Connecticut, you must go to the UCONN Dairy Barns at least once. You will learn all about the Animal Science program, see real animals, and watch the milking process (they have robotic milkers!). Afterwards, you and the kids head over to the UCONN Dairy Bar to take in the treats that are made right there on campus. You can observe the ice cream making process and try ice cream flavors like Banana Chocolate Chip, Oreo, Coconut, and Strawberries and Cream. You can also buy gallons and half-gallons to take home.
Sign up for the Mommy Poppins Newsletter today!
i