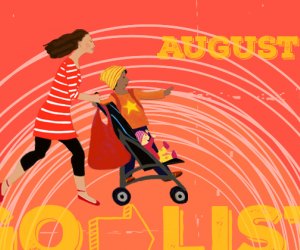 August GoList: The Best Things To Do With Connecticut Kids This Month
With school looming, we all know that August is the time to pull out all the stops for summertime fun. We've curated a list of more than 30 of our favorite things to do with kids and families in Connecticut this month. Pick among fairs, festivals, carnivals, and even a sunflower maze to keep kids busy and entertained all August long.
Easton Fireman's Carnival—Easton
July 30 to August 3, 2019
Have some fun on the last day of this Annual Carnival. Bumper Cars, The Cliff Hanger, and Rip Cord are a few of the favorite rides.
Orange Volunteer Firemen's Carnival—Orange
August 1 to August 4, 2019
Rides, fireworks, free prizes for children, carnival treats, and delicious food - including lobster rolls - are sure to delight carnival-goers of all ages.
Kent's Annual Sidewalk Festival—Kent
August 1 to August 4, 2019
In addition to the fabulous sales and specials at all of the local stores and merchants, there will be activities for all ages and interests. Live music, children's activities, and food.
Model Yacht Regatta—Mystic
August 2 to August 4, 2019
The International One Meter Class comes to Connecticut with racing over three days.
New Haven Free Friday Flicks—New Haven
Fridays in August 2019
Bring a picnic. All movies begin at Sunset.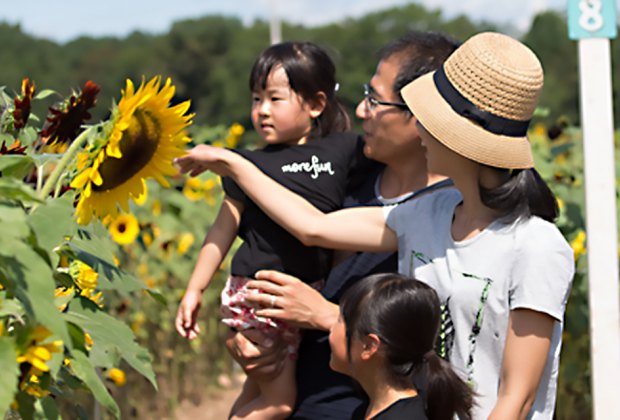 Lyman Orchards' Sunflower Maze includes some 350,000 blooms. Photo courtesy of the orchard
Lyman Orchards' Sunflower Maze—Middlefield
August 3 to August 25, 2019
Get lost in this towering maze of 350,000 sunflowers, This year's Sunflower Maze celebrates Sesame Street. $1 of each maze admission will go to the CT Children's Medical Center.
Hartford Taste of the Caribbean and Jerk Festival—Hartford
August 3, 2019
Enjoy a taste of the Caribbean and savor authentic cuisine while admiring spectacular costumes and dance, and island rhythms taking over the Mortensen Riverfront Plaza.
Annual Sharon on the Green Arts & Crafts Fair—Sharon
August 3, 2019
Over 100 artists and artisans from far and wide make this event a "must attend" show.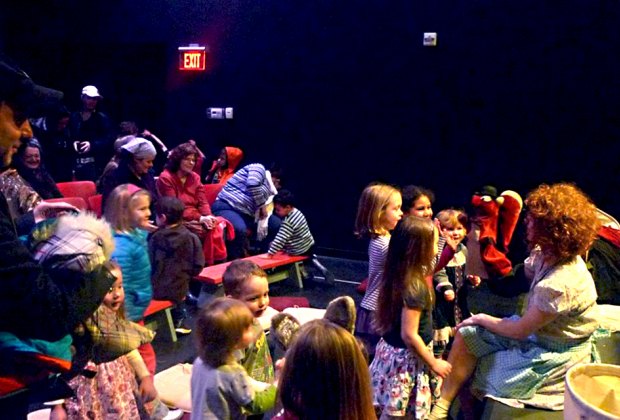 This year's Summertime Puppet Show includes Aesop's Fables. Photo courtesy of the Ballard Institute and Museum of Puppetry
Summertime Puppet Show—Storrs
August 3 to August 10, 2019
This year's productions include classics, such as Aesop's Fables, as well as new productions.
Haunted Lighthouse—Norwalk
August 3 to August 4, 2019 The historic Sheffield Lighthouse will provide thrills and chills for youngsters of all ages as they discover a hauntingly decorated lighthouse, along with fun-filled, child-friendly activities on the island.
Annual Stonington Village Fair—Stonington
August 3, 2019
The Stonington Village Fair is a regional time-honored tradition drawing thousands annually. The first Village Fair was held on August 14th, 1952 to commemorate the 1814 Battle of Stonington. Enjoy children's activities, a food tent, live music and much more. Free.
River Glow—Pawcatuck
August 3, 2019
Enjoy a magic evening strolling along the Pawcatuck River, which will be lit with bonfires. There will be hayrides, live music, and more. Free.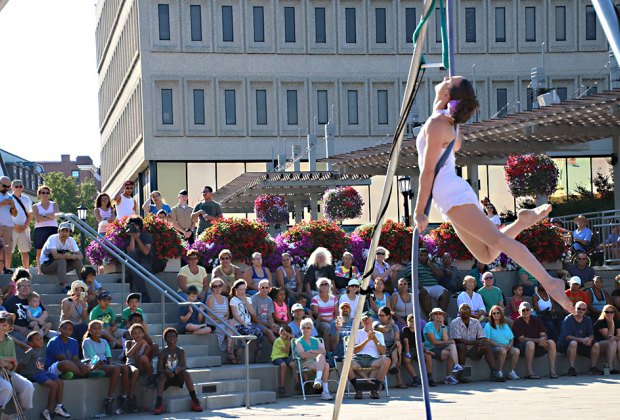 The Nimble Arts Circus presents open-air feats and tricks in New London. Photo courtesy of the circus
Nimble Arts Circus—New London
August 4, 2019
Parade Plaza in New London is home to this annual circus performance featuring trapeze, juggling, acrobatics, comedy and more.
Monday Night Jazz at Bushnell Park—Hartford
August 5 and August 12
Bring a blanket, chair and picnic dinner to Bushnell Park and listen to some amazing music brought to you by the Hartford Jazz Society. Free
Classic Cruise Nights at Ocean Beach—New London
Mondays in August 2019
Bring the whole family down to swing to the oldies while a parade of classic cars lines the boardwalk. Play a round of miniature golf for a special price of $2 and get more discounts on the boardwalk.
Holy Rosary's 51st Annual Italian Festival—Ansonia
August 8 to August 10, 2019
The best freshly prepared Italian gourmet foods and pastries, midway rides, cash raffle, rides, live entertainment and much more! All ages will enjoy this annual festival.
Podunk Bluegrass Festival—Hebron
August 8 to August 11, 2019
The annual bluegrass festival features local, regional and national bluegrass, bringing together the finest in bluegrass music each year.
Lebanon Country Fair—Lebanon
​August 9 to August 11, 2019
Monster truck and helicopter rides will be available at this major agricultural fair with livestock, crafts, carnival rides, continuous entertainment, children's games, and food vendors.
Water Ski Show—Litchfield
August 3 to August 4, 2019
Enjoy a water ski show over the weekend at Bantam Lake by the longest running water ski club in the US.
Mystic Outdoor Art Festival—Mystic
August 10 to August 11, 2019
Fine artists in oil painting, sculpture, watercolors, photography, and more will show their work, along with local crafters and artisans. Stop by the Mystic River Park for the Children's Art Park where the kids can make their own art. Don't miss the delicious food vendors too.
Wolcott Country Fair—Wolcott
August 16 to August 18, 2019
Live music all weekend. Attractions include live entertainment, carnival rides, contests, pig racing, a petting zoo, and more. Enjoy fireworks on Saturday night.
The Hamburg Fair—Lyme
August 16 to August 18, 2019
This old-fashioned country fair includes baking contests, pony rides, farm exhibits, animals, demonstrations, contests and games, midway, rides, and musical entertainment.
Bridgewater Annual Country Fair—Bridgewater
August 16 to August 18, 2019 ​
Filled with activities and entertainment, amazing food, rides, games, music, livestock, shopping, arts and crafts, contests and more.
Dinosaur State Park Day—Rocky Hill
August 17, 2019
Celebrate the discovery of the tracks in 1966 with music, games, crafts, and live animal presentations. All outdoor activities are free.The exhibit center will not charge admission during the celebration. Free
Woofstock on the Branford Green—Branford
August 10, 2019
Woofstock features a Woofwalk and a Hippie Dog fashion show, in addition to live music, a children's area, and vendors all day long.
Milford Oyster Festival—Milford
August 17, 2019
35,000 oysters and clams are brought to you by East Coast Shellfish Growers Association and the Annual Milford Oyster Festival. 19 varieties come from eight states on the East Coast. Enjoy great food and fabulous entertainment for adults and children alike. There will be arts & crafts vendors on the green, amusement rides, schooner cruises, and canoe and kayak races.
Riverfront Dragon Boat and Asian Festival—Hartford
August 17, 2019
Besides the Dragon Boat Races, this annual festival offers a variety of live Asian entertainment, abundant ethnic food, martial arts demonstrations, and authentic cultural programming.
Pizza With Penguins—Mystic
August 24, 2019
A pizza buffet and beverage bar highlight this special dinner. Guest appearance by the aquarium's penguins from 7pm to 8pm.
32nd Plainville Fire Company Hot Air Balloon Festival—Plainville
August 23 to August 25, 2019
Enjoy this visual spectacle of hot air balloons floating in the sky. Fireworks, craft fair, live music and a car show all weekend. As a fundraiser, the festival helps firefighters assist many town organizations, including student scholarships.
St. Leo Fair—Stamford
August 27 to August 1, 2019
Free admission to the church grounds gives visitors the opportunity to sample international foods, enjoy rides and carnival games, and try their luck in the Bingo Parlor.
See Ya, Summer!—Ridgefield
August 24, 2019
The annual summer sleepover at the Aldrich Museum features art and games, plus pizza and a light breakfast.