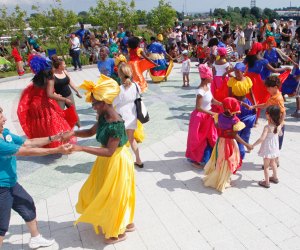 20+ Summer Festivals in Connecticut You Don't Want to Miss
Summer may be short here in Connecticut, but it sure is jammin' with festivals all season long. Maybe you've already finished up with the strawberry festivals, and the fall festivals haven't quite arrived. Well, have you ever taken the kids, to a Jerk Festival? Or an Oyster Festival? Or perhaps a Riverfront Asian Festival? There are many family-friendly festivals happening across Connecticut this summer, from food festivals and music festivals to big carnival-style fairs. Grab a picnic basket and a blanket—and have some fun at one of these kid-friendly Connecticut events.
Be sure to check out our Connecticut Summer Fun Guide to help plan some more epic adventures while school's out.
Note: We've marked fairs that offer free entrance, but you'll of course pay extra for food, games, and rides.