Visiting Animals and Exploring Gardens at Westmoor Park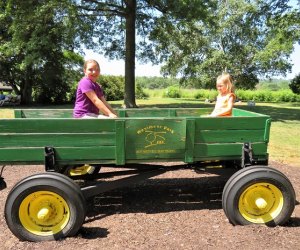 West Hartford is a bustling town that offers everything from great libraries and restaurants, to a children's museum, an ice skating rink, and playgrounds. You'll also find here a tranquil nature center that provides a brief escape from the daily responsibilities of a fast-paced life while enabling little ones to come up close to farm animals. Bonus: visiting Westmoor Park is one of the many free destinations your family can enjoy in the Hartford area.
Westmoor Park is home to many animals, small reptiles, and wildlife. Though feeding or petting are not allowed, children still enjoy coming face-to-face with the variety of furry, feathered, and scaled residents who call this environmental education center home. The farmyard (or roaming the open field) is where you will find horses, pigs, chickens, goats, donkeys, cows, llamas, sheep, bunnies, geese, and a couple of barn cats who are used to human visitors and seem to love the attention. Informational posters relate the animals' names and stories, and children enjoy getting to know them on a more personal level.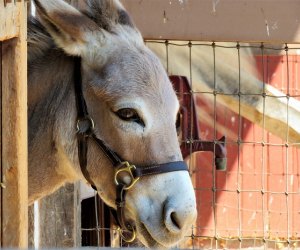 One of the favorite barnyard residents is Peaches, who came to the park in 2015 with her mom Olive.
Three-miles of trails (including a half-mile handicap accessible path), grassy meadows, swamps, and two ponds sustain a variety of life, such as turtles, beaver, ducks, muskrats, coyotes, raccoons, bobcats, and white tailed deer. Noises of nature include the sounds of a waterfall and birds chirping in the deciduous forests (autumn days are gorgeous here!), and offer the perfect silence for heart-to-heart conversations with children.

The flower gardens are not large, but they are carefully arranged and attract butterflies, dragonflies, and bees (especially the Butterfly and Hummingbird Garden), and provide visitors with the opportunity to engage theirs senses and ponder the natural world. Bring a few books and a box of crayons, and this can be the perfect spot for story time or a plein-air art project. You can learn more about flowers by walking through the nearby greenhouse where various kinds of blooming plants are cared for; the orchids are especially beautiful!.
If your children are interested in seeing reptiles, do not overlook the indoor discovery zone that also includes a small play area (a couple of puzzles and books). Residing here are two leopard geckos, a few species of turtles, several species of snakes, the entertaining blue-tongued skink, and a feisty Sun Conure parrot named Penny.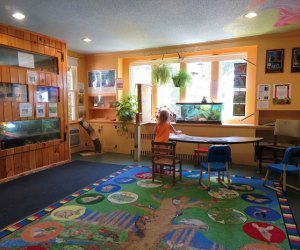 The indoor discovery center is small but colorful, and little ones especially enjoy spending time here.
The park offers many great programs and summer camp activities for children ages 3 and up to late teens, but be aware that spots fill out very quickly. Family-friendly events throughout the year include a Farm Day in the spring, so keep an eye on the Mommy Poppins Calendar. In addition, children ages 9 and up can join the Westmoor 4-H Club; new membership is available only in the fall; call the park office in late August for details).
.

Westmoor Park offers many great camps and children's events.
No food is allowed in the park, but its close proximity to Bishops Corner means a variety of options await after you work up an appetite walking the trails. Bishops Corners offers many restaurant choices, such as Panera Bread, Koma Japanese Steakhouse, Moe's Southwest Grill, and Whole Foods. You could also venture to Blue Back Square for more possibilities, including The Toy Chest, a beloved and long-standing independent toy store.
Things to know before you go:
- To ensure the peace of the wildlife and domestic animals living here, dogs are not allowed. Neither are bikes or picnicking.
- The farm is open daily from 9 a.m. to 4 p.m., but the park and trails are accessible from 7 a.m. to dusk.
- There is plenty of free parking available.
- Restrooms are found in the park office building.
Photo Credit: All Photos Courtesy of the Author
Originally published 6/12/12.