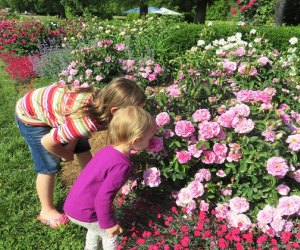 Free Things to Do This Summer with Kids in the Hartford Area
100 days of summer go by fast and parents spend most of their children's summer vacation looking for ways to keep them active, engaged, and entertained. We know you will likely spend time relaxing at the beach, discovering new playgrounds or best selling books, checking out the latest museum exhibits, or lounging by a pool in a backyard or at an amusement park. For all the other moments when children declare that there is nothing to do, here are a few ways to prove them wrong. And even better -- most of the summer activities and events are FREE! Enjoy the sunshine, time with your children, and the savings.
Admire masterpieces at no charge by going to the Wadsworth Atheneum (Wednesday through Sunday from 4 p.m. to 5 p.m. (except during Art After Dark events), and the second Saturday of each month) and The New Britain Museum of American Art (free on Saturdays from 10 a.m.- noon).
Just because school is out doesn't mean learning should stop. Take the kids on educational trips to the Museum of Connecticut History in Hartford, or go on free guided tours of the state capitol.
New Britain Youth Museum has fun weekly activities, a play area, puppet theater, animal visitors from Hungerford Park and much more.
Check your public libraries because many host daily activities like play groups, story times, cooking classes, and musical programs. Various local libraries like Plainville, Avon, Simsbury, and New Britain even offer free passes (with your library card) to area museums, including the Hill-stead Museum in Farmington, the Harriet Beecher Stowe Center and Mark Twain House in Hartford, and discounted admission to New England Air Museum in Windsor Locks. Or, just go spend the day reading and playing in the kids' areas.
Stop to smell the roses and have a picnic at Elizabeth Park in Hartford or visit Westmoor Park in West Hartford. Westmoor, home to many animals, reptiles and wildlife, is free and open to the public.
Many of the local parks like Elizabeth Park, Walnut Hill Park in New Britain, and Norton Park in Plainville offer a summer concert series. Monday night jazz in Bushnell Park is another free activity to enjoy. All you need is a blanket.
Enjoy a warm summer's day by spending some time outdoors exploring Tomasso Nature Park, the outdoor trails of Dinosaur State Park, Lock 12, a historical park in Cheshire, or Oak Grove Nature Center in Manchester.
Visit a local farm and enjoy the scenery. Many have barnyard friends that children can engage with. Before you leave, pick up fresh farm products or maybe even buy some homemade baked goods. Some to check out are Karabin Farms, Elm Knoll Farm, and George Hall Farm.
Visit the Copernican Observatory and Planetarium at Central Connecticut State University in New Britain. All the events are free and open to the public. Enjoy amazing shows while learning all about the stars and planets.
BlueBack Square in West Hartford has exciting free outdoor musical events planned for the summer.
If you need a day to escape from the heat, head indoors and check local stores. Barnes & Noble has story time; Michael's Crafts has "make and take" specials where you can make a craft to take home.
No need to break the bank this summer looking for fun things to do with the kids. If you have more tips, share them in the comments section.
Originally published June 2012.