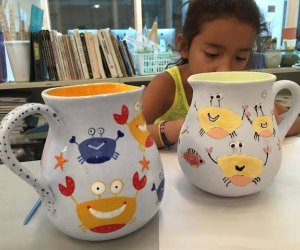 Paint Your Own Pottery Places for Connecticut Kids
How Paint Your Own Pottery with kids works:
pick out a piece of pottery
choose the colors you want to paint with
decide on a design if you wish (e.g., using stencils, stamps, sponges)
try not to freak out if your little one's "masterpiece" turns out to be kind of a mess
leave your painted piece to be glazed and fired. Fired pieces are usually ready to be picked up in less than a week.
The beauty of a paint your own pottery studio is that you can go whenever your artsy vibe hits, without reservations. My kids have enjoyed painting pottery as young as 2 years old but there is no expiration on this activity -- many of these places allow you to bring a bottle of wine and snacks for a fun moms' night out. Many also host birthday parties and offer various classes and workshops -- check their websites for the latest schedules and rates.
The Clay Date - New Haven
The address is New Haven, but The Clay Date is right off the Merritt and closer to Hamden then it is to Yale. This family-run establishment is full of light and fun with beautiful and quirky items to paint. Favorites are wall vases, picture frames, statues of popular characters, and gift boxes. An in-house cafe with ice cream makes The Clay Date even more fun and convenient. Prices range from $8 on up with most pieces around $15-25. Other art classes available for all ages.

photo courtesy of the Claypen
The Claypen - West Hartford
The Claypen offers a wide variety of pottery to choose from, from small, inexpensive pieces such as ornaments, figurines, and mugs to larger pieces like piggy banks, platters, and home decor. Studio fee is $4 per half hour per painter plus the price of the pottery (average is between $10 to $20). No appointment necessary. You may bring your own snacks and beverages.
Teri Anna's Ceramic Studio - Milford
Fun, quirky, helpful, nice. Great words that describe this little shop in Milford, perfect for the beginner and the hesitant. The Open Studio welcoming hours for kids are Monday through Wednesday and weekends, 12:30 p.m. to 5:30 p.m. Kid-free paint time is Monday and Wednesday evenings from 7 to 10 p.m.
Pottery Piazza - Plainville
At the Pottery Piazza you can similarly choose from hundreds of pottery pieces to create the perfect personalized piece. You may also bring snacks and beverages. During nice weather there is outdoor seating so that you can enjoy painting outside. Studio fee is $4 per half hour per painter, with a maximum paint fee of $10, plus the price of the pottery. No appointment necessary.
TeachArt2Me - Glastonbury
TeachArt2Me is an art studio that offers a wide variety of classes in a variety of mediums. They now, however, also have a new, paint your own pottery room that is open for drop-ins on Saturdays from 11 a.m. to 2 p.m. and by arrangement. Stencils and decals are available, as well as custom lettering for an additional fee. Studio fee is $12 for the first hour and $10 each additional hour.
Creative Clay Spot - Berlin
At the Creative Clay Spot ceramics studio, paint your own pottery is available during all business hours, no appointment necessary. However, space is limited so call ahead to reserve a table if you are planning to paint on Saturdays or if you have a party of 5 or more. There is a flat fee of $7 a day per painter, plus the cost of the pottery. This studio also offers many classes, including handbuilding methods for children ages 6-11 and adults, and wheel throwing for kids ages 8 and up and adults, and instructor-led themed painting workshops.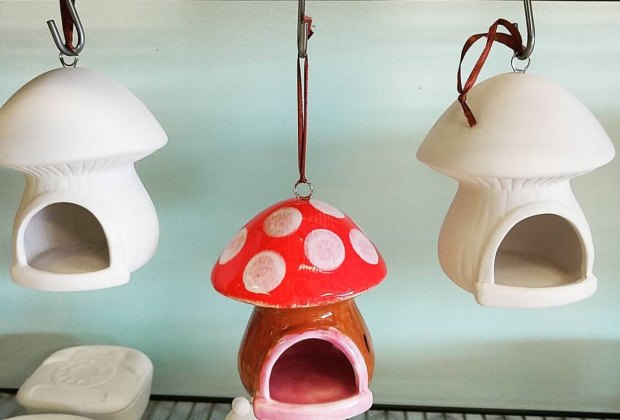 Bisque pottery (before) and pottery after painting and firing. photo courtesy of My Own Masterpiece Studio.
My Own Masterpiece - Rocky Hill
My Own Masterpiece Studio contains a wide variety of ceramics and tools to create a unique piece of art. At this studio you pay for the piece of the pottery itself (price includes colors, glazing, and firing). No appointment necessary.
Hands On Pottery - Fairfield & Darien
Walk-ins are always welcome at Hands on Pottery. An $8 fee gets you in the door to one of these two beautiful locations, then you pay for your selected piece as well. Ring holders, coffee mugs, baby plates, and more. If the kids fall in love, they can always give their summer camp a try as well.
--
Main image courtesy of Hands On Pottery