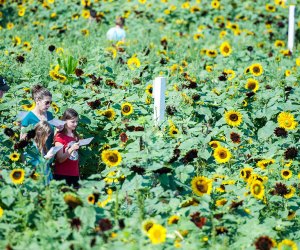 Sunflower Patches and Places to Cut Your Own Flowers in Connecticut
Forget grocery store posies—by mid-summer, Connecticut fields are bursting with sunflowers and other brightly colored flowers, and many farms allow you to cut your own bouquet to bring home. Kids will enjoy selecting the most beautiful blooms to carefully arrange in vases, press into books, or weave into hair crowns. Bonus fun: One of these sunflower farms has a flower maze, too!
For more PYO fun, see our list of Connecticut farms where kids can pick berries, summer fruit, and veggies right now.
Note that in 2020, face masks and social distancing are required in public in Connecticut when indoors or when 6 feet of social distancing cannot be maintained outdoors. Check out our kids face mask recommendations for cool picks on hot summer days.
Pick-Your-Own Flowers in the Hartford Area
Gutt Family Farm - Glastonbury
2020 Update: Picnics in the field are not allowed.
Gutt is a family farm with an assortment of flowers available for picking. Come and make an arrangement of sunflowers, zinnias, sunflowers, snapdragons, and Queen Anne's lace. You can also pick vegetables and fruits.
Peterson Farms - South Windsor
2020 Update: Face masks are required to enter the stand.
Come to Peterson Farms with your children and pick sunflowers. You can snip tons of yellow beauties to bring to your home. Also choose from flowers like zinnias, black-eyed Susans, Queen Anne's lace, and hollyhocks. Blooms are $5 per pound. All you have to do is pick, weigh, and pay!
Easy Pickins Orchard - Enfield
2020 Update: Face masks are required to enter the stand.
Easy Pickins' is a popular orchard with families. They run a regular CSA and offer your family the chance to cut your own flowers as well. Come and pick some zinnias, marigolds, sunflowers, and more.
Sweet Wind Farm - East Hartland ​
Find fruits and veggies and tons of flowers to pick! Your children will love the pink, purple, white, yellow, and orange flowers to choose from. And yes, they have a ton of sunflowers in bloom during the month of August. Sweet Wind Farm is famous for Connecticut maple products, too, so make sure to grab some syrup on the way out!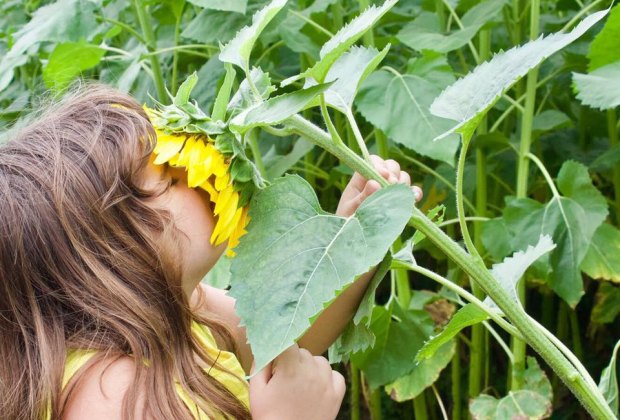 Stop and smell the sunflowers! Photo by Ally Noel
Pick-Your-Own Flowers in the Litchfield Area
Freund's Farm Market - East Caanan
2020 Update: Face masks are required to enter the market.
Freund's offers cut-your-own flowers every day from 10am to 6pm. Don't miss their tasty baked treats, including cookies, donuts, cupcakes and biscuits; there are farm-fresh tomatoes, squash, and apples, too.
Pick-Your-Own Flowers in the Windham Area
Raspberry Knoll Farm - Windham
2020 Update: Face masks must be worn at all times.
Come to Raspberry Knoll Farm and wander through their flower field where you can pick blooms by the pound. Raspberry Knoll grows both perennials and annuals. They even grow red sunflowers and lavender.
Lapsley Orchard - Pomfret Center
2020 Update: Face masks must be worn in the stand. Social distancing in the field is required.
Lapsley Orchard has lots of flowers for you to cut through late September. They plant 3,000 flowers a year. Don't miss their annual Sunflower For Kids event held in early September.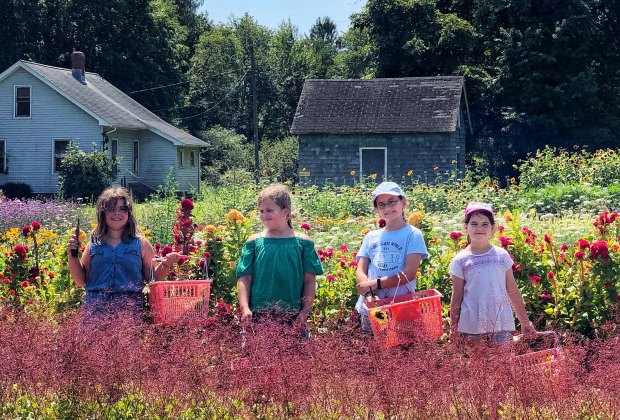 Scott's Farms has a variety of flowers to fill your basket with. Photo by Ally Noel
Pick-Your-Own Flowers in the Middlefield Area
Lyman Orchards - Middlefield ​
2020 Update: Lyman Orchards sunflower maze is open daily from July 25 to August 30. This year's theme is Back in Space, based on the U.S. space program.
Open through the month of August, Lyman Orchards (which is also a huge pick-your-own produce location) has a massive maze carved out of tall sunflowers. Your children will love wandering through 2.5 acres of blooming fun! The maze's theme changes yearly. Go to their website for more information about admissions costs and discounts.
Scott's Farms - Essex
2020 Update: Masks will be required while you are in the stand as well as anytime you can not maintain a 6-foot distance from those around you.
So many flowers to pick from, and sunflowers too. Purchase a bouquet of sunflowers for a low price. This is a long time family farm where you can pick nectarines, blueberries, raspberries, and peaches.
Pick-Your-Own Flowers in the New London Area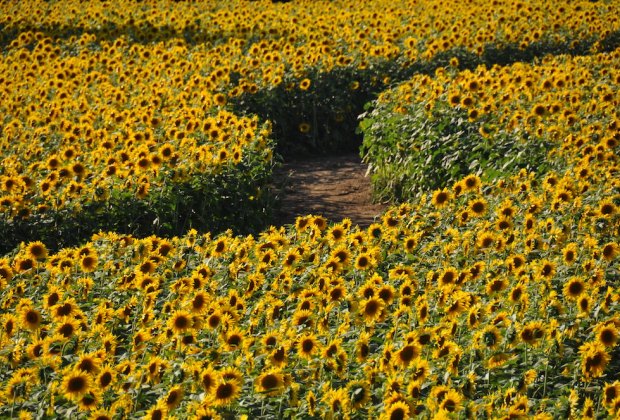 Kids can walk among the sunflowers in Buttonwood's glorious main field, or pick their own blooms in an adjacent field. Photo by Eric/CC by 2.0
Buttonwood Farm - Griswold
2020 Update: Planned dates for sunflower strolls and flower picking are July 25 to August 2 (at press time). There will be no hayrides or cow train rides available this year. The walking field closest to the ice cream building will be open during the event with no admission fee. The walking paths are one-way only and are marked with signs. Visitors can cut their own flowers in the field opposite the walking field.
Probably the most famous and popular place in the state for sunflowers is Buttonwood Farm. The Farm plants acres of sunflowers on an annual basis as part of a charity event, then leaves them up for visitors to enjoy. New for 2020, visitors can pay $2 to cut own sunflowers in an adjacent field. It also serves some yummy homemade ice cream on site to enjoy with the kids. Check the farm's sunflower status on Instagram closer to the end of July for details.
Originally published 2018