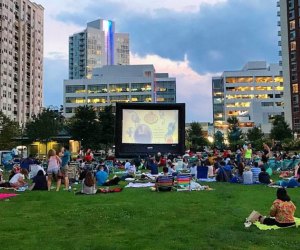 Free Outdoor Summer Movies for Kids and Families in Connecticut
Summer nights are long and lazy, and bedtime can get a little fuzzy. An outdoor movie together makes a great excuse for stretching the rules on a balmy summer night—especially when the movie is free.
Know what else is free this summer in Connecticut? 90 CT museums with summer admission for kids! We have loads of other ideas for making the most of school break in our summer fun guide, but a big-screen flick under the stars is tough to beat. So pop the corn, grab a couple blankets, and head to one of these fun family movie series this summer.