A Visit to the New Britain Museum of American Art
Something happens when you bring a child into a fine art museum. Their talking hushes and their eyes sparkle as they take in the colors and creations of the things all around them. Right here in the Hartford area, we have a terrific museum of American art that offers a variety of things for kids. Familiar names like Alexander Calder, Andrew Wyeth, and Ansel Adams grace the walls of this urban museum.
Recently I took all three of my boys there for a visit. We were greeted by the well known, real-looking, but not-real security guard statue ("Syl") that many visitors have grown fond of. Beyond him, of course, there is a ton of fine art to check out, but most everyone snaps a picture next to Syl for posterity.
The Museum seems to be growing more and more comfortable with children entering their walls. They have found the recipe to success by inviting kids in for specific events. On the day we attended, which was Homeschool Day, the family program director was leading the multi-aged class around discussing how the museum goes about arranging an exhibit and choosing what pieces of artwork get hung.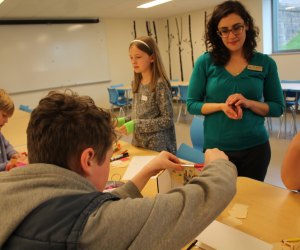 Kids can participate in several different types of art programs utilizing the museum's art studio.
The museum offers a ton of children's programs, which many families are devoted to. Classes such as Youth Studio that include classes for toddlers (Museum and Me) all the way up to teens (Youth Drawing 101) are very popular. Another very popular program is Studio@4 where kids 8-10 come in every Thursday to be taught by a different visiting artist.
Most littles will need some encouragement and reminding of the rules about no touching or running. But, don't worry. When they participate in the hands-on programming, they can get dirty and touch all the art resources.
Speaking of art resources, our group was taken downstairs to work in one of the three art studios Their facilities are very conducive to artistic expression and creation with a lot of room to work in a beautiful light filled space. Much of their art materials and media seems to be almost new, if not new. Sharpened pencils, organized scissors (by color, thank you), plenty of colored paper and a couple of things I have never seen before. Have you heard of paint sticks? I hadn't!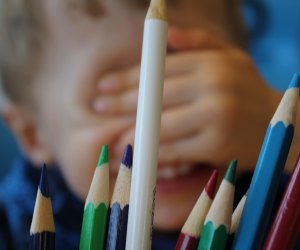 The art programs offer kids a new way to look at the world.
"All of our education programs strive to not only explore the visual arts, but to use the museum as a unique resource to explore history through primary sources that connect to other disciplines and to explore our contemporary world by looks through the eyes of artists," Kate Swanson, the Coordinator of Family Programs shared with me. In more simple terms, the museum is helping kids see the world in a whole new way. When kids are exposed to art like the work on exhibit in NBMAA, their own ability to express themselves through art is widened and expanded.
This trip to the museum was best for my older kids. It was a little harder to keep my toddler happy and interested and not touching things. But, I imagine the toddler-oriented classes would be just the thing for him.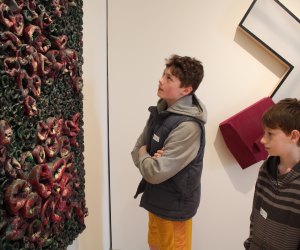 Exhibits rotate annually and there is always something that will stimulate their imaginations.
Parking is on site and the fees for classes are very reasonable. There are a ton of other things to do within a 10 minute drive in New Britain as as well. Check out the New Britain Youth Museum, the amazing toys at Amato's Toy and Hobby, and of course stop by Avery's Beverages for a tasty soda!
Photos courtesy of the author.