Fun Boat Rides for Connecticut Kids and Families
7/21/19
- By
Makayla O'Keefe
As close to a shoreline as most Connecticut families are, a fun boat ride with kids can make for a perfect day trip. Whether you're looking for a scenic ferry cruise, an interactive sailboat adventure, or an educational marine experience, there's a boat ride to suit every kid who's looking to get out on the river or sea this summer.
We have rounded up some of the best tours and interactive sailing adventures across the state. For more fun on the water, be sure to check out our Connecticut Beaches and Water Fun Guide and the best places for canoeing and kayaking with kids in Connecticut.
River Cruises for Connecticut Kids and Families
Connecticut River Expeditions - Haddam
On this short family cruise, children will use binoculars to learn about the birds seen along the cruise, and they will learn about nautical terms, the ecology of the river, and other points of interest, like Gillette Castle. Kids will love traveling under the East Haddam Swing Bridge and hear the cars overhead. This cruise hopes to introduce children to the beauty of the Connecticut River. After, be sure to check out the Goodspeed Station General Store located directly across the street from the entrance to Eagle Landing State Park.
Connecticut River Museum - Essex
Climb aboard Onrust at the Connecticut River Museum for a 1.5 hour cruise on a replica of the vessel built by Adriaen Block and his crew in 1614. Cruises will be offered on Thursdays through Mondays at 1:30, 3:30, and 6pm. Other times, Onrust is available for exploration by Museum visitors at the museum's docks in Essex.
Mystic River Cruises - Mystic
Mystic River Cruises are an intimate ride. Capacity is six people, which allows for a quiet, personalized experience. It also means that if you want to go, you need to plan ahead. You can book a breakfast or lunch cruise, or a sunset cruise.
Ferry Cruises for Connecticut Kids and Families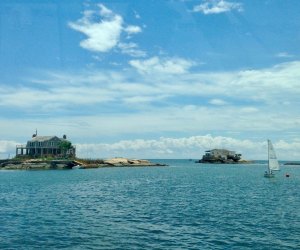 Sail past the Thimble Islands with Captain Bob. Image courtesy of the Volsunga IV

Thimble Islands Cruise - Branford
Captain Bob captains the Volsunga IV, ferrying families around Long Island Sound past the Thimble Islands off the coast of Branford. Some of the islands are occupied, others aren't, and you can be sure Captain Bob will tell you which is which. This 45-minute tour is worth every penny, and Bob is the ultimate guide to these fascinating islands. Note: Payment is cash or check only.
Grass Island Cruises - Guilford
In the same general neck of the woods as Thimble Islands, Grass Island Cruises offers scenic boat tours of the shoreline between Guilford and Madison. Captain Bill, who heads up the cruise business, has been boating the waters since 1955 so it's safe to say you're in good hands on board. Boat tours are an hour long and depart from the Guilford Lobster Pound Dock. For more information about tickets and schedule, visit their website or give them a call.
Port Jeff Ferry - Bridgeport
Experience Long Island Sound on a 75-minute ride from Bridgeport to Port Jefferson, Long Island. Once docked in Port Jeff, check out Lainie's Way, an adorable toy store chock full of educational toys, puzzles, windspinners and kites. After, head to Harbor Front Park for a small play area complete with a water sprayer and playscape.
Cross Sound Ferry - New London
Fishers Island is actually part of New York and you can hop on the Cross Sound Ferry from New London to Fishers Island. The ferry carries both auto and pedestrian traffic and the island is large enough that you may want to bring your car even if you're only making a day trip. The island boasts a few shops, restaurants, and the Henry L. Ferguson Museum, which hosts nature walks every Thursday through the summer. Check out Chocomount and Isabella Beaches for two lovely, crown-free spots worth exploring.
Sailboat Rides for Connecticut Kids and Families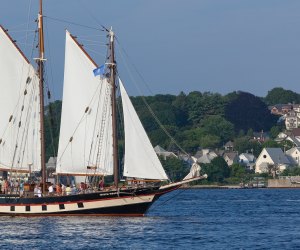 Kids can help raise the sails and sing sea chanteys on the Mystic Whaler. Photo courtesy of Denton Hoyer from the Mystic Whaler
Mystic Whalter Cruises- New London
Sail off from City Pier for a 3-hour sailing adventure on the Mystic Whaler, a reproduction of a late 19th-century coastal cargo schooner. Sail into the beautiful Fishers Island Sound, help raise sail to a sea chantey, and enjoy the thrill of having a wooden ship's wheel under hand. Children ages 5 and up can hop aboard the whaler from the Water Street dock on weekends through the summer.
Sound Waters - Stamford
Set sail on Sound Waters' 80 foot Schooner where you'll get a chance to raise the sails, examine the rich diversity of Long Island Sound sea life just beneath the waves, sample and test water quality, learn about hypoxia, and analyze groundwater. All passengers must be 5 years old. Total cruise time is 2.5 hours and cruises are held weekdays at 1pm and on weekends at 10am and 2pm.
Schooner, Inc. - New Haven
As part of the New Haven Land Trust, Schooner, Inc. brings kids to the coastline to explore, learn, grow, and get their feet wet out on the water in its summer programs. Search for Long Island Sound marine life along the Long Wharf Nature Preserve or learn how to sail and skipper a small sailboat at Schooner Camp. Offering both a land based Shore Program and a Sailing Program, Schooner's campers will dive into science based learning through adventure, exploration, crafts, songs, and games.
Educational Cruises for Connecticut Kids and Families
Maritime Aquarium- Norwalk
The Maritime Aquarium has been offering Marine Life Encounter Cruises for over 30 years. Hop aboard the Aquarium's research vessel "R/V Spirit Of the Sound" for a firsthand encounter with the biodiversity of the Long island Sound. Cruises are offered year round, and feature a plankton tow, trawl net, and biodredge that generally bring up a variety of fish, crabs, mollusks and more right before your eyes.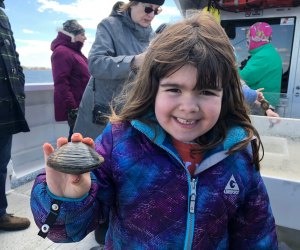 Kids can handle shellfish on a Marine Life Cruise from the Maritime Aquarium. Photo courtesy of Ally Noel
Project Oceanology - Groton
Be a Marine Scientist aboard Project Oceanology's floating classroom. Immerse your family in all of the elements of marine biology as you cruise and conduct oceanographic studies. The Research Vessel Enviro-Lab will bring you out on Long Island Sound for a unique experience. The Oceanographic Cruises are available June through September for children 6 years and older and adults.
Additional reporting and photography by Ally Noel