Canoeing and Kayaking with Kids in Connecticut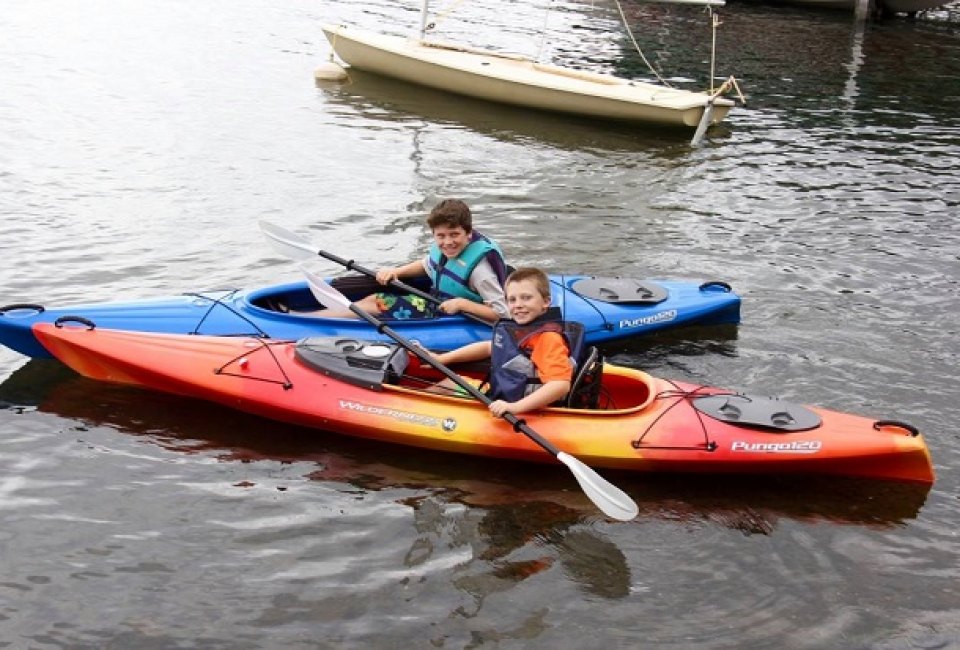 7/27/16
- By
Clementina Verge
One of the best places to beat the summer heat is on the water and it just happens that Connecticut lakes and rivers also offer some spectacular autumn views. What's a great way to enjoy both seasons? Gather the family, pack a lunch, and go canoeing or kayaking. Below are a few suggestions for destinations to explore throughout the state. For other "aqualicious" activities, check out the Connecticut Beaches and Water Fun Guide.
The following places provide canoe and kayak rentals:

​Collinsville Canoe and Kayak – Collinsville
The Farmington River is the backyard of this business that has been family-owned since 1990. Rent a kayak or canoe for an hour (or a day), or enjoy a moonlight paddle. Programs geared towards children ages 7-15 are offered from June through August.
Main Stream Canoes and Kayaks - New Hartford
Enjoy flat water trips through the Farmington Valley, indulge in views of Talcott Mountain, and take a break at the Pinchot Sycamore in Simsbury. Rent a canoe or kayak for a day, a week, or even two weeks. Depending on your abilities and wishes, you can choose trips ranging from 4 to 15 miles.
Lake Destinations - Torrington, New Preston, and New Fairfield
Canoe and kayak rentals are available at Burr Pond State Park in Torrington, Lake Waramaug State Park in New Preston, and Squantz Pond in New Fairfield. Boats may be rented "first come-first served" from Memorial Day through Labor Day. No reservations are necessary and rentals are available by the hour or by the day.

Scoot & Paddle - Milford
Milford is the Connecticut town that offers the most coastline, so grab a kayak and explore unspoiled marsh lands. A satellite location is found on Walnut Beach, so pack some snacks and head out for a day of exploration and bird watching; many endangered nesting birds call this area home.
Branford River Paddlesports - Branford
This location offers kayaking lessons for children and adults, guided tours of the Thimble Islands, and even kayaking and stand-up paddleboard summer camps. Enjoy sunset paddles, a friends' night out, or take a family fishing tour (bait and kids' poles are provided).
Black Hall Outfitters - Old Lyme
Located directly on the Great Island Estuary and the Connecticut River, this destination is sure to provide opportunities for fun and adventure on water. Pack a picnic and explore Griswold Point, watch osprey go diving for fish, or explore tidal pools.
Westport Paddle Club - Westport
Located on the Saugatuck River, the Westport Paddle Club provides direct access to the river. Paddle under bridges explore, inlets, and more as you explore in your kayak or SUP.
If you already own a kayak or canoe:

If you already own a kayak or canoe, you probably already have favorite destinations (share them with us, please), but here are a few more places worth checking out.
Lake McDonough - Barkhamsted
Choose this scenic destination, tucked in a wooded area, for a relaxing day at East Beach. You may launch a kayak, canoe, or private boat for a small fee (cash only).
Mansfield Hollow Lake - Mansfield
If you're seeking a serene destination, venture to the eastern part of the state where the pristine Mansfield Hollow Lake awaits. Explore its shoreline, islands, and deep coves, and enjoy the silence.
Mount Tom State Park - Litchfield
Begin with a hike to the stone lookout tower, then relax (or fish) on the peaceful lake. You can also enjoy swimming, or picnicking on the beach.
Mashamoquet Brook State Park - Pomfret
​Explore the lake, have a picnic, go hiking, or connect with nature and camp with the kids. Two campgrounds are available here: Mashamoquet Brook Campground offers 20 wooded sites, while Wolf Den Campground offers 53 campsites open mid-April through Labor Day.
​​Tips for canoeing with kids:
Life vests - don't get in a canoe or kayak without one.
Water shoes are a good idea.
If you're taking the kids for the first time, it's wise to begin with a short trip to test how they handle being on the water. It's best to leave them wanting for more.
Avoid sunburn – sunscreen and hats are absolutely necessary. You'll also be glad if you packed sunglasses.
Snacks – even if you're on the water for a short time, pack some goodies – and especially fluids. Make the experience fun, and, of course, remind children about the importance of "taking out what they bring in" and protecting waterways and aquatic life by not littering.
If you plan on being on the water for a longer time, pick a spot where you can stop for lunch or some impromptu swimming.
Especially if you plan on being in the boat for a while, consider a comfy seat for your child. Drop in seats or a blanket can make them more comfortable.
Children may be intrigued by nature…or not. Consider bringing a few small distractions – my children love everything bubbles, but we've seen young canoers play with finger puppets, solving a Rubik's cube, and even coloring.
If you're not an experienced kayaker or canoer, floating on a lake is a better choice than venturing down a river.
Pack extra clothes (and keep them dry until they need to replace wet ones).
Have fun!