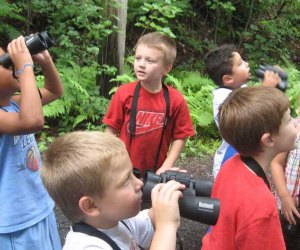 Birdwatching with Kids in Hartford County
Most children are fascinated by all creatures, whether they are furry, slimy, scaly, or prickly. With their colorful feathers, quirky personalities and ability to fly, birds are especially captivating. My young explorers love to grab their binoculars and pretend to be ornithologists. Of course, just venturing outside in a suburban backyard will lead to a bird sighting or two. But for a more exciting experience, try visiting one of Hartford County's many nature centers, which go the extra mile in welcoming and educating young bird enthusiasts.
Bird-watching is a great hobby for many reasons. Kids get the opportunity to engage in physical activity outdoors (usually for free!), sharpen their observation and listening skills, and increase their patience. It can also inspire other fun activities like making a bird feeder, collecting materials from nature and trying to replicate a nest, or creating art projects. So go ahead: follow the sounds of birdsong and visit one of the following places.
Dinosaur State Park, Rocky Hill
This is one of our favorite destinations for bird-watching. The trails are neither long nor strenuous, but the dense woods are home to more than 250 varieties of trees that attract many species of birds. Blue jays, cardinals, robins, catbirds, and warblers create a symphony here. We've seen hawks fly high above and geese hiding in the high grasses of the swamp. You can visit the woods at no cost; admission is charged only for the exhibit center: $2 per child (under 6 is free) and $6 per adult. By the way, a visit inside is definitely worth it not only for dinosaur education, but for the bird sounds hands-on activity in the Discovery Room.
400 West Street, Rocky Hill
Roaring Brook Nature Center, Canton
Werner's Woods is another great location for spotting birds (and wildflowers). Admission is $4 per child and $6 per adult, and you will get your money's worth. Indoor exhibits illustrate changes in Connecticut's landscape and provide glimpses into various ecosystem. Outside enclosures allow children close access to numerous raptors, including hawks, turkey vultures, and owls. The nature center hosts many events for children, so keep checking its website and our Event Calendar.
70 Gracey Road, Canton
Rocky Hill Meadows, Rocky Hill
Stretching along the Connecticut River, the meadows are home to bald eagles and a variety of shorebirds, including several species of sandpiper. Sightings of herons, yellowlegs, short-billed dowitchers, and American gold plover have also been reported here. The Great Meadows Conservation Trust hosts guided nature walks throughout the year, and some are geared toward naturalists as young as 4-years-old.
Harry C. Barnes Nature Center, Bristol
This community center is dedicated to helping visitors of all ages to appreciate the natural world. Scheduled for a grand reopening on May 16, after being closed for renovations, this is a great place to explore a network of trails. Early risers can join the Warbler Wednesday morning walk and discover a variety of birds returning from their southern wintering habitats. In addition, your family can participate in bird-banding presentations, guided nature walks, and lessons in identifying bird songs.
175 Shrub Road, Bristol
Connecticut Audubon Society, Glastonbury
Located near the Connecticut River, the center's focus is to promote awareness of the local ecosystem and the birds it supports. Plenty of bird-related activities happen here, including nature walks, guided hikes at Great Pond Preserve, science programs, and summer camp. You will also find a Discovery Room here, with hands-on exhibits, a diorama of Great Meadow, and small live animals. Sales from the onsite bird seed and nature store support the center's mission of preservation and education.
1361 Main Street, Glastonbury
Sessions Woods, Burlington
Serenity abounds in this 700-acre tract of natural land and the forest is alive with the sound of songbirds. Grab a guide book and see how many birds you can spot here. We located more than a dozen species (though many more live here) on one hike, including swallows, herons (in the beaver marsh), yellowthroats, tanagers, and kingbird. The Conservation Center, which opens for the season on May 23, regularly hosts child-friendly activities, such as "Backyard Birds for Kids" and other interactive programs that feature hawks and owls.
341 Milford Street (Route 69), Burlington
Hartford Audubon Society, West Hartford
The Audubon Society has sanctuaries in East Granby, Suffield, and South Windsor and hosts guided nature walks in state forests throughout the area. During a recent outing to Great Pond in Simsbury, a group of hikers was able to spot 44 species of birds, including hooded mergansers, pine siskins, juncos, and brown creepers. Wonder what these birds look like? Check the Audubon website for updates and activities.

Have fun and let us know what bird species your kids find most fascinating.