A Visit to Noah Webster House in West Hartford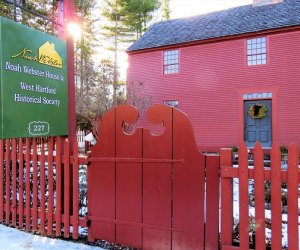 West Hartford is home to many child-friendly attractions, such as The New Children's Museum, Westmoor Park, and Veterans Memorial Skating Rink. In the bustle of outstanding libraries, beautiful parks, and delightful eateries, it is easy to overlook a very special destination: Noah Webster House, the childhood home of one of America's most influential personalities.
Born in 1758, Noah Webster was a man of many trades - a spelling reformer, a political writer, a textbook innovator, and an educator - and he did it all well. His vision and determination helped create a national identity and establish a standard of language, and his home is a great place for children to learn about these accomplishments.
My fourth grader loves history, so convincing her to tour any older home or site takes minimal effort. The toddler, on the other hand, is a different story and I hesitated a bit about exploring a home where most displays are off limits. But just a few minutes into the tour, my heart was eased by the incredibly friendly and engaging guide who made my youngest daughter part of every conversation. "Do you know where clothes come from?" he asked. "The store!" my little one proudly replied. The gentle correction came in the way of a stuffed sheep toy that sparked a great conversation about how clothes were made in the 18th century, and the responsibilities and chores carried out by each family member.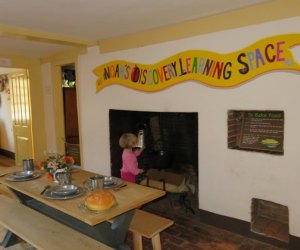 The original four-room house is beautifully preserved and includes many authentic items: furniture, housewares, and clothing from the era. Our visit lasted about an hour and a half. We skipped the orientation film playing in the classroom replica, but did spend quite a bit of time enjoying the hands-on activities in Noah's Discovery Learning Space, pretending to bake bread, cook vegetables, and gather the family around the table. Challenging themselves to carry a pretend bucket of water (a typical chore for children their age) was probably the highlight of my girls' visit.
We also enjoyed the interactive exhibits and learning about Noah's education (at Yale, Connecticut's first college), his friends (including Benjamin Franklin), and his persistence. It took him 27 years to compile the dictionary that was published only 16 years before his death (at age 86).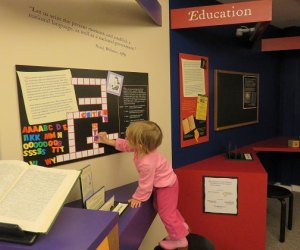 Our tour guide was knowledgeable and easily switched between accommodating my interest in Noah, and my daughters' questions about Colonial Life, especially childhood. It is this kind of educational outreach that makes Noah Webster House a great place for children. The attentive staff hosts wonderful events throughout the year, such as the popular Doll & Me Tea, Winter Wonderland Workshops, Gingerbread Day, and the upcoming Root Beer With Paul Revere.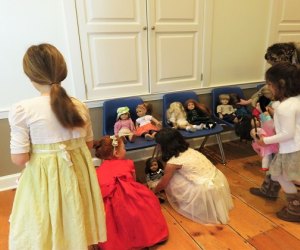 We enjoyed our visit here very much, and plan to return for future events. For a museum comparable to the Noah Webster House, check out the also child-friendly Stanley-Whitman House in Farmington. In fact, a basic $50 annual family membership at one will grant you access to both homes. Otherwise, cost is $8 per adult ($6 for AAA cardholders), and $5 for students ages 6-18; children 5 and younger enjoy free admission.
A tour of the Noah Webster House, closed Tuesdays and Wednesdays, is nicely supplemented by a stop at Noah's statue located in front of West Hartford Library on Main Street. While in the area, head to the library for a play session, stop at Barnes & Noble for a book or two, and check out the delectable offerings at The Cheesecake Factory. Before you know it, you will have spent a fun day in West Hartford.