Travel Back in Time at the Vintage Radio and Television Museum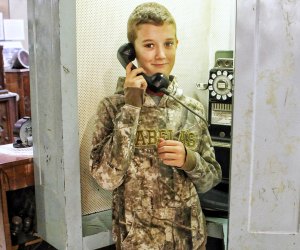 It's hard to believe a place like this even exists. The Vintage Radio and Television Museum in Windsor will transport you backwards in time all the way to the 1800's. At this jam-packed museum, you will find yourself reminiscing about the technology of your own youth as well as decades before. Your kids will be amazed by the televisions of the 1950's, the radios of the 1940's, and even the quirky ways we used to call each other on a phone...with a cord. For more fun family museum suggestions check out our Museum Guide.
You will feel like you are milling around in your grandfather's basement as you walk past hundreds of old radios and televisions. But unlike your grandpa's basement, you can actually touch a lot of the items on display. You will begin your tour in the 1800's by getting your hands on two working telegraphs. Kids will be fascinated by this primitive communication device and will be thrilled to see that, yes, we did actually utilize Morse code in everyday life.
Move up in time, and your kids will be able to see (their first?) typewriters, otherwise known as "old fashioned computers." Nearby are radios, stacked by the dozens, some of which are very small (transistor anyone?) to really large, furniture size ones that your own parents may have had in the 1970's and 80's.
The sheer quantity of items in this place will amaze you and it will further surprise you to know that this is the museum's sixth home. Some of their past locales included New Britain and East Hartford, but the Museum has settled nicely into Windsor and has been there since 2007.
You may (or may not) be surprised to know that one of the most popular exhibits when our family went to the museum was the group of Apple computers from the mid-1980's, complete with floppy disk drives. The preteen boys laughed at what we considered high-tech at the time, but that didn't deter them from playing "Mars Landing" with an old-fashioned joy stick.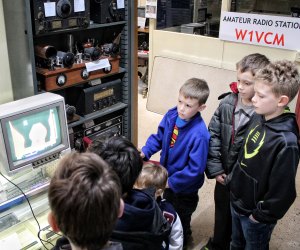 Other popular artifacts include the full-size telephone booth with telephone ("You stood in here?") and the radios, that when popped open, reveal their huge and colorful transistors. While there, you can even buy a transistor for a dollar or so.
The museum also houses: phonographs, record players, computers from the 1960's (huge!), and 8-track tape players (complete with 8-track tapes).
The museum is run by volunteers who love tinkering with old technology and they even run their own recording studio and HAM-radio training program.
For a complete map of all the exhibits and a blast from the past, check out their website: www.vrcmct.org.