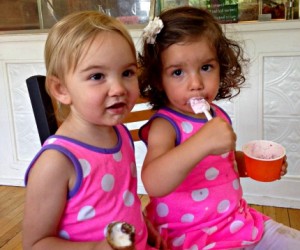 Ice Cream Parlors in Farmington Valley, Connecticut
Ice cream. Two words that instantly trigger giggles and screeches from most kids. This treat is delicious year-round, but definitely even better in summer. In my household, we take ice cream very seriously—in fact, we celebrate National Ice Cream Day in July (yes, there is such a thing!) by driving around in search of frozen delights to fill our bellies.
We find that Farmington Valley near Hartford, Connecticut boasts top-notch ice cream. Whether you get it in a cup or a chocolate-dipped cone, with rainbow sprinkles or gummy bears, atop a fluffy waffle or in a banana split, the ice cream in Farmington is sure to tickle your taste buds and cool you down. Below are some of our favorite local parlors. Want more? Check out our roundups of top scoop spots in New Haven County and Fairfield County.
Farmington Miniature Golf & Ice Cream Parlor
Step back in time in this vintage-inspired parlor where you will have a hard time choosing from more than 40 hard scoop flavors, including toasted almond, black raspberry, bubble gum, pistachio, and red velvet, oh my! Other splurges include ice cream floats, malted milkshakes, and sundaes. When we visit this area, our family's go-to flavors are peppermint stick and Kahlua chocolate chunk. Don't leave before enjoying a round of miniature golf. No matter who wins, everyone walks away victorious.
1048 Farmington Avenue (Route 4), Farmington, 860-677-0118
Tulmeadow Farm
The long line that forms outside the ice cream window on warm days tells you just how delicious this ice cream is. Choose from more than 50 flavors or go with the crowd-favorite: red raspberry with chocolate chips. Ice cream pies, ice cream sandwiches (think ice cream squished between chocolate chip cookies), and ice cream on-a-stick are available year-round in the Tulmeadow Farm Store. Nearby, the animal friends at Flamig Farm will add sweetness to your day.
255 Farms Village Road, Simsbury, 860-658-1430
Blue Fox
This is our favorite go-to spot for soft-serve ice cream. Experience the thrill of indecisiveness while selecting from nearly 30 varieties, but here are a couple of suggestions based on the tempting flavors my kids often return to: pistachio, Irish Cream, and bubble gum. Before you leave, play a round of miniature golf, try your hand at laser tag, or complete a bowling challenge.
1603 Hopmeadow Street, Simsbury, 860-658-4479
Ben & Jerry's
Frozen yogurt, sorbet, smoothies, and sundaes – this place has it all. Try Chocolate Therapy (a flavor appropriately named), Coconut Seven Layer Bar, or my kids' favorites – Phish food and Hazed & Confused. This mom's favorite? The Caramel Macchiato milkshake. Sit inside or admire the passersby from the patio tables, and afterward browse the Barnes and Noble shelves next door and pick out some beach reading.
110 Albany Turnpike (Shoppes at Farmington Valley), Canton, 860-693-3202

Canton Creamery
Home-made ice cream never tasted so good. Savor a variety of flavors, including the very yummy orange creamsicle, coffee mocha chip, and cookie dough M&M. Afterward, enjoy the new miniature golf course Matterhorn, located next door and scheduled to open this summer, or, if you're in the mood for a bike ride, the path along Farmington River awaits you a couple of miles away in Collinsville.
465 Albany Turnpike, Canton, 860-693-8760
J. Foster Ice Cream
The gelato and sorbetto here (and at the Simsbury location) are scrumptious and perfect for anyone seeking dairy-free options. If hard ice cream is preferred, prepare for a creamy experience that's big on flavor. The kid favorite? Cookie Monster. Mom's? Kahlua Heath. Regardless of your choice, you'll have a hard time deciding what's more delicious: the flavor you selected or the hand-made waffle cone it's packed in. Cool down in the parlor or relax on the outdoor patio. Not only will you savor a special treat, but also support a generous member of the community: J. Foster participates in Avon Public Library's summer reading program and awards young readers with free ice cream.
4 Bailey Road, Avon, 860-676-2663
894 Hopmeadow Road, Simsbury, 860-651-1499

Grass Roots Ice Cream
This parlor prides itself on "ice cream made from real food" and not using any artificial dyes and colorings. The key lime pie flavor is delicious, and the kids went gaga over the honey lavender and mint chocolate chip. Before or after you stop here, spend a couple of hours being silly at the Salmon Brook Park playground, located just a couple of minutes away.
4 Park Place (on the Town Green), Granby, 860-653-6303
Have other favorite ice cream places? Share the sweetness in the Comments section.