A Visit to the Lyman Allyn Art Museum in New London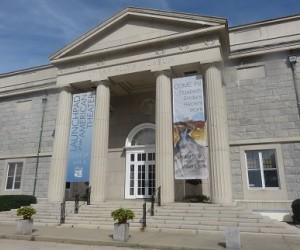 At least one Saturday morning a month, you'll find my family perusing art galleries and museums. We find the experience equally relaxing and energizing, and my daughters get excited about finding a new favorite artwork or inspiration for a new project. Recently, we took our first trip to the Lyman Allyn Art Museum and spent a lovely day in New London.
The Lyman Allyn collection is comprehensive, but not overwhelming since the museum is smaller than other institutions in the state, such as the Wadsworth Atheneum in Hartford and even the New Britain Museum of Modern Art. It offers many child-friendly activities, including homeschool workshops and Free First Saturday activities (make theater masks this weekend and reindeer gift bags next month). Seasonal events include the upcoming snowflake teas and gingerbread house workshop in December.
What's special here is the Victorian Hawthorne Doll House located on the lower level; crafted exclusively for the museum in 1962, each room draws admiration from visitors for its detailed miniature furnishings and decor. In upcoming months, the museum plans to expand this area, providing interactive, hands-on activities that will include toys, books, games, and dolls from various cultures and historical periods.
On the main level, a labyrinth of artworks awaits; somehow, in a sea of colors, shapes, and textures, each artwork stands out, emphasizing the power of individuality, creative risk taking, and expression. This lesson is not lost on children. "I love how in art you can't be wrong," my eldest daughter remarked before spotting the day's winner: Spanish Sisters.
On the upper level, you will find another kid-favorite: a portrait gallery with easels, mirrors, and other supplies where visitors can attempt their own images. Nearby, my children also oohh'd and aahh'd over an oversized ship replica and tried their hand at learning how to tie sailor knots. After about two hours, my little art scavengers left the museum happy, especially after the friendly front desk staff rewarded their completion of the I Spy challenge.
The Lyman Allyn Museum does not offer on-site dining, but you will find clean restrooms, plenty of convenient parking, a sculpture garden, and a couple of outdoor tables if you choose to picnic on museum grounds.
Admission is free for members and New London residents, $10 for adults, $5 for students, and free for children under 12. Some libraries also offer free passes, so check with yours and see if Lyman Allyn is on the list. The museum is located at 625 Williams Street in New London.
About six miles away in Waterford, Harkness Memorial State Park is also worthy of a visit if you have extra time to spend in the area. Even after beach season is over, the vast lawns are a perfect place to send a kite into the sky, enjoy a picnic, kick a ball, or play tag. You can also admire the Italianate architecture of Eolia Mansion (no interior access except for private functions) and search for seashells while enjoying uninterrupted views of Long Island Sound.