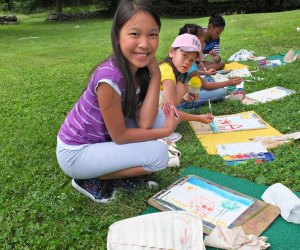 50 Free Things to do with Kids this Summer in Connecticut
Lack of fun-money doesn't have to keep families stuck inside and bored during the best season of the year: summer! Even if you are tight on funds, or saving them for a special project or destination, there are plenty of great places to go and things to do right here in Connecticut. Mommy Poppins has assembled a blockbuster list of free ideas for you and your family to have a fun while bonding and making memories during summer vacation.
1. Go on a Butterfly Hunt in Hartford on June 29. See if you can spot one of the 20 different kinds of butterflies in residence around Cedar Hill Cemetery.
2. Take a trip to the Yale Peabody Natural History Museum in New Haven. It's free for kids 3 and younger during regular hours, and "pay what you want" Thursdays in June from 2pm to 5pm
3. Experience nature at the Northwest Park and Nature Preserve in Windsor. Enjoy hiking trails, a nature center, a butterfly garden, an organic garden, and animals that live on site.
4. Check out the USS Nautilus Submarine Force Museum in Groton. Tour a submarine and learn about the amazing history behind the use of submarines in the military. This is the only submarine museum operated by the U.S. Navy. Admission, and parking is free, too.
5. See a free flick under the stars at one of these free summer outdoor movies at local parks across the state.
6. Take a hike up to Hublein Tower at Talcott Mountain in Simsbury. This is a family-friendly trek with beautiful scenery.
7. Go to one of Connecticut's awesome inclusive parks such as Jonathan's Dream (West Hartford), Hannah's Dream (New Haven), Our Children's Place (Newington), SThe Sky's the Limit Playground (Ridgefield), Twin Meadows Boundless Playground (Stamford), and Mikey's Place (Wethersfield).
RELATED: 12 Amazing Playgrounds Worth Driving to Across Connecticut
8. Check out a free, kid-friendly movie at Bow Tie Cinemas on a Tuesday or Wednesday (all summer long!)
9. Take a stroll through the beautiful rose gardens at Elizabeth Park in West Hartford, a great place for family photographs.
10. Get on out to a Farmer's Market. There are dozens of them all over Connecticut and these are particularly welcoming of kids.
11. See some of the most beautiful fine art in Connecticut at the Wadsworth Museum in Hartford. Free adult admission is offered Wednesday through Sunday, from 4pm to 5pm. In addition, kids ages 18 and under are always free.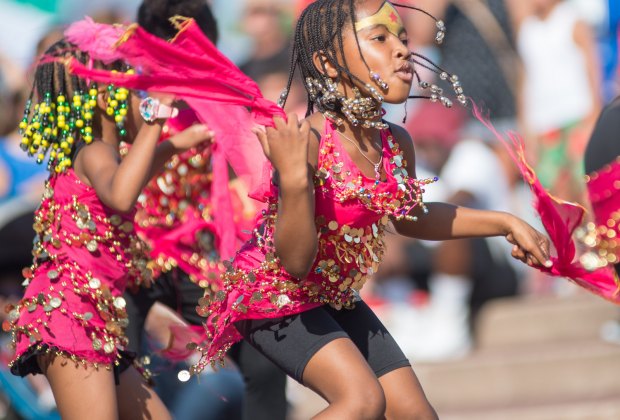 Enjoy Hartford's Taste of the Caribbean and Jerk Festival. Photo courtesy of the Festival
12. Make sure you check out Taste of the Caribbean and Jerk Festival on August 3 in Hartford. Go hungry, but even if you aren't, there's plenty to do for free such as listening to music, admiring costumes, and playing Caribbean games. Lots of children's activities.
13. Is your family a fan of the Huskies? Check out the Husky Museum and taste your local sports trivia knowledge.
14. Have someone in the family who loves helicopters? Take a spin over to the National Helicopter Museum in Stratford. Always free; see two helicopters up close and personal.
15. Is diversity and cultural acceptance important to your family? Then you probably want to check out the NICE Festival on July 6. Dancers, musicians, and vendors will strive to increase the acceptance of diverse cultures.
16. Open House Connecticut on June 8 is the day when attractions, museums, galleries, and other places either offer free admission or a discounted admission. Here is a complete list.
17.See the tall ships, fireworks, amusement rides, and 200 vendors at Sailfest (July 12-14). Enjoy free admission, though you may have to pay for parking.
18. On Father's Day weekend, check out the Dinosaur Place in Oakdale. Dads get into the Dinosaur Place free on June 16 when accompanied by another paying ticket holder. Dinosaur Place is a 60-acre outdoor park with hands-on activities and a museum.
19. Does Dad or Grandpa love trains? Check out the Connecticut Trolley Museum in East Windsor on June 16 (though any day is a good time—and free).
20. Learn about Nutmeg history at the Museum of Connecticut History. Visit the Colt Collection of firearms, the Mitchelson Coin Collection, and see portraits of all of Connecticut's governors.
21. Learn about the religious history behind the Knights of Columbus at the free KOC Museum in New Haven. This is a state-of-the-art facility with amazing exhibits.
22. Expose your family to fine art at the Yale Art Gallery. Admission is free. The permanent exhibitions include sculpture, Asian art, American paintings, photography, and ancient art.
23. Do your children love nature? Then make a trip to the Connecticut College Arboretum. The Arboretum is open daily from dawn to dusk and is free. Tours are offered May through October.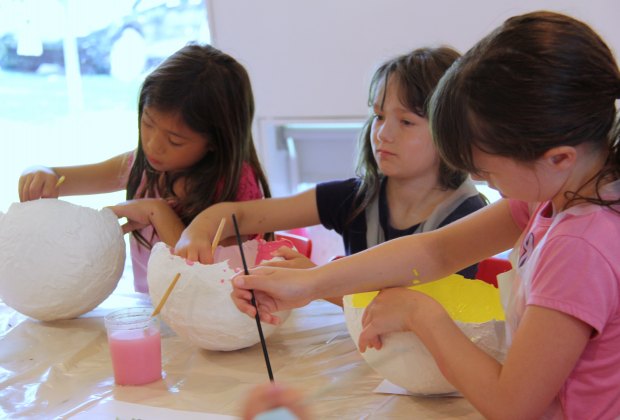 Kids are inspired by the art they see at the Aldrich. Photo courtesy of the Aldrich Museum
24. Where can you see 200 cows, 50 ewes, 85 horses, and 800 chickens? University of Connecticut in Storrs, of course. The animal barns are open daily to visitors.
25. With 40 miles of trails, ponds, and a nature trail, the White Memorial Conservation Center in Litchfield is a great place to be with the family.
26. If you are near South Windsor on June 15, head to the Strawberry Festival. There are lots of things for kids to do, like hay rides, face painting, live music, and balloon art.
27. Another don't-miss event is the Plainville Fire Company Hot Air Balloon Festival from August 23-25. Admission is free, but bring cash for vendors and food purchases.
28. Did you know that North Branford hosts a Potato and Corn Festival in August? In fact, this is its 18th year. Enjoy fun events like potato sack races, corn shucking contests, a tractor pull, live music, and a classic car show.
29. Check out the New Gate Prison in Granby. Free admission will be offered to the public on July 21 and August 18.
30. When the temperatures get really cooking, a great destination is a splash pad to cool off. Check out Mommy Poppins' lists of splash pads in Fairfield, New Haven, Eastern CT, and Hartford counties.
31. Visit animals who have been given a new lease on life at the Ray of Hope Animal Sanctuary. These donkeys and horses are loved and cared for at the sanctuary. Admission is free, but pony rides are $10.
32. Go fishing! Though you have to buy a fishing license, there are many free places to fish in Connecticut.
33. Head down to the Connecticut Family Festival held at Waterfront Park in New London. This free event has tons for kids to do, including storytelling and an appearance by children's authors, arts and crafts, music, free water taxi rides, and free sailing lessons.
34. Visit the Aldrich Contemporary Art Museum on the third Saturday of the month for free admission. Kids will be able to participate in family-friendly activities in The Studio.
See and learn about historical puppets at UConn.Photo courtesy of Ballard Institute & Museum of Puppetry
35. Do your kids enjoy puppets? UConn has a puppetry major and many students create their own. The Ballard Museum of Puppetry is open Tuesday through Sunday. There is a suggested donation for admission.
36. See history through the eyes of technology at the Vintage Radio and Communications Museum in Windsor.
37. This beloved event can be placed in the "practically free" category. The Little Folks Fair in Guilford on June 2 offers lots of activities to entertain little ones; admission is $2 for kids and $3 for their grownups; no charge for ages 2 and younger.
38. Choose a family-friendly bike path and explore beautiful settings throughout the state.
39. Charming Stonington hosts an annual fair with free admission on August 3. Enjoy the small-town feel and the ocean breeze.
40. Make a visit to one of Connecticut's National Historic Sites. Weir Farm is open dawn to dusk. Though it was once a rambling farm, now you can wander through the unused barns and absorb all the nature around you. Admission is free year round.
41. Experience some Hands-on-History at Windsor Historical Society on June 8. See costumed actors and actresses and ask them questions about their historical lives. See the refurbished Strong-Howard House and live, open-hearth cooking.
42. Head to Ansonia Nature Center. Along with a welcoming visitor's center with nature exhibits (including some animals), there are miles of trails and a beautiful playground.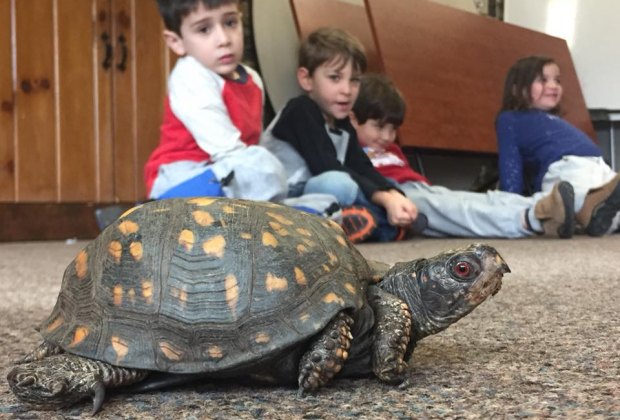 Animal interactions are always a hit with kids. Photo courtesy of Ansonia Nature Center
43. Participate in the Governor's Summer Reading Challenge. Called "A Universe of Stories," the reading challenge allows students to keep track of how many books they read and fill out a response page in their journal.
44. Enjoy a day trip and free admission to any Connecticut state park, beaches included.
45. Explore Hubbard Park in Meriden. Hike to Castle Craig, take a stroll around the lake, or let the children explore the large playground.
46. Do you and your family have a thing for shiny rocks? Check some out at the Antique Machinery Museum in Kent.
47. Head to the New Britain Museum of American Art where admission is free Saturday mornings. Take a family art class, play, peruse masterpieces, and admire the outdoor sculptures.
48. Put on your dancing shoes and head to the Hartford Latino Fest. Enjoy live entertainment, games, cultural food, and vendors. Admission is free, but any purchases will require cash.
49. Head to the Yankee Doodle Fair and enjoy delicious food, amusement rides, face painting, live music, and other fun activities. Admission is free, but the Yankee Doodle Food Court will likely tempt your tastebuds; bring cash.
50. Play indoors on a hot day. Enjoy admission to the Stepping Stones Museum in Norwalk on every first Thursday evening of the month.