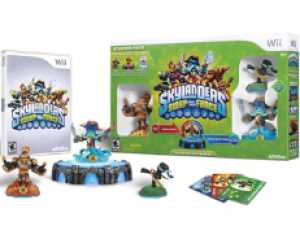 Best Tech Gifts For NYC Living, Plus Skylanders Giveaway
Whenever I need recommendations on what to buy, I turn to my friends at Cool Mom Picks. Liz Gumbinner and Kristen Chase, the founders of Cool Mom Picks and Cool Mom Tech, know their stuff; especially when it comes to the very best gear, toys and design for stylish kids and their grown-ups. So I'm super psyched that Liz has offered to give us her best tech holiday gift picks specifically for New Yorkers, because, you know, we have special needs.

Check out her great gift ideas that will make anybody's tiny-apartment-living, stinky-subway-commuting, trying-to-stick-to-a-budget please just a little bit better. And then read on because we've got a great giveaway from Target for a Skylanders Swap Force Starter Pack with an Exclusive Target Two-Pack.
Fear not procrastinators (like, uh, me): There's still time to get some terrific tech gifts online at target.com or to rush over to your local Target outpost. Here are a few fun gift ideas put together just for New York parents and the insane life we live.

Best audio system for a small apartment that you wish were bigger
Sonos Play:1
Whether you simply don't have the space for massive audio stacks or you just like the idea of a cool, compact wireless speaker system, the new Sonos Play:1 delivers amazing sound in a beautifully small package whether you're listening to Dan Zanes or David Bowie. It sets up in a snap, streams any audio service or playlist you've got, and you control it right from your PC or smartphone. Pair two and you've got stereo sound. I am in love with mine.

Best headphones for ignoring everyone else on the subway
Beats by Dr. Dre Solo HD On-Ear Headphones
When you're having a rare kid-free moment and you just want to enjoy your Candy Crush time in peace (or, uh, Dostoyevsky reading), these are colorful enough to make a clear statement.. And that statement is: Please don't try to sell me fruit chews from a carton.

Best way to take fewer taxis
Fitbit Flex Wireless Wristband
This wearable fitness tracker keeps track of, among other thing, calories burnt and steps walked. It's a nice way to recognize that your subway commute has more benefits than saving money, especially if you're making that Fulton Street transfer where you walk up and down roughly 17,000 stairs between trains.

Best way to look like you haven't lost your style
Belkin Orla Kiely iPhone 5 Case
I love this collection of cases (also for the iPhone 4/4S) from the popular designer, and they're a nice compromise if you can't afford one of her pricy handbags.

Best gaming system for NYC-sized living rooms
PlayStation®4
As much as I love the Xbox with Kinect, you need some distance between you and the sensor for it to work properly. If you have a TV room that's not very deep, the new PS4 is a better fit, and your kid will love you for life. You'll love it, too, considering it will become your home's new entertainment center; we use our PlayStation for Netflix and Hulu watching.

Best way to avoid a $120 movie outing with the kids
Frozen on Blu-ray/DVD
Preorder now, make your own popcorn. Done and done.
Liz Gumbinner is a Brooklyn mom of two, the publisher of Cool Mom Tech, and is partnering with Target to give parents tech tips and gift ideas this holiday season.

Find more great gift ideas in our Local Holiday Shopping Guide.