Best Gaming Summer Camps in NJ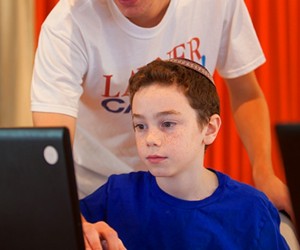 In today's digital world—which most kids know quite well!—more and more camps are catering to aspiring game designers and engineers. Not only are these camps informative, but they help prepare tweens and teens for real-world jobs at a young age—digital media is always booming, so why not send your tech-savvy kids to a camp that meets their interests? Below is a list of design camps in New Jersey for the gamer in your life.
International Ivy Summer Enrichment Programs offers many gaming courses for your budding designer. Campers can enroll in half-day or full-day sessions and game courses include Video Game Creation (recommended for ages 8-13), Computer Programming and Applications (Ages 8-14; includes comic book design), and Minecraft (a 3D construction video game; ages 8-14). Sessions are offered in Short Hills, Chatham, Caldwell, Far Hills, Somerset, New Milford.

iD Tech Camps are nationwide, and in New Jersey they're mostly offered at Princeton University. Under the title iD Tech Camps, programs are geared for ages 7 to 17, and iD Tech Academies Summer Sessions are for teenagers 13 to 18. The weeklong courses are 8 students per instructor and classes include 3D Game Design, Role Playing Game Design, Robotics Design, Game Design for iPad and iPhone and more. Classes are offered at Beginner and Advanced Levels and overnight options for out-of-towners include student housing on campus and meals in the Princeton University dining hall, starting with Sunday dinner to Friday lunch. (Additional game programs offered at Rider University and Montclair State.)

SummerTech's Main Office is in Hoboken, but camp sessions are held at Westchester's State University of New York at Purchase. Boys and Girls ages 8 to 16 learn about animation, film, coding and web design; which are beneficial technical skills for aspiring game designers. Campers can commute or stay overnight while attending class, and teachers are all former SummerTech campers!

Lavner Camps and Programs hosts full and half day programs for kids ages 6 to 13 interested in Video Game Design. The program is divided into three levels and classes are weekly. (Classes held in Cherry Hill, Princeton and Montclair.) No previous game design experience is needed for Level 1 sessions; campers create at least one Video Game and one App during each week of camp; Level 2 is for campers who have completed at least two full weeks of camp, and exhibit a strong understanding of basic principles in Multimedia Fusion 2; Level 3 is for campers who have completed at least four full weeks of camp, and/or have 100 programming hours in Multimedia Fusion 2. Mindcraft sessions are also available!

Game Design Camp for Teens, held at Ramapo College of New Jersey in Mahwah, is for high school students entering ninth to twelfth grades. Participants in the Game Design for Teens program learn game theory and use Adobe Flash and ActionScript 3.0 to conceive, design, and produce video games for the Web. This is a two-week course held July 7th to 18th held on the Ramapo Campus. Students may commute or live on campus.

Game Camp USA is a program specifically designed for gamers, especially those considering careers in interactive entertainment. Campers do more than play video games; they also learn to create them. Programs offered include Mechanics (one hour a day) and Programming (two hours.) Camp is held at the Homewood Suites by Hilton in East Rutherford; overnight options available. Ages 9 to 17, for both beginners and more advanced game enthusiasts.
Image: Lavner Camps
Originally published 2012