Online Robotics Camp
Young Gates - Kids Online Personalized Classes

Artificial Intelligence with Scratch Online Camp
Young Gates - Kids Online Personalized Classes

Spark Math: Free Trial Class
Virtual
Sign up for our free newsletters.
10 Great New York City Picture Books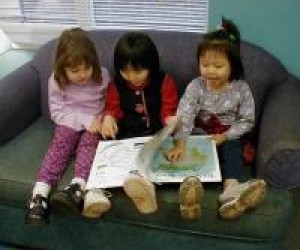 3/16/11
- By
Amy S.
Schlepping strollers onto subways, cramming a kid's worth of stuff into a small apartment, wait-listing your fetus for preschool—there are times when raising a family in New York seems utterly impossible.
Then you take a spring stroll through Park Slope or catch sight of the Empire State Building or have a snowball fight in Central Park and you realize, you just couldn't live anywhere else. These ten picture books, some old classics, others quite new, reinforce your family's love for this wild and wonderful town. Add them to your library so you can pack a couple of them to read on the subway the next time you're off to a free storytime or other activity.
1. Knuffle Bunny: A Cautionary Tale by Mo Willems

Kinetic illustrations layered over black-and-white photographs of Park Slope chronicle a bad day in the life of toddler Trixie and her loving but clueless daddy. While any child can relate to the book's central drama—nonverbal Trixie loses her stuffed bunny at the laundromat and has a terrible temper tantrum—city kids will love spotting the urban details; Slopers may even recognize some of the streets. Trixie's adventures with her best inanimate pal continue in the excellent sequels Knuffle Bunny Too and 2010's Knuffle Bunny Free.
2. The Snowy Day by Ezra Jack Keats

In this 1962 classic, the least-supervised kid in New York wanders into a snowy city wonderland. The gorgeous collage illustrations invite readers to see the Big Apple through Peter's sweet and simple point of view.
3. Good Night New York City by Adam Gamble, illustrated by Joe Veno

Part of the Good Night Our World series, this board book gives tots a fabulous tour of city sights, along with soothing bedtime text. There's also a Good Night New Jersey for our friends across the Hudson.
4. Eloise by Kay Thompson, illustrated by Hilary Knight

No list of Big Apple picture books would be complete without this sassy entry, starring the Plaza's most famous fictional resident. While most of Eloise's adventures take place inside the hotel where she lives (sans parents with a nanny), her haughty attitude is pure New York. Once your kids are charmed by her marvelously mischievous ways (and they will be), there are plenty of other books in the series for them to enjoy.
5. This is New York by Miroslav Sasek

The author's stunning retro-chic illustrations are this book's centerpiece. Although the 1960s-era facts and figures are obviously a bit outdated, Sasek's lively interpretations of city landmarks (he originally trained as an architect) should appeal to city-dwellers of all ages.
6. Hello, New York City! by David Walker

A straightforward book for the youngest New Yorkers, this work takes readers (or rather, listeners) on a cheery tour of the city. Its focus on animals and friendly faces make it a toddler favorite.
7. In the Night Kitchen by Maurice Sendak

More than just "that book with the naked boy," this Sendak classic provides some dreamy Brooklyn-eye views of the Manhattan skyline.
8. New York, New York! The Big Apple From A-Z by Laura Krauss Melmed, illustrated by Frane Lessac

Informative and imaginative for natives and visitors alike, the book runs through the ABCs of Big Apple sites. Each letter gets its own little poem, along with sidebars full of factoids and tidbits.
9. My New York by Kathy Jakobsen

Folk artist Jakobsen recreates Manhattan in intricate paintings sure to invite intense study. The text, from the point-of-view of a bubbly kid named Becky, manages to be both fact-packed and fun.
10. Emma's Journey by Claire Frossard and Etienne Frossard

A sparrow living in Central Park has big-city dreams...of flying to Paris. This whimsical tale, just published in 2010, follows Emma (who sports a jaunty beret) as she flies around New York (rendered in grand photographs) and visits various creatures on her way to the City of Lights.
Amy S. blogs about babies, books and Brooklyn at householdwords.wordpress.com.