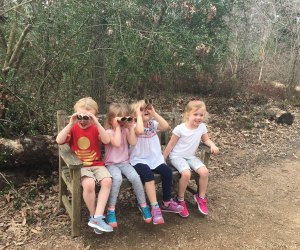 Guided Hikes for Houston Toddlers and Preschoolers
Hiking around Houston and its surrounding areas is one of our favorite active pastimes; there's just nothing quite like exploring the great outdoors with your little ones and watching as they discover new things happening in their environment. Our city is full of great trails to tackle with the kids in tow, however sometimes having a guide lead the way is the best option for budding explorers and naturalists. We rounded up four of the best options for getting out and about in nature with your toddlers and preschoolers, turning hiking into an activity that is both educational and fun.
EcoTots: Armand Bayou Nature Center
What to expect: Every Friday at Armand Bayou Nature Center is for EcoTots, an interactive class dedicated to teaching toddlers all about nature through movement, storytelling, art, animal demonstrations, games. Toddlers also get to explore nature by taking a hike around the Nature Center during each class. Each week focuses on a different topic relating to nature. EcoTots is $8 for members and $10 for non-members. Reservations are required. Groups of 10+ are asked to call ahead of time to request an additional class session.
Tyke Hikes: Houston Arboretum & Nature Center
What to expect: Hike the Arboretum trails on select Mondays under the guide of a naturalist during Tyke Hikes. Each hike explores a different theme, such as trees, owls, or bats. Activities also include a story and a simple nature activity or craft. These hikes are stroller friendly. Tyke Hikes are free for Family Tree Members and above (must have the card on hand) and $7 per child for non-members. Advance registration is not required.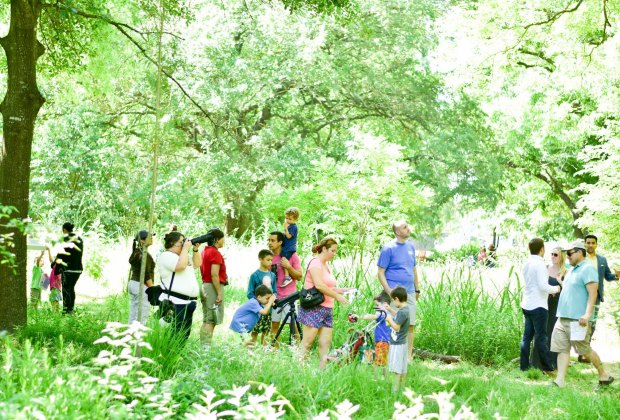 Exploring our natural environment/Photo courtesy of Nature Discovery Center
Walk on the Wild Side: Nature Discovery Center
What to expect: Explore the intricacies of the physical world at the Nature Discovery Center on the monthly hour-long guided walks around the Center's trails. Each walk investigates a new seasonal animal, plant, insect, or topic and includes tips for checking out different natural occurrences happening in your own backyard. Walk on the Wild Side is free for members and $5 per family for non-members. Reservations are not required, however, groups of six and more are asked to call ahead and let the Center know they are coming.
Hike it Baby: Houston
What to expect: Hike it Baby is an online community dedicated to hosting family-friendly hikes throughout the city, specifically for children from birth to school age. Hikes range from trail hikes to urban hikes and everything in between and occur throughout the month. The goal of the group is to be an all-inclusive community open to all ages and abilities that encourage children to find joy in nature and foster a love of the outdoors. Hike it Baby requires an annual membership registration fee of $10. Hikes occur throughout the city and its surrounding areas.
Before you hit the trails make sure you check the hike's website or calendar for any pre-registration details and changes in time and/or location. Wear close-toed shoes on the hike and dress appropriately for the weather. It's always a good idea to wear layers and to have water and snacks on hand in a backpack to consume during the hike. Most importantly, have fun exploring your environment with the kids as they watch their world unfold before their eyes!