Best Travel of 2022: Our Favorite Cities, Beaches, Hotels, and More for a Family Vacation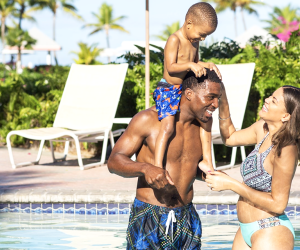 12/31/22
- By
Jennifer Marino Walters
Here at Mommy Poppins we love to visit new places, and what a year of travel it was! In 2022 we explored some amazing US cities, frolicked on beaches from Texas to the Caribbean, and even visited fabulous destinations in Europe including Amsterdam and Paris. Along the way we got to enjoy some thrilling amusement parks, stayed at some great resorts with water parks, and took some epic road trips.
Here is our list of the best family vacation destinations of 2022, from warm and sunny vacation spots in the US and abroad to wintry adventures in Colorado.
Best Beach Vacations for Families
There's nothing quite like a relaxing beach getaway, and our editors and writers explored some great beaches this year.
1. Tropical Caribbean Getaways
The Caribbean is a treasure trove of tropical islands for families to frolic on. One writer and her family had a blast exploring the pink-sand beaches, nature reserves, and cultural sites of Bermuda. Another writer discovered why Ocean Club Resort Turks and Caicos, located on the breathtaking Grace Bay Beach in Providenciales, is the ultimate Caribbean getaway for families.
RELATED: 9 Best Florida Beach Vacation Destinations for Families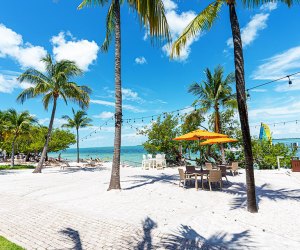 Our writer highly recommends Playa Largo Resort and Spa in Key Largo. Photo courtesy of the resort
2. Sunny Southern Beach Towns
We enjoyed many great beach days in the sunny south this year. We worked our way down from the "Grand Strand" of Myrtle Beach, SC to Sea Island Resort in Georgia, then to Jacksonville, Florida with its beautiful state parks, and all the way down to Key Largo in the Florida Keys. Good thing we remembered our sunscreen!
3. New England Islands We Love
One Mommy Poppins writer loves visiting Cape Cod with her family, and she revealed why in her writeup of 60 fun things to do on Cape Cod with kids. But she didn't forget about the rest of the New England islands, sharing her favorite things to do on Nantucket, Martha's Vineyard, Block Island, and more.
4. California, Here We Come
With majestic mountains, fun cities, over 400 public beaches, and 840 miles of gorgeous coastline, California is the perfect place to take the family on an epic road trip. We wrote about some of our favorite California road trip ideas, including surfing mecca Santa Cruz, sunny San Diego, and more.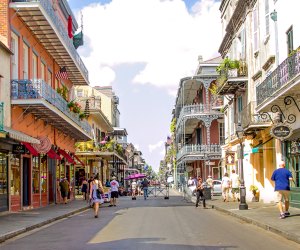 Explore Royal Street in the French Quarter in New Orleans. Photo courtesy of QuarTour Kids
Charming Southern Cities for Families to Explore
We experienced southern hospitality in a plethora of cities in the south in 2022.
5. Family Fun in New Orleans
It turns out the Big Easy is more than just raucous street parties and Mardi Gras beads. Mommy Poppins Atlanta editor Melanie Preis listed 45 fun things to do in New Orleans with kids, from interesting museums and beautiful outdoor spaces to delicious restaurants and family-friendly hotels.
6. History and Thrills in Williamsburg, VA
Most people picture Colonial Williamsburg when they hear the word "Williamsburg". But our writer revealed 24 other fun things to do in Williamsburg, VA with kids, including the Jamestown Settlement, Yorktown Battlefield, and Busch Gardens Williamsburg amusement park. Families can even stay at one of our favorite resorts—Great Wolf Lodge—which tops our list of the 10 best water parks for kids in the US.
7. Savannah Charm
One writer was bowled over by the southern charm that greeted her family in Savannah, Georgia. She shared 35 great things to do in and near Savannah with kids, including interesting museums, fun tours, gorgeous beaches, and delicious restaurants.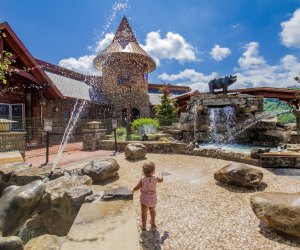 Annakeesta in Gatlinburg offers outdoor adventures for the whole family. Photo courtesy of the park
8. Tennessee Towns We Love
We shared three great destinations in Tennessee this year for family fun. In Memphis, TN, our writer and her family explored Graceland, the Memphis Zoo, and more. Her family also enjoyed Chattanooga, where they visited the Tennessee Aquarium, Rock City Gardens, and other fun places. And we love Gatlinburg and Pigeon Forge so much, we had to share our whopping list of 70 fun things to do there again (hello, Dollywood)!
9. North and South Carolina Neighborhoods Worth a Visit
We highlighted two fun cities in the Carolinas this year. One writer visited Greenville, SC with her family, where they explored the Greenville Zoo, Children's Museum of the Upstate, and Roper Mountain Science Center and had plenty of outdoor fun. We also wrote about all of the fun things to do in Asheville, NC with kids, including the famous Biltmore Estate, gorgeous hikes, Sierra Nevada Asheville and other kid-friendly breweries, and more.
RELATED: The Best Ski Resorts in the US for Family Vacations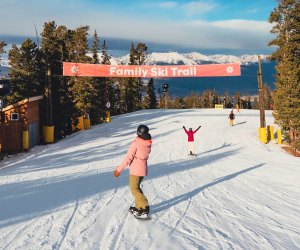 Ski the Family Trail at Keystone Resort. Photo by Katie Young
Fun in the Wild West
Our writers and editors had some adventures out west this year.
10. Skiing in Keystone
Mommy Poppins founder Anna Fader had a blast with her family at Keystone Resort in Colorado. She shared why she believes it to be one of the top family ski resorts, including its Family Ski Trail for beginners, its generous kids-ski-free program, and its other fun snow sports like snowboarding, tubing, ice skating, and snow biking.
11. Boulder and the Rocky Mountains
Another writer also took her family to Colorado. They enjoyed the great outdoors in Boulder and the Rocky Mountains, where they hiked on pretty trails, explored gorgeous parks like Rocky Mountain National Park, fished, and more. They also enjoyed Boulder's cultural scene by visiting its museums, libraries, and kid-friendly restaurants.
12. Vegas, Baby
What happens in Vegas, stays in Vegas... unless you're a writer for Mommy Poppins. In that case, you share your family's adventures with the world! That's exactly what one of our regular contributors did after she visited Las Vegas with her family. She wrote about 50 awesome things to do in Vegas with kids, from museums and exhibitions to family-friendly shows and fun parks.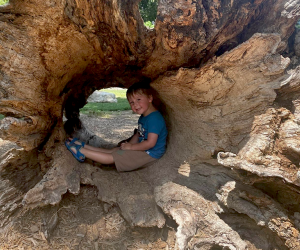 Forest Park is home to some of the best things to do in St. Louis, MO. Photo by Mollie Downs
Midwestern Adventures
We also explored some fun cities in the Midwest.
13. Meet us in St. Louis
One Mommy Poppins writer found out why Judy Garland once crooned, "Meet me in St. Louis." She and her family visited St. Louis, Missouri, where they enjoyed top attractions like the Gateway Arch, the St. Louis Zoo, and the bustling St. Louis Union Station. They also soaked in the city's baseball spirit at a Cardinals game and the adjacent Ballpark Village.
14. Interlochen and Traverse City, MI
Interlochen, Michigan is known for its world-class Interlochen Center for the Arts. One Center alumna brought her female back to explore Interlochen and nearby Traverse City. There, they had fresh-air fun at Interlochen State Park, toured the Center for the Arts campus, and more. She also shared some fun day trips from Interlochen, including the idyllic Mackinac Island.
15. Taking on the Twin Cities
Our writer shared 30 reasons to visit Minneapolis and St. Paul, Minnesota in any season, including the famous Mall of America. She also wrote about interesting museums, pretty parks, kid-friendly restaurants, and more.

Fall in love with Paris with one look at the Eiffel Tower at night. Photo by Jody Mercier
International Cities to Visit with Kids
Some of our editors and writers were lucky enough to visit Europe this year, and another one took her kids to Canada.
16. We'll Always Have Paris
Mommy Poppins regional editor Jody Mercier enjoyed a bucket-list trip to Paris with her family and took our readers along for the ride. From the famous Eiffel Tower to the Louvre Museum and Notre Dame, to must-try foods (cheese and baguettes, anyone?), she shared 50 fun things to do in Paris with kids.
17. Amazing Amsterdam
Another writer had her own European adventure, writing that she was "pleasantly surprised to discover how easy it is to experience Amsterdam with kids." She noted the city's plentiful playgrounds, kid-friendly museums like the famed Anne Frank House and Van Gogh Museum, welcoming restaurants, and gorgeous canals and architecture. Check out her list of the best things to do in Amsterdam with kids.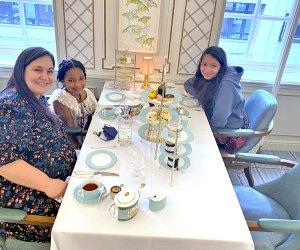 Have a proper afternoon tea at Fortnum & Mason. Photo by Jody Mercier
18. London was Calling
Jody Mercier couldn't get enough of Europe this year. She and her family also explored London (now we're getting jealous), and she shared over 60 things to do in London with kids. The Harry Potter studio tour, Westminster Abbey, Big Ben, the London Eye, afternoon tea... the list of must-dos is endless!
19. Interesting Istanbul, Turkey
It is often said that you can't be in two places at once, but one Mommy Poppins writer begs to differ. She visited Istanbul, Turkey with her family, where they were able to be on two continents (Europe and Asia) at once. There they saw gorgeous sights like the Hagia Sophia and the Blue Mosque, explored the underground Basilica Cistern, wandered through the Grand Bazaar, and ate delicious Turkish food like grilled corn and baklava.
20. Discovering Montreal, Canada
Another writer's family found European flair much closer to home in Montreal, Canada. There they explored the Old Port of Montreal, visited an indoor zoo, had hands-on fun at the Montreal Science Centre, and lots more.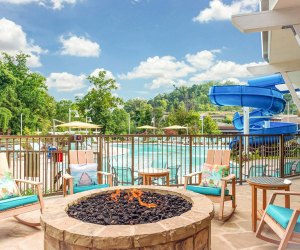 One of our favorite resorts in Gatlinburg and Pigeon Forge is Margaritaville Resort Gatlinburg. Photo courtesy of the resort
Best Kid-Friendly Hotels, Resorts, and More
The hotel or resort you're staying at can really make or break a family vacation. To help your family have the best trip possible, we shared some of our favorite family resorts and hotels.
21. Best Places to Stay in Gatlinburg and Pigeon Forge
Have we mentioned how much we love Gatlinburg and Pigeon Forge? Apparently, we're not the only ones—the area is so popular that there are tons of hotels and resorts there. We shared the 17 best Gatlinburg and Pigeon Forge hotels for families.
22. Great Hotels Near Disneyland
With fun features like themed suites, fabulous pools, and character breakfasts, Disneyland hotels can feel like a vacation in themselves. We shared the best Anaheim hotels near Disneyland for families.
23. Fun Florida Resorts
Florida will always be a favorite vacation destination for east coasters, which is why we gave it its own travel guide. Our writers found two amazing family resorts in Florida: Orlando World Center Marriott, which has a fabulous new water park, and Play Largo Resort and Spa in Key Largo, where our writer was very impressed by the pool and other fun amenities.
24. Awesome Poconos Retreats
The Poconos Mountains draw families from the Northeast, the mid-Atlantic, and beyond to Pennsylvania all year long for their picturesque landscapes, their plethora of outdoor activities, and their fabulous family resorts. We shared our favorite Poconos resorts for a family vacation, including Camelback Resort and Great Wolf Lodge Poconos.
25. Water Park Fun
And finally, we shared our favorite resorts in the US and the Caribbean with the most coveted feature of all for kids—water parks. From Rocking Horse Ranch in Highland, NY and Lake George's Great Escape Lodge, to Disney's Aulani Resort in Hawaii, to Baha Bay at Baha Mar in the Bahamas, here are our favorite family resorts with water parks.