Hottest New NYC Destinations for Kids That Opened in 2017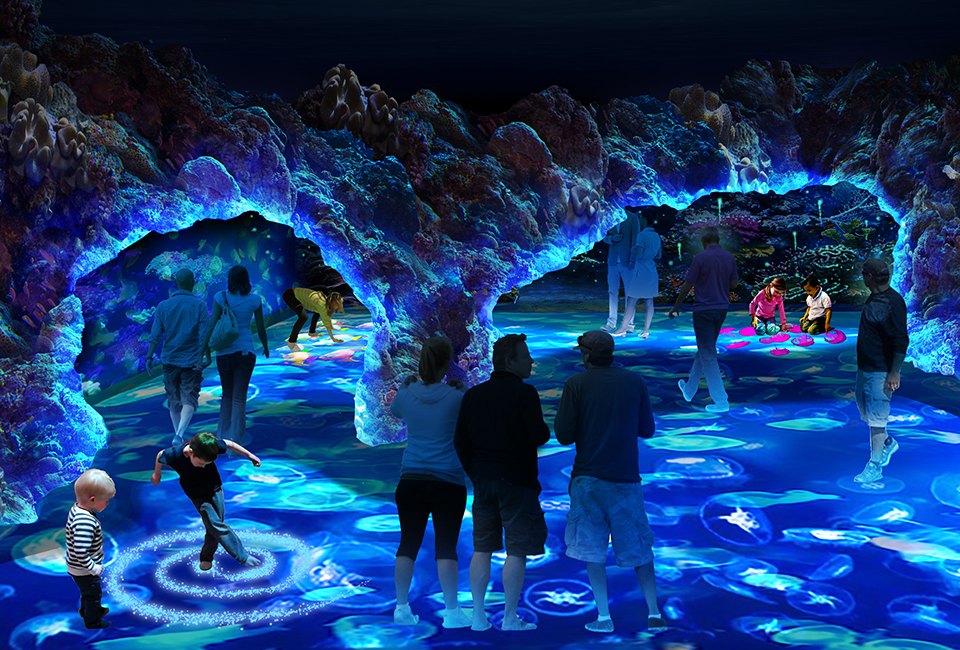 12/28/17
- By
Rose Gordon Sala
As we close out the year, we're looking back at all the wonderful new cool kid attractions we gained in New York City in 2017. There was massive new development in the Midtown area, with two big family destinations added to Times Square, Gulliver's Gate and National Geographic Encounter: Ocean Odysessy, and a completely revamped American Girl store at Rockefeller Center.
We gained new Broadway shows, including SpongeBob SquarePants and Anastasia, and even a new museum downtown, Choco-Story New York: The Chocolate Museum and Experience. Outdoor destinations weren't neglected either. The city tripled its number of zip lines with additions on Governors Island and at the Bronx Zoo, and continued to revamp neighborhood playgrounds, bringing new or improved romping spots to a number of favorite parks.
A handful of new play spaces opened in Brooklyn, Queens, and on Roosevelt Island. Read on to catch up on all these exciting new offerings, and Happy New Year to you and your family!
New Museums and Cultural Institutions
Big Apple Circus – Lincoln Center
Financial woes shuttered the city's homegrown circus for the 2016 season, but new owners brought it back to life in 2017. We caught the show, which included everyone's favorite Grandma clown, plus a daring seven-person high-wire act by the famous Wallenda family, and had a blast with our NYC tots. It heads on tour after its January 7 show and holiday run at Lincoln Center's Damrosch Park, but we're happy to have 'em back in rotation.
Choco-Story New York: The Chocolate Museum and Experience – Tribeca
Jacques Torres opened this downtown museum dedicated to the history of chocolate earlier in the year. Although it's small, it includes a sizable play space for kids, plenty of chocolate samples, and even cooking classes and hands-on demonstrations. We say, yes, please to all things chocolate!
RELATED: Guide to Museums and Galleries for NYC Kids and Families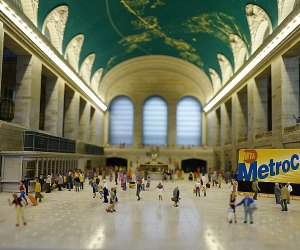 Gulliver's Gate offers an interactive and immersive world of miniatures. Photo courtesy of Gulliver's Gate
Gulliver's Gate – Times Square
Every year, we go nuts for the holiday train shows, so when we heard a permanent exhibit of miniatures—49,000-square-feet of space with 300 scenes replicating major global cities and famous sights—planned to open in Midtown, well, the Mommy Poppins crew couldn't wait to check it out. Gulliver's Gate offers plenty of NYC fun, too, from a mini Grand Central and Brooklyn Bridge Park to a shout-out to our now infamous Fearless Girl statue. One of the best parts? It's often open on major holidays when you're always looking for more ways to entertain the kids.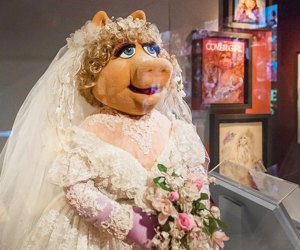 See Miss Piggy circa 1984 and more childhood favorites at the Jim Henson Exhibit. Photo by Thanassi Karageorgiou/courtesy of Museum of the Moving Image
The Jim Henson Exhibit – Astoria, Queens
The long-awaited permanent exhibit of all things related to Muppets-creator Jim Henson opened at the Museum of the Moving Image this past summer. There are more than 300 artifacts on view, including 47 Muppets. It's not a very interactive exhibit, nor are strollers allowed, but finally NYC has a place to celebrate the genius behind so much of our childhood, including Sesame Street and Fraggle Rock.
National Geographic Encounter: Ocean Odysessy – Times Square
This virtual underwater experience is easily one of the coolest things to open in NYC in 2017. Kids can tour the Pacific Ocean via state-of-the-art technology, lighting, and audio effects. They'll see coral reefs, kelp forests, and ocean creatures aplenty, from eels to sea lions. Times Square really upped its game in 2017!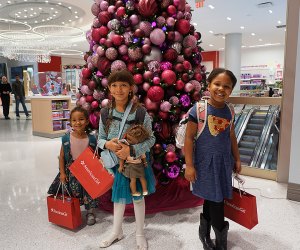 Get all dolled up at the new Amercian Girl store. Photo by Jody Mercier
Indoor Places to Play
American Girl store — Midtown
Already a favorite of locals and tourists alike, the American Girl store relocated to a new two-story, ritzy location at Rockefeller Center this fall. The new spot isn't bigger, but it did upgrade the fun factor with a brand-new doll salon where kids can get their hair or nails done alongside their miniature BFFs. Of course, there's still an on-site cafe for high tea, but also more interactive stations. Play is encouraged at every level here.
Fairytale Island — Bay Ridge, Brooklyn
Each year, a handful of new play spaces open for little ones in NYC, and Fairytale Island might just be the star of 2017's batch. It has it all: a ball pit, indoor jungle gym, a "seed" pit for digging, climbing wall, pretend play area, and even a cafe. The all-ages romping spot opened in October and was an instant neighborhood hit.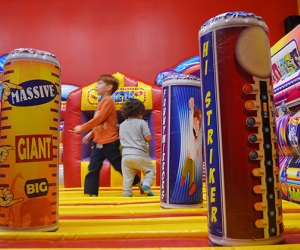 Multiple bounce houses, slides, and even carnival style games are available at Jump N Play. Photo by Sydney Ng
Jump N Play — Ozone Park, Queens
New bounce houses are always welcome, and this new one in Queens offers generous open play hours with multiple rooms and levels of bouncing. There's glow-in-the dark fun, slides, and even carnival games, plus all the typical inflatable fun.
Music and Play Station — Roosevelt Island
Classes for tots and babies, combined with drop-in play hours are on tap at this newcomer to Roosvelt Island. Music and Play Station hosts Music Together classes (and more), but also has a great indoor playground that local parents and those in Midtown East and Long Island City find convenient since its opening last summer.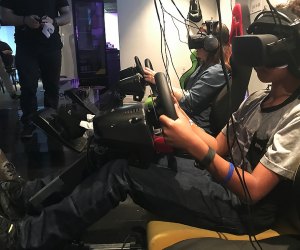 Experience mind-blowing adventures in the virtual reality world. Photo by Jody Mercier
VR World Midtown — Midtown East
Virtual reality, or VR, is a hot new entertainment option for all ages, and new VR hubs are popping up all over NYC, including Brooklyn and Midtown. VR World, which opened in June, is probably the largest and most comprehensive with 50-some games. There's a bar scene, so evening hours skew toward young adult, but don't rule out this new 34th Street action center for a fun outing with your tween or teen.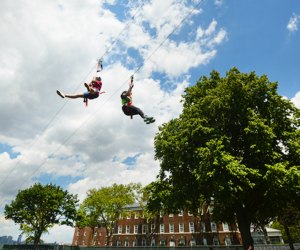 You can now zip line on Governors Island! Photo courtesy of The Trust for Governors Island
Outdoor Places to Play
Adventures at Governors Island — Governors Island
Governors Island seems to come up with exciting new surprises each year, from Slide Hill to a "junk" playground, but they're going to have a hard time topping this one: Adventures at Governors Island includes a trio of outdoor entertainment for families. A double 300-foot zip line is the main attraction, but a 3-D, 25-foot climbing tower is also available and a 3,600-square-foot maze that works for all ages. It's run by Ride Entertainment, the company behind mini-amusement park Fantasy Forest in Queens and the Battery's SeaGlass Carousel, and it quickly became summer's hot ticket.
The Bronx Zoo's Treetop Adventure and Nature Trek — the Bronx
The Bronx Zoo got into the adventure park fun this summer, too, when it unveiled a double zip line that allows participants to race above the Bronx River. Its new Treetop Adventure park also includes a challenging ropes course where tweens, teens, and adults can amble across bridges and up into the tree canopy via ropes, pulleys, and climbing. A separate Nature Trek, a sort of mini adventure park, was also added to the zoo for the younger set, offering netted and climbing challenges, but also an all-ages play area with sand, water, and more natural play structures.
RELATED: NYC Restaurant Guide to Family-Friendly Eateries and Treats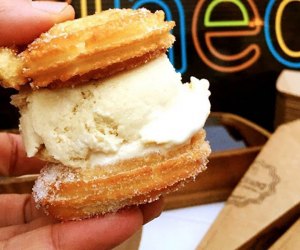 Find stuffed and dipped churros at Dulcinea in the DeKalb Market. Photo courtesy the shop
Fun Eats
City Point and DeKalb Market — Boerum Hill, Brooklyn
Multiple new food halls opened in NYC in the last few months, but few stand out as much as City Point and its DeKalb Market. This downtown Brooklyn spot quickly became a community hub for fantastic quick eats from dozens of vendors to a new dine-in movie theater and even Santa sightings over the holiday. Make it your next lunch stop on the way to the New York Transit Museum or other local destinations.
DO Cafe — Greenwich Village
The line at the opening of DÕ was immediate—and expected. The NYC producer of edible cookie dough that's scooped into cones or mixed with candy and other treats was an immediate sensation when it opend its first retail location in January 2017. Those in the know skipped the line in favor of sampling its treats at its various pop-ups that began to proliferate around the city.
Gotham Market — Fort Greene, Brooklyn
Barely a block from BAM and around the corner from Barclays Center, this modest Fort Greene food hall gave parents one more casual eatery to seek out before or after a show in what can be a challenging neighborhood for family eats. We found friendly service, high chairs, baby changing tables, and around eight vendors serving up elevated versions of fries, pizza, and hambugers, but also Spanish and Southern delights.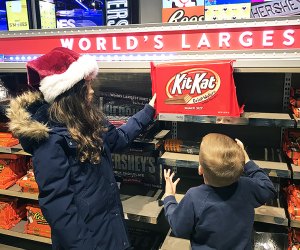 The world's largest Hershey candy bars at the new Times Square Hershey World will wow your youngster! Photo by Maureen Dempsey
Hershey's Chocolate World – Times Square
The Times Square Hershey's Chocolate World shut down for several months this fall as it prepared a move into new digs, opening just in time for the sweet holiday season. It added new interactive features, including a much sought-after s'mores bar that is attracting all ages to this chocolate mecca.
Top photo courtesy of the National Geographic Encounter: Ocean Odyssey.
Click Here to Sign Up!
i