Choco-Story New York: The City's First Chocolate Museum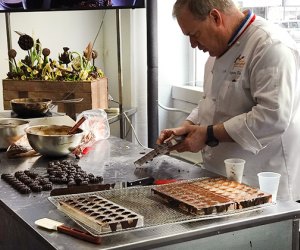 3/22/17
- By
Rose Gordon Sala
New York City boasts plenty of sweet spots, and even places where kids can make their own chocolate or ice cream. But now it has its very own museum dedicated to chocolate.
Choco-Story New York: The Chocolate Museum and Experience recently opened within Jacques Torres' Soho shop, offering tours, classes, and a healthy serving of history about one of our most revered sweets.
Maybe you saw the headlines about its opening March 7, but wondered, "Is it kid-friendly?" Read on for our review and tips to find out.
Upon entering the 5,000-square-foot museum, you begin your self-guided tour in a narrow hallway lined with glass cases, all containing artifacts related to the early history of chocolate and its development into a delicacy enjoyed the world over. These artifacts include ancient Mayan rituals, the introduction of sugar to bring chocolate to the next level, and items that include teacups to grinding stones and even a shrunken head. Wall plaques, video, and the artifacts, many of them originals, tell the story—the story of chocolate. From how it got its name, its origins in Central America, where the cacao tree grows naturally, and on to modern-day production, you'll learn the full "bean-to-bar" tale of this treat.
RELATED: NYC Restaurant Guide for Families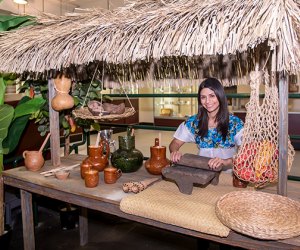 Watch a hot chocolate making demonstration done by hand in the Mayan tradition. Photo by Kevin Chiu/courtesy of the museum.
Two ongoing demonstrations happen every half hour during museum hours. In the first, a woman demonstrates the grinding of cacao seeds by hand and mortar to create an unsweetened hot chocolate as the Mayans did. You're encouraged to add your own spices, and finally, a bit of sugar. The grande finale is a modern day bonbon-making demo by a Jacques Torres chef, which yes, includes sampling and even a Q&A.
Faux cacao trees and colorful artwork are scattered throughout, as are chocolate samples. The latter are contained in glass canisters lining the walls. Labeled with "eat me" signs, I certainly obliged, tasting several of Torres' chocolate discs, including dark and milk chocolate varieties.
Younger kids, no doubt, will zip by the carefully arranged artifacts, though there are a few fun highlights worth pointing out, including models of Christopher Columbus' ships, French Art Deco chocolate boxes, and a series of "moustache" cups, which we can see making a comeback in the hipster era. They're more likely to plant themselves in front of the demonstrations, or the play area, depending on the age.
RELATED: Top Museum Exhibits for NYC Kids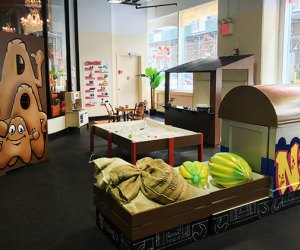 The spacious kids' play area gives the little ones a place to romp while the grown-ups explore or take a breather.
Little ones younger than 7 are sure to love the play area. It includes a spacious sandbox, play kitchen and store, table, and even a little subway car to climb into. School-age kids might enjoy downloading the Choco-Story phone app that turns some of the artwork into virtual 3D animations, or the simple scavenger hunt that results in a prize afterward at the store. But to be clear, this is not Willy Wonka's chocolate museum. It's a thoughtfully curated history of the foodstuff once reserved for gods, rather than an interactive, tasting and playing bonanza. Don't lick the walls, kids.
I chatted with Torres, known by some as Mr. Chocolate and the chef and operator of eight chocolate shops around the city that carry his name. He opened the museum with Eddy Van Belle, the founder of four other Choco-Story museums around the world, including in Belgium and Mexico. Torres, a proud papa showed off photos of his infant son, his first child. Although he admitted the museum is geared to an older audience he added the kids' area, because "it's important in this neighborhood.
"Maybe the kids can go and play while parents talk. Maybe that can be a little break," Torres said.
Kids ages 10 and up are welcome with participating parents at upcoming chocolate-making classes that run an hour on Wednesdays and Saturdays. "I'm an educator," Torres added. "I love to teach. I love the story of chocolate."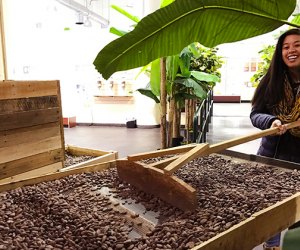 Try your hand at sorting through cacao beans.
Bottom line? The museum is for adults who possess a passion for knowing their favorite sweet's backstory. But it's extremely kid-friendly with interactive games, the large kids' play area, samples, demonstrations, and hands-on classes. Plus, its proximity to the Children's Museum of the Arts (literally around the corner) and other hot spots, including the New York City Fire Museum and Hudson River Park areas, make it a no-brainer for a downtown family fun itinerary.
Choco-Story New York: The Chocolate Museum and Experience with Jacques Torres is located at 350 Hudson Street (the entrance is around the corner on King Street). Adults are $15, kids ages 4-10 are $10, and there are discounts for students, seniors and military members. Kids younger than 4 are FREE. Additional fees for classes. The museum is open Wednesday to Sunday. Purchase tickets online or at the admissions desk.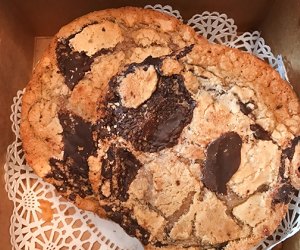 A take-home box of the decadent chocolate chip cookies from the Jacque Torres shop.
If you haven't had your fill of chocolate after the tour, consider a fully loaded hot chocolate or one of the chocolate-chip cookies for sale in the shop. They are some of the best in the city.
Unless otherwise noted, photos by the author.