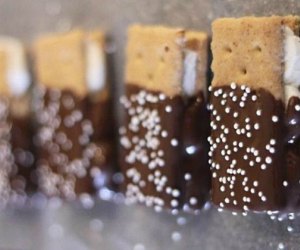 DIY Chocolate: NYC Spots Where Kids Can Make Their Own Candy
Hitting one of NYC's cornucopia of candy shops is nice, but being able to make your own treats is seriously sweet. A do-it-yourself chocolate workshop is a creative hands-on way to satisfy your kid's sweet tooth.
I enjoy sharing culinary experiences with my 10-year-old son, but since he's a bit picky, it can be hard to talk him into cooking or going on a food crawl. However, when sweets are involved that gets his attention, and I suspect your kids' too?
Check out these five NYC spots below where making chocolate is always on the menu.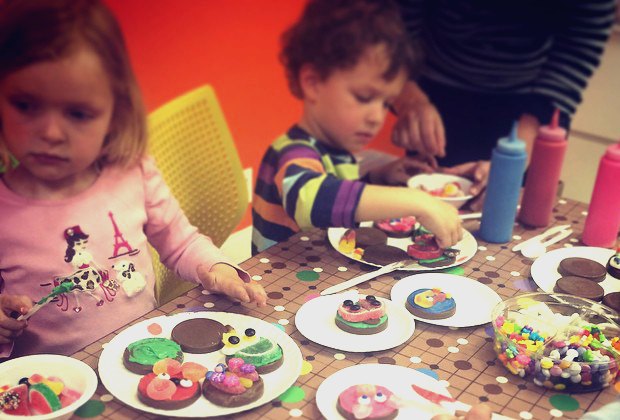 Tots enjoy a Wednesday workshop at Chocolate Works on the Upper West Side. Image courtesy the shop.
Chocolate Works – Upper East Side, Upper West Side & Brooklyn Heights
We're big fans of this tristate area, chocolate-making chain. While Chocolate Works sells an incredible variety of candy, chocolates and cool custom items, it's much more than a store. Each location offers chocolate-making workshops in which aspiring Willy Wonkas can create their own molded delicacies, and then decorate them with colored chocolate paint, sprinkles, candies and more. Kids also get to turn a graham cracker, pretzel or Oreo into a chocolate-covered treat. Workshops are scheduled weekly, but it's best to book in advance. A great option for birthday parties, too!
Institute of Culinary Education: Charlie and the Chocolate Factory – Financial District
Brookfield Place, 225 Liberty Street near West Street
The veteran Chelsea culinary school recently moved to its new Financial District home. My son and I are regulars at its one-off weekend family cooking classes. The small-size classes are taught by real chefs in a professional environment, and they're not watered-down for kids, which I love. You get to bring home everything you make, and it's always a lot. There's a Charlie and the Chocolate Factory class for 8- to 12-year-olds in which families can create truffles, bark, chocolate-covered popcorn and chocolate clusters together, candy-making classes, and more dessert and even dinner fun. Reserve ASAP as these sessions always sell out.
International Culinary Center: Chocolate Treats and Truffles – Soho
462 Broadway between Grand and Broome Streets
Formerly the French Culinary Institute, this legendary cooking school also offers recreational cooking classes for teens and adults, including advanced lessons like how to temper chocolate. There are sessions on eclairs, cupcake decorating, and yes, chocolates and truffles.
Tache Chocolate – Lower East Side
254 Broome Street between Orchard and Ludlow Streets
This artisanal confectioner makes all the bonbons for its store on-site, and hosts classes in its lower-level kitchen. Chef-owner Aditi Malhotra (known for her spiced chai truffles) teaches students how cocoa beans are grown and processed into the sweet stuff, and how to whip up lollipops, bars and a couple of French specialties. Children as young as age 3 can participate in these 60- to 90-minute classes. Book your spot in advance as classes tend to sell out quickly. Bonus: you get to bring home all the chocolate you make, and it's usually a lot.
RELATED: 15 Must-Try Top Desserts in NYC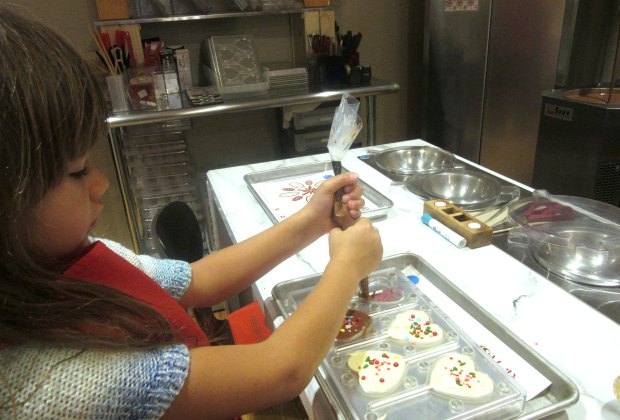 Decorating chocolate pops at Voilà Chocolate. Photo by Jody Mercier.
Voilà Chocolat – Upper West Side
221 West 79th Street between Broadway and Amsterdam Avenue
Drop-in or book a class ahead at Voilà Chocolat where kids can enjoy class solo, or for a special parent-and-me date. Choose from a curated selection of DIY sweets, from simple chocolate lollipops to complex confections like bark, truffles and bars. Use dark, milk or white chocolate, and customize your treat with add-ons. After 45- to 60-minutes, you leave with about a pound of chocolate you made! Prices are based on what you create and the particular craft at hand.
Find out about other offbeat NYC foodie experiences for kids in our Restaurant Guide.
Top photo: Chocolate s'mores at Chocolate Works. Photo courtesy the Upper West Side location.
This article was first published in June 2015, but has since been updated.