Roosevelt Island's Music and Play Station: Where Kids Groove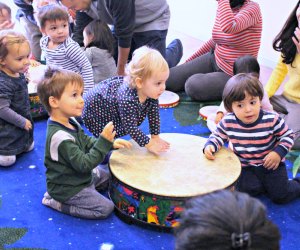 I'll never knock a good play space. Give my kids a ball pit, some climbing structures, foam blocks, and a clean area (maybe that's just for me)...and we're there. There are definitely neighborhoods overflowing with them—you could easily do a Brooklyn play space crawl, spending most of your time in Park Slope—so that's why I was excited to hear about a new one popping up on Roosevelt Island, the arts-and-movement-centered The Music & Play Station. The owners, Owen and Bridget Johnston, were gracious enough to give me the lowdown on the new space and what parents and kids can expect when they visit. Read on for more info.
The Music & Play Station offers a range of classes and programs. You'll find varied Music Together classes, Jump in a Book (which takes storytime to the next level), the three-hour drop-off Pajama Party for date night or errand-running, and developmental classes like Wiggle & Giggle, as well as birthday parties.
Not looking for a class? Let your kids run wild and burn some energy on the cool wood-and-Plexiglass Play Loft (can't lose them if you can see through the walls!) during daily Open Play from 1 to 4pm, Monday through Friday. Each child costs $15 per hour per child, with a $5 per hour sibling rate. (The website shows off a cool 3-D model of the climbing structure.)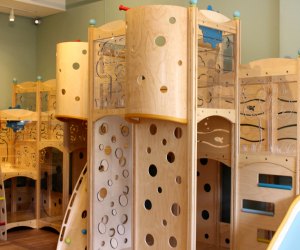 The Play Loft is popular during open play.
The husband-and-wife team decided to open the space, because, although they had been teaching Music Together since 2012, they wanted to expand their offerings and serve the area they call home. Both have Broadway and theater backgrounds, including parts in Allegiance, A New Musical, RENT, The King & I, Miss Saigon, Shogun, and 42nd Street.
"We knew what we wanted to offer the 5-and-under set in our community, and the idea of a non-performance-oriented program that enables parents to feel comfortable sharing the gift of music with their children was what intrigued us immediately," says Owen.
RELATED: Best Play Spaces with Drop-in Play in Manhattan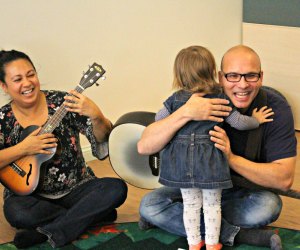 Music classes are a focal point for the new play space.
And feeling comfortable is a running theme here, meaning...you! "Getting our parents to understand that their voice is the most important voice to their child regardless of their own ability is such a powerful and important lesson," Owen explains. "You don't need to be a trained singer with a fantastic tone for your child to think you're a rock star!" Translation: Get really to sing and bop along in class.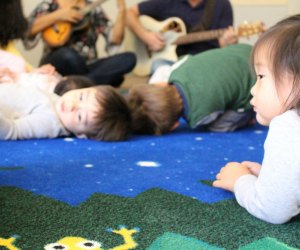 The classes and space are aimed at kids 5 and under.
And months of research and comstruction, doors opened this summer. Families who know and love the Johnston's for their previous Music Together classes are discovering so much more from the pair, and Roosevelt Island, Long Island City, and Midtown East parents have been uncovering the kid-friendly spot, too.
The Music & Play Station is open daily 9am to 7pm and located at 507 Main Street, Roosevelt Island.
Photos provided courtesy Music & Play Station.