Look Ma, No Batteries: 10 Great Non-Electronic Gifts for Young Kids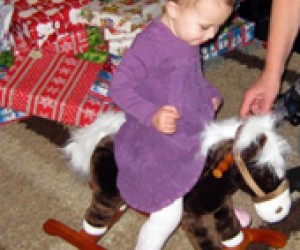 These days, it seems like so many gifts require batteries. Even classics like a hobbyhorse need AAs so it can make galloping and neighing noises.

A few weeks ago, when my three-year-old daughter complained that her toy fire engine was no longer making the siren sound, instead of replacing the batteries I suggested she make the noise herself. She did it and loved it of course. It made me realize how much I longed to step away from all of the electronic toys with the flashing lights and sounds, and let my daughter play with kid-powered toys. Not only do they encourage her to use her imagination, they're also more eco-friendly. No leaky batteries to throw away.

Here are 10 great non-battery-powered toys for young children. All of them are good for kids 3 and up. We've included links to amazon for purchase, but you can also pick most of these up at local toy stores.
1. Zingo!
If I could recommend just one board game for young kids, it would be Zingo!, a picture version of Bingo. Unlike other simple board games, this one's actually fun for adults, which is good, because if your kid's like mine, he'll ask to play it multiple times a week. The game also grows with your child. As preschoolers, children love using the Zinger to swipe and reveal tiles, call out the pictures they see and match them to the illustrations on their cards. Once they start reading, they can read the words instead.
2. Puppet Theater
Children who love watching puppet shows and films like The Muppets will enjoy creating their own puppet productions. They get to use their imagination and work on their storytelling skills. You can find a variety of tabletop puppet theaters on amazon. My daughter particularly likes the Manhattan Toy Company's Theater Stage, a portable finger puppet theater with two large storage pockets. You can pick up puppets right here in NYC. The New Victory Theater and PuppetWorks in Park Slope sell handmade finger puppets. Or you can just repurpose old socks.


3. Remo Kids Percussion Drum
Boys and girls love banging away on these drums. They don't sound tinny or like plastic junk; they have a warm, full-bodied sound. Kids can use the drum sticks or just their hands. My daughter's drum has been going strong for two years now, and even survived her attempts to stand on it. The only downside: the noise. Pity I don't have a soundproofed room.



4. Dado Planks
While my daughter loves Legos, Dado Planks are also fun and so much easier to clean up. Since the interlocking pieces are bigger, it's great for preschoolers who might have trouble with tinier pieces. Kids can build some awesome structures that look like they may tip over, but rarely do. And even if they do fall, the interlocking ensures their creation will stay intact. The colors are bright and the pieces are really durable.

5. Non-Electronic Toy Trains
The New York Transit Museum and the Children's Museum of Manhattan sell wooden subway trains with magnets to attach the cars together. Kids can play with them on any large, flat surface or you can invest in a standard wooden track. You can also buy an inexpensive train and track sets from Melissa & Doug or Thomas and Friends.



6. Mini Kick Scooter
KickboardUSA's three-wheel Mini Kick Scooter is great for preschoolers who aren't yet ready for the two-wheel Razors. It's a pricey gift—$85 was the cheapest price we found. But they're high-quality and your kid can look forward to a few years of use.

7. Fisher-Price Imaginext Serpent Pirate Ship
If your kids are into pirates, this is one cool toy. I actually like that it looks more like a Viking ship than a pirate vessel. I bought this as a birthday gift for one of my daughter's friends but we loved it so much, I got her one too. Spears shoot out of the cannons and the serpent's mouth snaps when you pull the tail—no batteries required. You can pick it up at Toys R Us for $35 right now.
8. Wooden Puzzles
My daughter really enjoys the wooden puzzles made by Melissa & Doug. They're high quality but low priced. There are more expensive wooden puzzles that might last a little longer, but really, your child will only use each puzzle for a year or so, and by elementary school she'll graduate to traditional cardboard puzzles. We particularly like the solar system, rainforest and dinosaurs puzzles.
9. Doll Houses
There are a ton of doll houses and pretend furniture on the market. The best way to choose is to visit your local toy stores and see if they have open sets your child can play with. Little Things in Park Slope has a Calico Critters Tree House that kids love, and you can find starter doll house sets from Melissa & Doug, Fisher-Price and KidKraft. Just remember: These are a big investment and there are a lot of small pieces that can break or go missing. Even if your three-year-old is begging you for a doll house, it might be better for a slightly older, more responsible child.
10. Dress Up
Kids love dress up. It inspires hours of fun whether just working on getting the outfit together or the dramatic play that comes after. Lots can certainly be done with scarves and ties from mom and dad's closet, but having an arsenal of dress-up costumes can add to the fun. Both boys and girls can get a jump-start on their collections with Superhero, Princess or Adventurer dress-up sets. Or, if your child is crafty, a make-your-own-cape kit might fit the bill. This inexpensive option from Klutz is under $15, and you can also get kits for making tutus, tiaras and other fun accessories.
For more holiday gift suggestions, check out our Holiday Gift Guide.