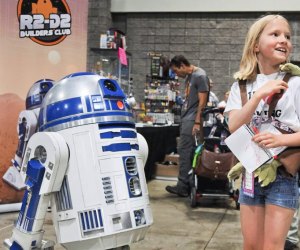 Weekend Fun for DC Kids: Awesome Con, Earth Day, Science April 27-28
Just in time for the opening weekend of The Avengers' final installment, AwesomeCon descends on Washington, DC. Three full days of geek culture celebrations, the sci fi fans in your family won't want to miss out on the capital's Comic Con. For the younger set, there is a "Jr." version of the event appropriate for children aged 3 through 10.
More into science than science fiction? Families can learn about dinosaurs, explore the wildlife in local parks, or hop into some Earth Day and Arbor Day fun. Families can also get out and enjoy some of the spring festivals that are going on this weekend as well.
Whatever you choose, we hope you have a great last weekend of April with your loved ones!
Don't miss out! Sign up for our free newsletter and stay up-to-date on the best things to do in Washington DC with kids.