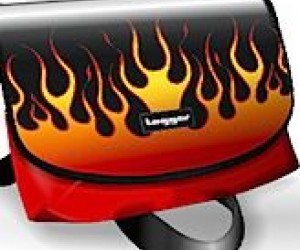 Cool Messenger Bags for Girls and Boys
Get with the program, Oldie Square Pants, backpacks are for babies. Cool kids today carry messenger bags. But finding cool messenger bags that fit pint-sized hipsters is not so easy, so we scoured the net for the coolest little messenger bags for our mini trendsetters and have gathered them here for you (after clearing them through our own pint-sized coolness testing dept., of course.)
Cool girls want stuff that's not too flowery, but definitely not boyish either like this Little Miss Sunshine Messenger Bag. It's on the large side at 12" x 15" so it's better for older kids, but at $19.99 from Target or Amazon, it fits the bill perfectly.
The Heartfelt Messenger Bag from Chasing Fireflies is made out of hand-dyed wool felt and hand-appliqued with adorable designs. I love the soft, wide shoulder strap. The bag is 10" x 12" and a splurge at $98, but perhaps worth it for a more environmental and original option.
The original Manhattan Portage Bike Messenger bags now come in many shapes and sizes. I like the DJ bags for kids. They are simple and basic enough to be very cool and they come in sizes small enough for the tiniest trendsetters or the medium is great for grade schoolers. Available from Manhattan Portage or Amazon
. $39-$42
The Ellie Bellie Mini Messenger is a cute little canvas bag made just for kids. It comes in fours styles, is 8"x10" and sells for $32 from their website.
Etsy is always a great place to look for cool, handmade things and they don't disappoint when it comes to messenger bags. There are hundreds of pages of unique messenger bags. I like the ones Marygold sells in her shop. These cute applique bags come in two sizes perfect for girls. Besides the fuzzy squirrels she has owl, monkey, puppy and unicorn. Sweet. $25-$45 on Etsy.
Tagger bags lets you build your own bag. You pick one of their 5 flap designs plus one of a dozen bag colors and even strap color. The bags come in two colors and you can also buy a lain one and they'll send it with a set of markers you your little Picasso can design her own totally unique messenger bag creation. Available from Tagger or eBags
starting at $50.