Top Ten Local New York City Blogs of 2010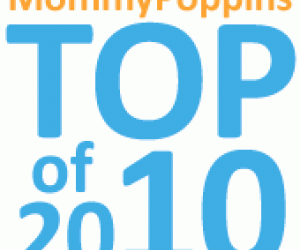 The new year is a time of reflecting. Looking back on 2010 there are so many great discoveries we made that we'd like to share. This week, in addition to our regular posts, we'll be sharing some of our favorite websites and other stuff that we've enjoyed this year, starting with some of the great websites about living in New York City. These sites are great resources that often inspire me (when I have time to read them). You may want to book mark this post to check back with these cool blogs often.
Best for NYC Deals — There are countless deals and freebie sites for NYC, but the two that I find most relevant and am drawn to the most are NYCDailyDeals and TheSkint. I get NYC Daily Deals updates on twitter @NYCDailyDeals to stay on top of which local businesses are giving away freebies that day and other great deals. The Skint sends out an easy to read daily newsletter with a list of great deals for that day. It's always full of interesting stuff. Of course, we have to plug Poppins Perks our new deals site, which is launching it's first official deal tomorrow.
Best for Brooklyn — If you're not already reading A Child Grows in Brooklyn, then you should be. This excellent resource for Brooklyn parents covers activities plus lots of parenting advice. I also love Brokelyn, a blog dedicated to living cheap in Brooklyn.
Best For Bronx and Queens Parents — BronxMama and QueensMamas are two (unrelated) sites run by local moms to keep parents informed of what's going on in their boros.
Best for NYC Travel — NewYorkology was an inspiration to me when I started Mommy poppins (almost exactly) 4 years ago and is still an amazing resource for New Yorkers and people traveling to New York with cultural listings and local news. If you're on twitter, you can follow Amy's up to the minute updates on everything happening in NYC in real time @newyorkology. I also love OffManhattan, a blog that shares my love for car-free travel in and around NYC. Carol, the intrepid traveler behind NYCityMama, keeps a lively blog that details both her adventures with her three boys in New York City and their frequent trips to destinations near and far.
Bonus — There are so many other great sites in New York City that I'd love to shout out. We'll be sharing some of our favorite food blogs and other top favorites this week. I'd like to leave you with one last thought, however. I absolutely love the hyper-local blogs that cover just their neighborhoods. An excellent one started up this year, Tribeca Citizen, and it's an invaluable resource for anyone living or working in Lower Manhattan. I wish I had a list of all the neighborhood blogs, they are such great resources. If you have a favorite hyper local blog or any favorite NYC-centric site, please share it in the comments (our comments are now moderated to foil spammers, but we will try to approve them as quickly as we can).