10 Super-cool Summer Children's Books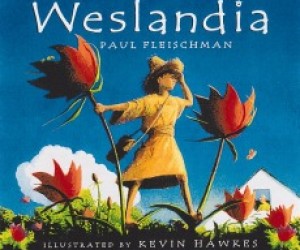 With the weather we've been having, perhaps the last thing you want to do is pick up a book about the hottest season.

But you'll be pining for summer fun soon enough: longer days, summer Fridays, family vacations, and afternoons spent in the sprinklers and at the beach.

Even though summer isn't even half over, I catch myself feeling nostalgic for it. It's the season we always seem to measure by how close it is to being done. These ten children's books capture its big and little pleasures: the magic of keepsakes, awesome (and not-so-great) photos and the making of memories. Every one is a must for your summer reading list.
1. Swimming Lessons by Betsy Jay, illustrated by Lori Osiecki

Jane, a rhinestone-glasses-wearing smart aleck, refuses to dip so much as a toe in the water until she meets someone even more terrified of swimming than she is. Suddenly Jane's excuses and the kooky legend she enjoys telling about herself take a backseat to her truer, braver nature—or something like that. It's a good little story and a pretty funny book—someone wears a muumuu, Jane thinks she's a cat—and there are certainly kids out there who will relate to her trepidation. Even if your child was born a fish, there's much to enjoy here.


2. A Drive in the Country by Michael J. Rosen, illustrated by Marc Burckhardt

Scenic and sentimental, this book speaks of cramming the car full of drinks, snacks and "jars for keeping unusual bugs." The language is evocative and readers are treated to all kinds of summer sensations and sights: the smell of a skunk; crawdads sleeping; minnows racing; a store stocked with arrowheads, doughnuts, licorice and jars of piccalilli ("whatever that is"); and milkweed collecting on a fence, graveyards and license plates. The boy falls asleep, and when he opens his eyes it takes him a minute to figure out that he's home again. "That right here is where I live, and that wherever in the world we've been today, the only place we wanted to go was Together, just our family, and a Sunday drive in the country took us there."


3. Weslandia by Paul Fleischman, illustrated by Kevin Hawkes

Quixotic or megalomaniacal? A bullied, teenage oddball grows mysterious crops from windblown seeds, then uses their fruit, tubers and bark to construct a self-sustaining civilization, complete with robes he weaves himself, a counting system based on the number eight, and re-imagined histories, alphabets and constellations. He actually wins some be-robed and bedazzled converts (a.k.a. friends), who swish along behind him on the first day back to school.


4. All in a Day by Cynthia Rylant, illustrated by Nikki McClure

This book boasts stunning pictures by McClure (fashioned from black paper and an X-Acto knife!), and author Rylant at her understated best: "A day is a perfect piece of time to live a life, to plant seed." Everything here is so restful and optimistic, it feels like this tale has been with us for a very long time, even though it was just published in 2009. A new bedtime classic.


5. A Pocketful of Cricket by Rebecca Caudill, illustrated by Evaline Ness

Six-year-old Jay roams freely beneath the hills encircling his family's old farmhouse. Summer is nearing its end, and he scoops up an arrowhead, a goose feather, a hickory nut, a stone with the imprint of a fern, and a cricket. On the first day of school, Jay won't let go of that cricket... or is it summer he can't relinquish? This book has a quiet resilience and invites rereading. Every time you do, you're sure to notice something you missed the last time.



6. Heat Wave by Eileen Spinelli, illustrated by Betsy Lewin

What did we do in the days before air-conditioning? We closed early, walked barefoot and kept our sermons short. We slept on fire escapes and riverbanks. We dreamt about winter. This book is a wistful tribute to inconveniences we all shared once upon a time.






7. Pictures From Our Vacation by Lynne Rae Perkins

Photographs can be deceiving. That's what these kids find out when they try to document their family's often rainy, sometimes tedious pilgrimage back to the old farm to visit with relatives. The important moments always seem to take place when they're too busy to fiddle with the camera. What we remember about our time with family isn't always photogenic.


8. The Raft by Jim Lamarche

There's a lot of good stuff here: art and nature, a sullen tween and a lively grandmother. Yet as much as this is a story about a city slicker learning some good ol' country wisdom, it's most persuasive when detailing one boy's attempts to be independent. Although the cover shows a boy enjoying the outdoors, inside the book, he's always depicted wearing a life vest and usually glasses. You know where this tale is going from page one, but it's a rich journey.


9. The Moon Jumpers by Janice May Udry, illustrated by Maurice Sendak

Despite Sendak's fame, this book isn't well remembered. However, it's about a time most of us recall vividly: That magical hour on late summer evenings before our parents called us in. "We climb the tree just to be in a tree at night," writes Udry in lyric, self-evident prose. Sendak alternates black-and-white drawings with bursts of shadowy color. Sunflowers give way to moths, and children keep attempting to touch the moon, even though they know they'll never succeed. Warm and elegiac, this is one place the wild things definitely aren't.


10. Garmann's Summer by Stian Hole, translated by Don Bartlett

The six-year-old title character spends the summer visiting with three old aunts. Although they're not long for this world, they aren't worried about what awaits them on the other side. Garmann buries a sparrow. He pulls at his teeth—still not loose—and frets about the twins next door who can ride bicycles, and read and spell backward. By the end of the season, he has changed (for the better, of course), and he waves goodbye—perhaps for the final time—to the boat carrying his aunts. The greatest and most permanent transformations usually happen where no one else can see, and this book attests to that.

Jay Bushara writes a blog called One Potato where he shares his passion for children's books.

Check out posts about more of our favorite children's books.