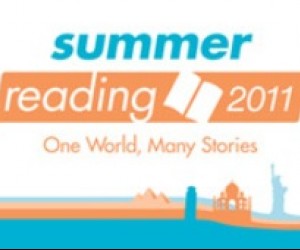 Summer Reading 2011 for NYC Kids Kicks Off June 9 With Free Celebrations
This is the time of year when parents start worrying about how much their kids will forget over the summer. As the mom of a kindergartner who's starting to read on his own, I want to make sure that he continues to leaf through—and more importantly, love—books. That's why I'm signing him up for Summer Reading.

On Thursday, June 9, New York City's three public library systems launch the 2011 edition of this wonderful annual program. Since all public school students have that day off, they can attend one of many free kick-off celebrations and sign up for the program, which tracks kids' consumption of books, music, DVDs and video games.

Read on (or better yet, have your kids do it) for the info on Thursday's fetes, and how your children can get in on this summer-long tradition.
To participate in Summer Reading, kids need to register online. On the site, they can access librarian-approved reading lists (organized by age), keep reading logs and earn badges. It's actually a pretty cool site, where kids can create their own avatars and share reviews of books and media with their peers. Kids who can't yet read on their own can still join in by having their parents keep track for them.

If your children are older, encourage them to join or start a book club. Get started with these great book series for tweens.

To get motivated, and to give that old library card a workout, check out one of these Summer Reading kick-off events.


New York Public Library

Despite the name, this system only encompasses Manhattan, the Bronx and Staten Island. The NYPL's big Summer Reading shindig is taking place at the Seward Park branch on the Lower East Side, 192 East Broadway at Jefferson Street. Beginning at 11am, families can catch a magic show, do arts and crafts, take magna and anime workshops, and enjoy face painting, balloon sculptures and Big Apple Circus performers. Click here for the complete schedule.

Other NYPL branches will be hosting their own smaller celebrations. Here are highlights.

Mott Haven Branch – the Bronx
321 East 140th Street at Alexander Avenue
3:30pm
FREE
Morgan Taylor, a.k.a. the man behind animated yellow alien Gustafer Yellowgold, presents his multimedia performance titled Infinity Sock. FREE

Roosevelt Island Branch – Roosevelt Island
524 Main Street
11am
FREE
&
Melrose Branch – the Bronx
910 Morris Avenue near 162nd Street
2pm
FREE
The New Canaan Nature Center invites families to marvel at various birds of prey, including hawks, owls and falcons.
St. George Library Center – Staten Island
5 Central Avenue near Hyatt Street
2pm
FREE
Sing along with Emily Ellison as she belts out tunes from Africa, the Caribbean, Mexico, Asia and America.

Great Kills Branch – Staten Island
56 Giffords Lane near Margaret Street
2:30pm
FREE
Enjoy a marionette show of Czechoslovakian fairy tales told in English. Best for kids ages 7 and up.

Port Richmond Branch – Staten Island
75 Bennett Street at Heberton Street
3:30pm
FREE
The wonderful Arms-of-the-Sea theater company presents Criss-Crossing Border - The Panama Suitcase Show, which was inspired by its travels in Central America. Performance is in both English and Spanish.

Queens Library

Long Island City Branch
P.S. 111 schoolyard, 37-44 21 Street between 36th and 37th Avenues
10am-12:30pm
FREE
Enjoy magic tricks, storytelling and circus tricks by Vanessa Vortex and her troupe, then get in on the action with hands-on art workshops by the Queens Museum of Art, and juggling, hula hoop, magic and storytelling workshops. Click here for the complete schedule.


Click here for summer programs and reading clubs associated with Queens Summer Reading 2011.

Brooklyn Public Library
Central Branch
1 Grand Army Plaza at Flatbush Ave and Eastern Parkway
10:30am-4pm
Hit the outdoor plaza to catch the Silly Dilly Band, a drumming circle, the Calpulli Mexican Dance Company, balloon twisters and a storytime by Nets coach Avery Johnson and Priscilla Star Diaz from The Electric Company. End the day with a rocking family dance party. Click here for the complete schedule.
Click here for more Brooklyn Summer Reading kick-off events.

Hit Borders for a free book
National book chain Borders wants to reward kids 12 and under for reading. Kids who finish 10 tomes before September 5 snag a free book from a pre-selected list, which includes Judy Moody, Danny and the Dinosaur and Ramona the Pest. Just fill out this form and bring it to your local Borders.

Check out posts about our favorite books here.