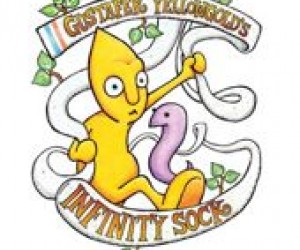 Gustafer Yellowgold's Infinity Sock, Unique Family Entertainment in NYC
In 2008, I read about Gustafer Yellowgold on this very site and was instantly intrigued; I kept it on my short list and waited for the show to come back to town. Last year my son and I were lucky enough to finally catch the awesome live show (for free no less) in a NYC public library and we were both carried away into the musical animated fantasyland created by the singer/songwriter/artist Morgan Taylor. Gustafer Yellowgold is back with a brand new show, Gustafer Yellowgold's Infinity Sock that is enchanting NYC for the next few weeks before heading out on a national tour.

If you have seen Gustafer before make sure to catch up on his exciting new adventures, and if you haven't read on to find out what you have been missing!
The Gustafer Yellowgold Show is a little hard to explain, it is kind of like a deconstructed cartoon or rock video. Basically, the show consists of a man, Morgan Taylor armed with his guitar and computer, providing the soundtrack for an animated video that shows the story of Gustafer Yellowgold. The music and the visuals evoke my own childhood in their simplicity, but this high-tech performance that couldn't have possibly existed back when I was a kid.

Gustafer is a little yellow man who comes to earth from the sun and lives in the state of Minnesota with his pet eel, Slim. He is brought to life in delightful and charming animated illustrations that are presented on a video screen beside his creator, Morgan Taylor. The narrative comes from Taylor who tells the story through his inventive original songs.

The visuals are stunning and look like they could have been done with crayons or colored pencils as opposed to today's modern CGI animation. The music, Taylor calls his style SOCK (like soft rock), is great and reminded me of 60's pop and 70's soft rock with toe taping, smile inducing, catchy lyrics. The whole experience carries you away to Gustafer's fantastical world where clothes can be made of cheese, people can come from the sun and eels wear socks.

In the new show, boring old laundry day becomes an amazing adventure for the little yellow man as he follows his tube sock that has stretched itself from his bedroom window to well, infinity! Along the way he stops to watch a bee rock concert, hang out with his well dressed pterodactyl buddy, spy on a snake prom and do a little shopping for new duds in Wisconsin that are made of cheese, lots of fun for kids and adults.

There is nothing else like a Gustafer Yellowgold show and Infinity Sock is unique, well done and funny, perfect entertainment for families with kids 4 through 10 years old. The small DR2 Theater in Union Square adds to the intimate and personal experience. The show is about one hour and Gustafer himself may even be in the lobby to say goodbye.




Gustafer Yellowgold's Infinity Sock
DR2 Theatre
103 East 15th St.
Saturdays through April 2, 2011 at 11:00 a.m. and 1:00 p.m.
$25 adults and $20 children under 12.