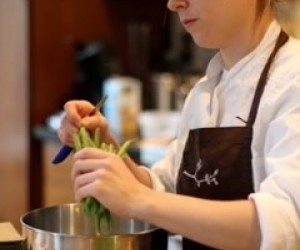 Splurge Alert: On Call Personal Chef Services from Kate's Carried Away
In my former life, I sat in on a lot of focus groups for moms and I can say with pretty good authority that one of the top fantasies of most moms is to have a personal chef. Face it, no matter how much you love cooking, making dinner for a family (not to mention lunches and breakfasts) is downright exhausting. Just thinking about what to make every night for the next 18 years is enough to make me start to shake.
Kate's Carried Away is an in-home, Cordon Bleu trained personal chef who plans your menu, does the shopping, and then comes to your home, prepares 7-8 dishes for you for the week that you just reheat and have dinner on the table any night. Carried Away will customize your family's menu for your tastes and can make all type of dishes that you like, working within any dietary restrictions necessary.
Cheaper than having someone come to your home every day and healthier than take out, Carried Aways services might make sense for some families who don't regularly have time to cook. It is also a great idea for a baby shower gift, a Mother's Day or birthday treat, or for sudden emergencies, like extended business travel. [Or because you got it for 58% off from Poppins Perks. Read to the bottom to find out more.]
I had Kate's Carried Away come to our home this week to try it out and I was giddy with excitement as I watched Kate chop, slice, sauté and bake away all morning long. When she left I had a fridge full of food, a clean kitchen and my apartment smelled like freshly baked bread. Heaven.
Here's what Kate made:
Soba noodles with tofu, shiitakes and spinach
Coconut chicken strips with spicy mango mustard
Carrot Ginger Soup
Sesame green beans
Ginger miso shrimp salad
Lemon and garlic steamed broccoli
And a large loaf of zucchini bread.
This was a menu suggested by Kate's Carried Away and I was excited to try some of her dishes. They were all yummy, especially the sesame green beans which I just couldn't stop munching on. Next time, however, I think I would like to do a mix of some of her suggestions and our family favorites because I think there's something more comforting about familiar foods that I am missing with a whole week of eating unusual dishes.
This amount of food was enough for us to have three dinners, plus lots of leftovers that we could either have as another meal or use as lunch fillers. We also had the zucchini bread for breakfast for a few days.
Some questions you may have:

Do I need to have a fancy kitchen? Nope. The folks at Kate's Carried Away live in little NYC apartments too and know how to get big taste from little spaces. Hopefully you have basic cooking supplies, like pots and pans, but they'll work with what you've got.

How much does it cost? Normally a visit from Kate's Carried Away is $225 plus the cost of groceries. The groceries are not marked up. You will get the receipts for what was actually bought.The cost of groceries will vary depending on what you want them to make and what you might already have in your kitchen. They will work with you if you have a budget you'd like to stay within. Our groceries cost $100, but I had most of the oils and spices they needed. I also got to keep the left over seasonings and extras that she bought.
Do I need to be home? Kate's Carried Away can come while you are at work or while you are at home, whichever works better for you.
Do they cook organic/vegan/other dietary requests? Yes...or no. Whatever you like. Kate's Carried Away will buy all organic if you like, but if you prefer to save a little money, she can buy conventional, or you can just tell her to use her judgement at the market. Kate has worked with lots of families that have dietary restrictions and has tons of delicious recipes that work with any individual dietary needs.
We loved Kate's Carried Away so much we wanted to share it with you. We negotiated a great deal just for you. Check out our Poppins Perk this week to get 58% off Kate's Carried Away. If you're not getting Poppins Perks emails sign up for our deals notifications here.
Find out more about Carried Away at katescarriedaway.com