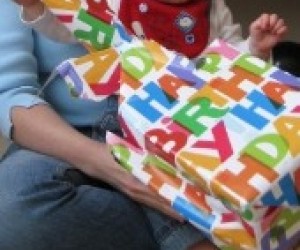 Giving Back at Birthday Time
I've been thinking about ways to celebrate my soon-to-be-2-year-old's birthday with all the traditional fun, but minus the usual mound of presents. Is this possible to pull off without offending friends and family or upsetting the birthday boy? I think so. Now don't get me wrong, I'm not suggesting a ban on all birthday gifts! But there are ways to strike a balance and make birthday parties more socially, environmentally and financially friendly. Besides, who in NYC has the room for all those presents anyway? Here are a few ideas to limit the toy intake and use the occasion to share all that birthday love and generosity with others.

BABY'S FIRST BIRTHDAY
If your child has been showered with gifts throughout their first 12 months and already has more than he/she needs (or can fit in your apartment) you could ask guests to instead bring baby necessities like diapers, clothing or formula and donate them to a charity that assists new mothers in need. At this age your child certainly won't miss unwrapping gifts. One NYC organization that collects these types of items is Baby Buggy among others. While you're making the donation, you can also unload some of those gently or unused baby items your child has already outgrown.
OUR LATEST VIDEOS


TODDLER BIRTHDAYS
At this age you can probably sneak some of the toys from the gift pile to give to charity without your child knowing, or you can use the opportunity to start teaching your toddler about sharing and giving to others. One compromise is to keep presents from family members but donate gifts from a party with friends to a children's charity or toy drive. Yet another idea is to open and keep new birthday presents, but clean out the toy box and make up a bag of old toys for a charity that accepts second-hand items. Check out Second Chance Toys which redistributes used plastic toys, or a local place of worship or charity thrift shop.


PRESENTS FOR BIG GIRLS AND BOYS
As kids get older it may be tougher to turn away gifts, but also easier to explain and get your child on board with volunteering and helping others. There are some organizations that offer ideas for birthday parties with themes especially for young philanthropists. Project Sunshine encourages kids to have friends at their party make art projects together for sick children in hospitals across the U.S. Their website instructs how to make cards, craft kits, or "surgidolls" which are used to explain surgeries to young patients. Children for Children has similar service project themes for birthday parties online.
GREENER GIFT OPTIONS THAT GIVE BACK
A rad idea from ECHOAge for birthday parties combines the best of both worlds. Guests receive an invite with instructions on how to give money online rather than bring a wrapped gift. The final amount collected is divided with half going to a charity chosen by the birthday child, and half being sent to them to buy one big gift of their choosing. Deposit A Gift also runs with this environmentally friendly birthday registry idea, minus the charity donation, by collecting money online for the birthday boy or girl to put towards one big gift.
HOBBIES AND FAVORITE THINGS
If you are having a birthday party based around the theme of your child's favorite hobby or interest, find a way to incorporate some sort of volunteer or charity project into that theme. For example, if your child is really into dogs, ask guests to bring any old sheets, towels or blankets that you can collect and deliver to a local animal shelter to use. Or if you have a young chef in the family who likes to help in the kitchen, ask party guests to bring canned food items that you and your child can then deliver to a local food pantry. Be creative!


For more meaningful birthday ideas, see our Party Guide.