Online Robotics Camp
Young Gates - Kids Online Personalized Classes

Artificial Intelligence with Scratch Online Camp
Young Gates - Kids Online Personalized Classes

Spark Math: Free Trial Class
Virtual
Sign up for our free newsletters.
Make: 3-Ingredient Peanut Butter and Jelly Cookies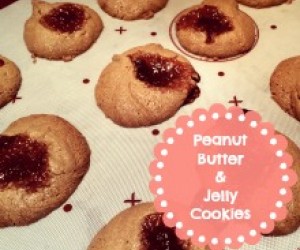 4/16/15
- By
Anna Fader
If you like peanut butter and jelly, you'll love these super-easy-to-make, healthy, gluten-free and protein-packed cookies. All you need is three ingredients and about 20 minutes. I made this recipe up, and while these cookies aren't going to win anyone a place on Iron Chef, they make for a great after-school snack with a glass of milk. You could even eat them for breakfast. Why not?
Ingredients:

1 cup of peanut butter (you can substitute another nut butter if you prefer)
2 tablespoons of maple syrup
Jam or jelly
1. Preheat oven to 350° and mix the maple syrup into the peanut butter.
2. Use a spoon to drop tablespoon-size dollops onto your baking sheet. Push your finger into the dough to make holes and fill with jam.
3. Bake at 350° for 15 minutes or until the edges start to brown. Allow the cookies to cool completely before serving or they'll be too crumbly.
Show us what you make. Share it on Facebook, Twitter or Instagram and tag @mommypoppins so we can see your creations, too!
Kids' work is to play. WeeWork is a Mommy Poppins series offering an easy daily activity for grown-ups and children to do together, making kids' work an important part of your day. We aim to inspire together time, creativity and fun using only your imagination and things around the house. You can see all our WeeWork activity posts here.