Little Lions: Best Chinese Culture Children's Books from The New York Public Library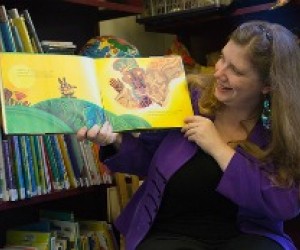 We've made some exciting additions to Mommy Poppins this fall. First, we launched our monthly neighborhood spotlight series, in which we run multiple posts about a chosen New York City area. For October, we decided to highlight one of our favorite places: Chinatown.

Now we're excited to debut a new series of monthly posts featuring children's book recommendations by New York Public Library (NYPL) librarians. Because really, who better is there to suggest educational and engaging titles for our kids?

For this first NYPL post, we decided to combine our two new series. Stephanie Whelan, a librarian at the Seward Park Library near Chinatown, has compiled a wonderful roundup of nine children's books that explore Chinatown, or Chinese culture and traditions.
1. Exploring Chinatown: A Children's Guide to Chinese Culture by Carol Stepanchuk, illustrated by Leland Wong

The go-to guide for families looking for more information on Chinatown culture. The book doesn't focus on one specific Chinatown (i.e. this neighborhood could be in San Francisco or Los Angeles, too), but attempts to give an overview of this type of community. It offers myriad facts about Chinese communities, food and games. Find the book at NYPL or buy it on amazon.com.


2. Moonbeams, Dumplings & Dragon Boats: A Treasury of Chinese Holiday Tales, Activities & Recipes by Nina Simonds, Leslie Swartz, The Children's Museum Boston and Meilo So

This book is chock-full of family-friendly activities, recipes and stories associated with various Chinese culture festivals. Try making rice balls or moon cakes, creating paper lanterns or writing calligraphy. The information is complemented by lively illustrations and easy-to-do activities that will engage the whole family. Find the book at NYPL or buy it on amazon.com.


3. Gai See: What You See in Chinatown by Roseanne Thong, illustrated by Choi Yangsook



Gai see means "street market" in Cantonese. Bright pictures and rhyming text describe the sights and sounds of a busy Chinatown marketplace, This introductory picture book will appeal to young readers, and whet their appetite for a visit to Chinatown's numerous and odorous vendors. Find the book at NYPL or buy it on amazon.com.

4. My Chinatown: One Year in Poems by Kam Mak

In this vibrant picture book, a young transplant from Hong Kong comes to live in New York City's Chinatown. This lovely immigrant tale invites readers to see the neighborhood from a more personal viewpoint, as the narrator explores his new home while simultaneously battling homesickness. Find the book at NYPL or buy it on amazon.com.


5. Sam and the Lucky Money by Karen Chinn, illustrated by Cornelius Van Wright and Ying-Hwa Hu

Sam is a lucky kid: On Chinese New Year, he's given $4 to spend in Chinatown…but what should he buy? Set in New York City's Chinatown, the book is filled with evocative watercolor illustrations that capture everyday life in the community, and also dispenses a lesson in generosity and compassion. Find the book at NYPL or buy it on amazon.com.

6. D Is for Dragon Dance by Ying Chang Compestine, illustrated by YongSheng Xuan

An A-to-Z tour of Chinese traditions, this little alphabet book familiarizes preschoolers with their letters and a new culture. Vivid pictures and helpful explanations of words and objects make the title informative and charming. Find the book at NYPL or buy it on amazon.com.


7. Ruby's Wish by Shirin Yim Bridges, illustrated by Sophie Blackall

Ruby isn't like other girls in Old China: She doesn't want to get married; she wants to go to university. Will her family help grant her wish? This charming picture book is a great family story with a happy ending, and is based on the life of the author's own grandmother. Find the book at NYPL or buy it on amazon.com.




8. Uncle Peter's Amazing Chinese Wedding by Lenore Look, illustrated by Yumi Heo

Jenny's favorite uncle is getting married so suddenly, he doesn't have time to play with her. Can she overcome her jealousy to help make his wedding day special? The plot is familiar, but the Chinese wedding traditions will be new and exciting to most readers. Jenny's experiences as a Chinese-American girl really draw you in. Find the book at NYPL or buy it on amazon.com.


9. Dim Sum for Everyone! by Grace Lin

Who doesn't love dim sum? Still, choosing this last title was tough because author-illustrator Grace Lin has written so many great books on Chinese culture and Chinese-American life. This story is a culinary adventure, as one family visits a dim sum restaurant and readers go along for the meal. The bright artwork and simple text make it a good book to share aloud. Find the book at NYPL or buy it on amazon.com. If you enjoy it, check out Grace Lin's other work.


Read our other posts about Chinatown or get the scoop on more of our favorite children's books.

Thanks to The New York Public Library for providing this book list. You can find all of these titles at the library.