Kids' Craft: Easy No-Wax Batik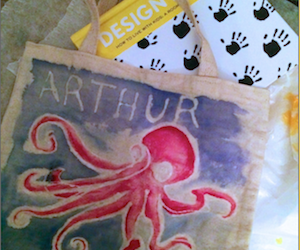 I love batik. Or I should say, I love the way batik looks, and I love the idea of making batik, but actual batik is really hard, meticulous and, frankly, kind of tedious to do. I've been looking for a simpler way to make batik and recently shared these batik-style card designs. I think they turned out great, but they are only paper simulations of batik.
But I finally found an easy batik method. Do you know Design Mom? Blogger Gabrielle Blair is one of those people who makes you wonder, "How does she do it?" She is somehow managing to raise six children, run her super website and make everything seem beautiful, graceful and balanced. Luckily for us, she has just wrapped all that beauty and wisdom into her new book, Design Mom: How to Live with Kids: A Room-by-Room Guide.
What I love about this book is that it isn't just about home design. The lovely Gabby shares many of her family's traditions and ways they make living with kids work. These are my favorite parts of the book, and that's right where I found my easy batik technique.
I've adapted Gabrielle's method a bit to make it even simpler so that a little kid can do it. You can literally use this technique on any piece of cotton fabric; we did T-shirts and tote bags.
The good thing about this project is that it's very forgiving. A child can splash glue on fabric, paint over it and still enjoy a wonderful result. Or you can draw an outline and let them color it in. The style isn't meant to be clean-cut and perfect. It's the imperfections that make it look so good. If you want to be fancy, you can trace a picture you like—Gabrielle has directions for how to do that in her book.
Materials
Cotton fabric
Fabric or acrylic paint or dye
Elmer's Glue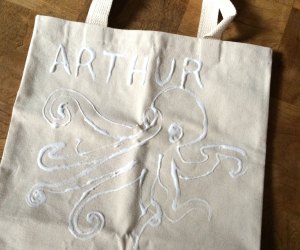 I made a few mistakes, but no one will ever know.

1. Draw your image on the fabric with glue. Make sure there's a nice bead of glue. Let it dry completely for several hours.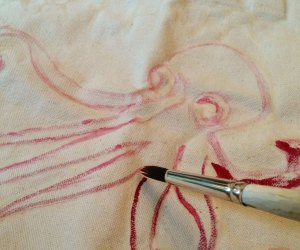 I outlined the the design first to make it easier to see.

2. A traditional batik method would be to dye the fabric, but I find that messy. I prefer to paint the colors on. This also lets you use multiple colors. You can use fabric paints, but acrylics work just as well. Dilute the paint a bit first; that gives you a nice watercolor-y look and hides imperfections.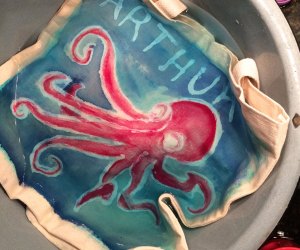 I can't wait to give this to my nephew.

3. Once your paint is dry, set the colors by ironing it for a few minutes, or putting it in the dryer. Afterward, run it through the wash or soak it to remove the glue. Now your final image will be revealed.
Kids' work is to play. WeeWork is a Mommy Poppins series offering an easy daily activity for grown-ups and children to do together, making kids' work an important part of your day. We aim to inspire together time, creativity and fun using only your imagination and things around the house. See all our WeeWork activity posts.