Kids Craft: Crayon Batik Valentines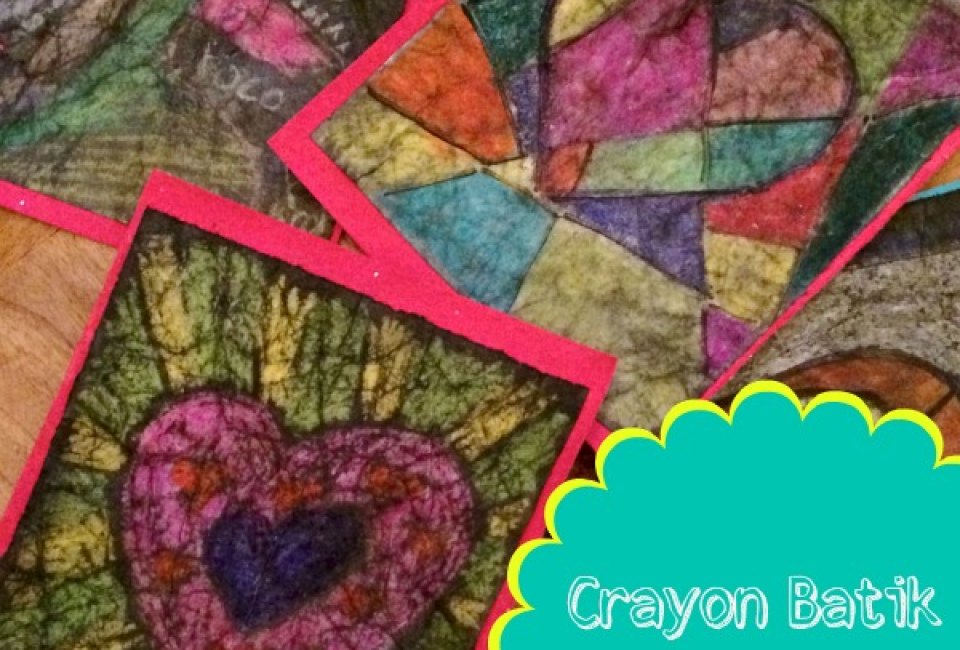 2/3/15
- By
Anna Fader
I have always had a love affair with children's books. In their best form, they have the capacity to shape how we see the world simply through a few words and illustrations. Red, a new book from our sponsor Harper Collins, is one of those special children's books that should become a new classic.
Red tells the story of a crayon who has a red label, but is, in fact, blue. Red tries to be red, with the help of those around him, but no matter how hard he tries, he just can't be red. The heartwarming story depicts, through adorable illustrations, how we are all best when we have the courage to let our true inner selves shine.
This sweet book inspired us to come up with a special crayon project ourselves. I love this simple activity that transforms any crayon drawing into a cool batik design that looks just like the complicated fabric technique. It's fun to see the drawing change before your eyes, and it turns any child's crayon drawing into a framable work of art or the perfect homemade Valentine. Here's how you do it in three easy steps.
1. Draw a picture on white paper. It works best if your design has blocks of color rather than fine lines. I also like the effect of leaving a bit of white border around each shape. But anything goes. Express your inner self.
2. Wet your paper and then carefully crumple it up like you are going to throw it away. Kids may not want to crumple their drawings, but don't worry; they will be fine. Just be careful not to rip them, since wet paper is delicate.
3. Lay the drawing out flat and paint over the whole thing with black ink. If you don't have ink, you can add a little water to acrylic paint, but not too much. After you've covered the picture, blot off the excess with a paper towel.
Once your masterpieces are dry, glue them onto a card for a Valentine, frame them, or do whatever expresses your true inner self. And think of Red. Find out more about the new children's book Red at HarperCollins.com.
Show us what you make. Share it on Facebook, Twitter or Instagram and tag @mommypoppins so we can see your creations, too!
Kids' work is to play. WeeWork is a Mommy Poppins series offering an easy daily activity for grown-ups and children to do together, making kids' work an important part of your day. We aim to inspire together time, creativity and fun using only your imagination and things around the house. You can see all our WeeWork activity posts here.
Sign up to get WeeWork activities delivered to your inbox.
This post is sponsored by Harper Collins.

Sign up for our free
newsletters.
Mommy Poppins is a family activity website that helps people find things to do with kids.
©
2023
MommyPoppins. All Rights Reserved.
mp-prod4-v4.32.99
We use cookies and other data collection technologies to provide the best experience for our customers.
Learn More