Celebrate Darwin Day: 5 Fun Ways for NYC Kids to Learn About Evolution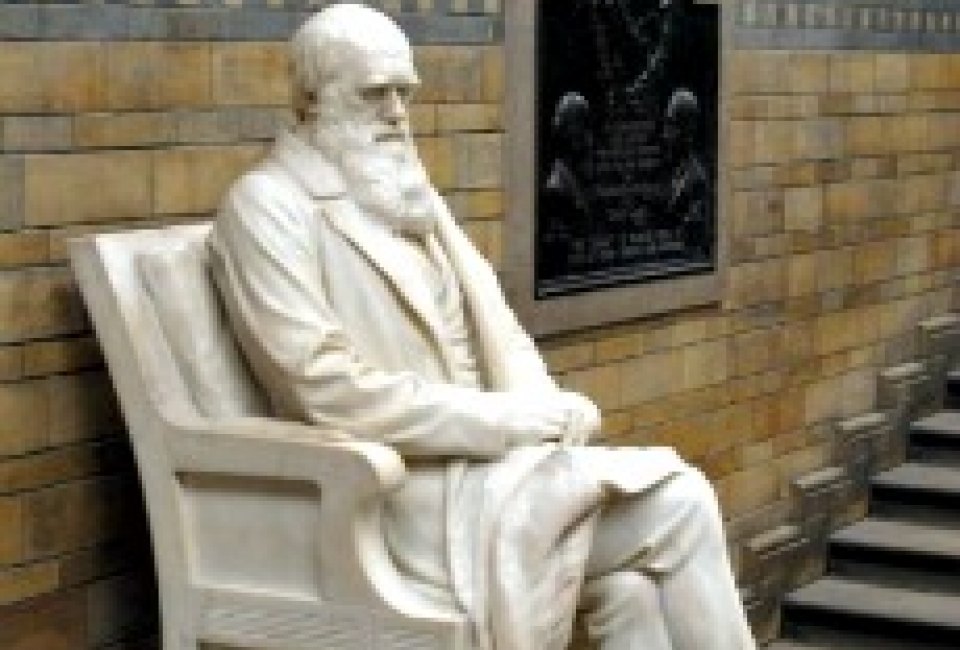 2/6/14
- By
Sonia Gonzalez
Charles Darwin was a 19th-century naturalist and geologist who's best known for his theories about evolution. More than 130 years after his death, his views on the origin of life are still hotly contested (perhaps you saw the videos of Bill Nye the Science Guy and the CEO of Kentucky's Creation Museum going at it earlier this week?). Despite the ongoing debate, support is building to have Darwin's birthday, February 12, recognized as a national holiday.

Even though Darwin Day is still unofficial, there are lots of fun ways for kids to learn about his contributions to science all year-round. New York City is home to wonderful zoos and museums where families can see Darwin's theories in action, plus some more offbeat science spots. We've rounded up five ways to learn about Darwin's legacy with your family both around town and at home.
Explore the American Natural History Museum Like you need an excuse to visit this go-to science spot with your kids. In honor of Darwin Day, stroll through the Spectrum of Life Exhibit and marvel at 3.5 billion years of evolution. Got a true science geek on your hands? You can access Charles Darwin's Scientific Manuscripts from home on the museum's website.

Visit our animal cousins at your local zoo Celebrate the diversity of our planet and learn about the origins of different species at one of NYC's five zoos and one aquarium. The Bronx Zoo, the Central Park Zoo, the Prospect Park Zoo, the Queens Zoo, the Staten Island Zoo and the New York Aquarium are all open year-round. More than 20 western lowland gorillas romp around in the Bronx Zoo's Congo Gorilla Forest, and you can see lots of similarities between our species. For hands-on zoological fun, visit the recently renovated Discovery Center at the Prospect Park Zoo where young naturalists can get face time with creatures lower down the evolutionary chain like turtles, mice and owls.

Check out Evolution This offbeat Soho boutique is a great place to get scientific with kids. The shop sells a wide variety of natural science collectibles, including fossils, skulls and skeletons, and taxidermy. It's set up more like a museum than a store, and browsing is encouraged, even if you're not planning on buying any bones.

Play evolution-themed games The games on That's Evolution are easy enough for my four-year-old to play and teach basic concepts about natural selection, population growth and DNA changes. Monster Game lets kids design their own digital "monster" and release it into the wild to see how it fares. The game explains how choices of ears, eyes, mouth, etc. impact the creature's chances of survival. Tree of Life is an interactive website that explores evolutionary links between living things. Charlie's Playhouse is a great resource for fun websites, games, books and toys themed around evolution. You'll find lots of cool activities like Devolve Me, which lets you upload a selfie to see what you would look like as a Neanderthal or other human ancestor.

Watch videos that help kids understand evolution PBS, Discovery and NeoK12 all have pages devoted to human evolution with lots of educational videos.

Find more science fun for kids in our Geek Guide.

Sign up for our free
newsletters.
Mommy Poppins is a family activity website that helps people find things to do with kids.
©
2023
MommyPoppins. All Rights Reserved.
mp-prod4-v4.32.99
We use cookies and other data collection technologies to provide the best experience for our customers.
Learn More