The Retro Christmas Gift: Chemistry and Electronics Sets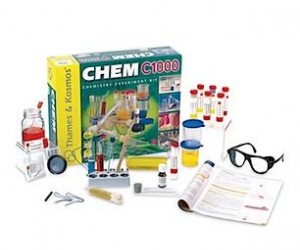 America is moving forward by looking backward. As they compare Obama to JFK and anticipate his bringing some forward-thinking good old retro energy to the White House, I am also looking back for some great ideas for Christmas gifts back in the day when kids got presents a little more stimulating than a Nintendo DS or the latest iteration of Tickle Me Elmo. I'm not thinking about BB Guns, a la A Christmas Story, I'm thinking about science kits like chemistry sets and electronics sets.
I don't know when science kits stopped being the cool gift kids wanted (gee did it have something to do with the video game?), but I can't think of anything cooler than finding one of these sets under the tree. I have to admit that I wasn't all that psyched about trying out the chemistry and electronics sets in our science kit review process, but we had more fun with these kits than with any other.
The Chem C1000 - Chemistry Experiment Kit was my absolute favorite set from our whole Science Week Science Kit Review-a-thon. It doesn't look like a barrel of laughs, there are no cartoons on the box, none of your favorite characters, but this kit will have you and your kids giggling like mad scientists as you follow 75 experiments to create magical and sometimes surprising results. Chem C1000 is a real classic chemistry set. This is not a kiddie toy chem set. It's got real glass test tubes and beakers. Cool! And as I mentioned in our Science Kits for Preschoolers post, I love that the Thames and Kosmos kits don't just tell kids how to follow the experiment, but explain the science behind it and why it's important. $80 from Amazon
Snap Circuits are a really popular series of electronics kits. Snap Circuits make it really easy for kids to build and understand how electrical circuits work by putting the circuits into little plastic units that can be snapped together to make 100 different projects. We got the Snap Circuits Jr. kit and my kids loved it. This kit has been pulled out again and again to try making sirens, fans and other cool little gadgets. $24 from Amazon
Another kit we liked was ScienceWiz Inventions. This is definitely for older kids. The experiments are finicky and a little hard to make work right, but you'll feel like MacGyver when you and your kids create your own motor out of a battery, paperclip and a magnet. $19 from GrowingTreeToys.com
All of these kits are recommended for kids 8 and older, but if you are going to do them with your child (and you should, it's fun!) a child as young as five will have a blast and think they are super cool scientists.

For more great holiday info, check out our Holiday Guide and our NYC Shopping Local Gift Guide.