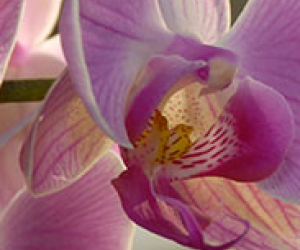 NY Botanical Garden's 'Chocolate and Vanilla Adventures' Worth a Visit
Living literally down the block from New York Botanical Garden, I have the pleasure of visiting with my 1 year old, Pearl, at least once or twice a week. As many of you know, in addition to offering acres and acres of natural beauty, NYBG also provides some great programming for kids. Although Pearl is pretty much too young to really enjoy many of the kids activities, I recently took a stroll though the Everett Children's Garden to check out 'Chocolate and Vanilla Adventures,' an educational component of The Orchid Show aimed at introducing kids to the history of the vanilla orchid and Theobrama cacao tree.
One major complaint I'd like to report right upfront is that you are not allowed to bring strollers into the indoor learning gallery where 'Chocolate and Vanilla Adventures' is offered. I'd imagine this could be pretty tricky for parents traveling with a few different children of varying ages. Any little ones snug and sleeping in their strollers will have to stay outside… so plan around naptime!

The actual 'Chocolate and Vanilla Adventures' program itself is pretty cute. There are a series of workstations that kids visit to participate in different hands-on experiments centered around the history of chocolate and vanilla. Each child gets a workbook they can use to take notes and document what they've learned. Perhaps the most interesting of the experiments is one in which the kids get to grind and taste their own chocolate seeds and add different spices to create their own custom recipe. There's also a vanilla jellybean taste test and a workspace containing microscopes for kids to use to examine vanilla beans and orchids. Perhaps the best part of the program is a complimentary cup of delicious hot chocolate!

'Chocolate and Vanilla Adventures' is certainly entertaining and a nice kid-centric add-on to your trip to New York Botanical Garden to spend some time in the great outdoors and check out the Orchid Show.

Another note worth mentioning for those visiting the annual Orchid Show: bring your Bjorn or similar baby carrier. The exhibit is held in the Haupt Conservatory, which doesn't allow strollers.

'Chocolate and Vanilla Adventures'; runs through April 19th, and is open Tuesdays to Fridays from to and Saturdays and Sundays (and April 9th to 19th) from to . Click here for more information.