Discount Broadway (And Off-Broadway) Tickets for Kids' Shows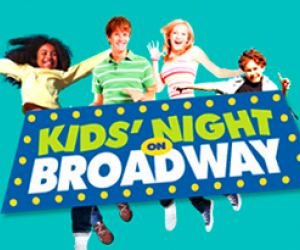 There are more and more fun shows for kids popping up on Broadway and more and more ways to find cheap tickets to Broadway shows for kids. Here's a rundown of the top ways to find discounted tickets to Broadway shows, with some that are only good for kids. Plus, as this post is going up, Kids Night on Broadway tickets just went on sale today, so snap those up right away. They sell out fast!
Discount Broadway Ticket Sales for Kids and Students:
High Five is a program for teenagers aged 11-18 that allows them to buy up to two tickets per show for just $5 per ticket. There aren't too many Broadway shows on there, but there are excellent venues like the NY Philharmonic, Brooklyn Academy of Music, 92nd St Y, New Victory Theater and and many more. Tickets can be bought to top city museums also.
Kids Night on Broadway lets kids ages 6-18 see top Broadway shows for free when accompanied by a full-paying adult. Kids also get to eat free at participating restaurants. Kids Night on Broadway is every February, but tickets go on sale in the Fall and popular shows sell out quickly.
Many theaters offer student tickets and student rush tickets, which are tickets set aside from every show for students, but you have to call each theater to see what's available.
Promotional Codes:
There are many sites that offer promotional codes for cheap theater tickets. Broadway Box is good one that let's you see the deals without registering first.
Not a discount, but if you're paying full price anyway, consider Givenik which gives 5% to a charity of your choice when you buy a ticket to a Broadway show.

Subscribe: For Off-Broadway kid shows, find out about theater subscriptions that give you deals when you buy more than one show at once.

One More Tip: Take advantage of living in NYC and go during the slow months: January, Feb, September and October when it's easier to score discounts even on top shows. Season of Savings offers discounted tickets every early Fall. It's also a good time to try to get rush tickets, which are seats sold by the theaters the day of the show. Check out playbill.com for the rush tickets policy of each theater.

What's your favorite tip for getting cheap theater tickets? Share it in the comments.

For more information about cool kids shows and arts in New York City see our Culture Guide.