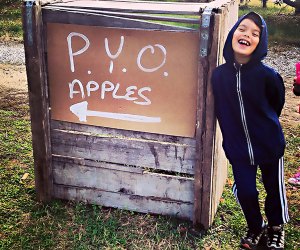 25 Fun Things To Do with NYC Kids on Columbus Day
New York City kids have only been in school for a month and weary parents are staring down another day off in observance of Columbus Day and Indigenous People's Day, October 14, 2019. But don't panic. There are plenty of New York City kid spots and activities ready to entertain you and your brood during the upcoming long weekend.
Fall weather offers the perfect chance to hit one of New York City's many destination playgrounds, of course, but we've also scoured our event and museum listings and combed through our day trip guides to put together a list of 25 things to do with the family on Columbus Day. Read on desperate parent, read on.

Wollman Rink. Photo by Janet Bloom
1. Get lost in the North Woods, explore The Ramble and marvel at the soaring arches in Central Park's family-friendly northern edge.
2. Catch The Pout-Pout Fish at The New Victory Theater or The Big Apple Circus at Lincoln Center, two of our top family theater picks for the season.
3. Take a hike on one of these seven nature trails within city limits.

Explore interactive exhibits at the always-free National Museum of the American Indian. AP Images/Jason DeCrow for The National Museum of the American Indian
4. Visit the always-free Smithsonian National Museum of the American Indian, right here in NYC for its Indigenous Peoples' Day Celebration, which shines a light on America's original inhabitants and their contributions to our culture.
5. Other spots recognizing Indigenous Peoples' Day include three of our favorite children's museums: CMOM, the Brooklyn Children's Museum, and Staten Island Children's Museum.
6. Pick the perfect pumpkin with a day trip to one of these nearby farms or local NYC pumpkin patches.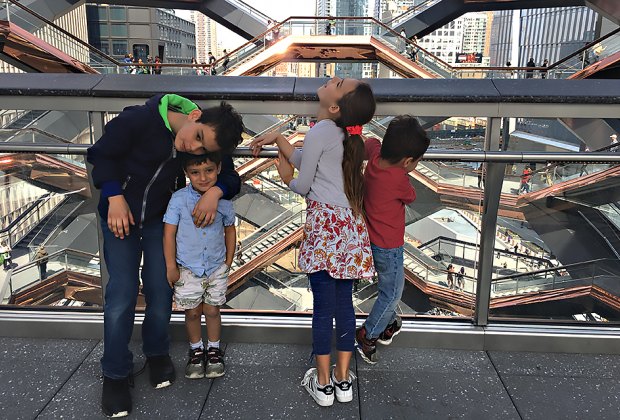 Explore Hudson Yards and climb The Vessel. Photo by Matt Nighswander
7. Explore The Vessel and the rest of the Hudson Yards.
8. Come face-to-face with a real-life predator at the New York Aquarium's Ocean Wonders: Sharks! exhibit.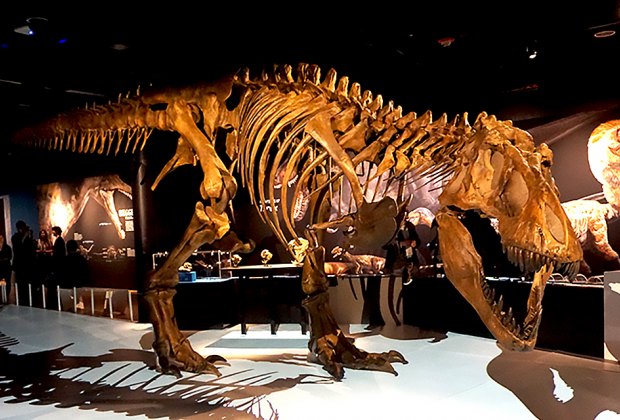 Who doesn't want to see how big a t. Rex really was? Photo by Jody Mercier
9. Or meet an old-school terror at the American Museum of Natural History, which pays homage to T. Rex in a striking exhibition.
10. Grab your bike or rent one and hit one of these family-friendly local paths.
11. Tackle a corn maze; there's even one right here in Queens.
RELATED: October GoList: Best Things To Do this Month in NYC with Kids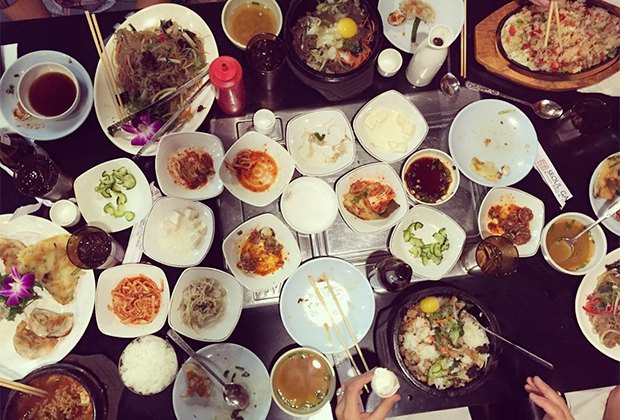 There's something for everyone at Koreatown's many eateries. Photo by Nathan Linegar via Instagram.
12. Explore a new-to-you neighborhood like Koreatown or one of the other enclaves we've scouted for you, including Long Island City, Queens, or Battery Park City.

You can't go wrong spending a day at the Bronx Zoo. Photo by Matt Nighswander
13. Read our post on seeing the Bronx Zoo like a local then head there to make some furry friends and enjoy its Boo at the Zoo and Dinosaur Safari festivities.
14. The Central Park Zoo, Prospect Park Zoo, and Queens Zoo are also open on Columbus Day.
15. Another oft-overlooked option: the Staten Island Zoo, which is hosting a special Autism-friendly morning of fun.
16. Or try one of these nearby petting zoos for fall fun on a real farm.
17. Visit the New York Botanical Garden for some fall colors and sweet fun with its Honey and Harvest Weekend.
18. Venture out of the city for one of these 30 fall day trips.
19. Can't get away for real? Try a virtual vacation at beloved store CAMP, which recently unveiled its new travel theme.
20. Get creative in the kitchen with one of these apple filled recipes after a trip to a local orchard.
RELATED: Best Free Halloween Events for Kids in New York City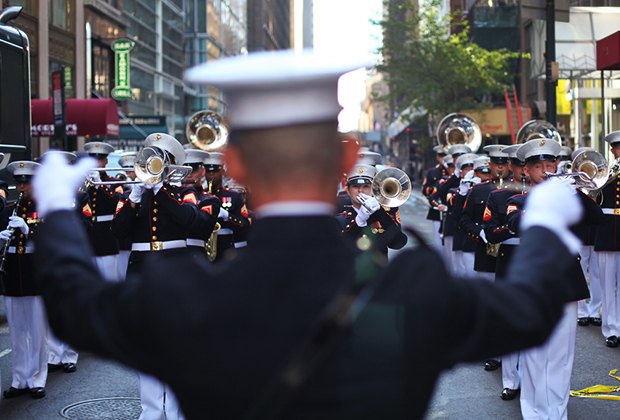 Catch the marching band during the Columbus Day Parade. Photo courtesy of Marine Corps New York.
21. Everyone loves a parade. Catch the Columbus Day Parade as it marches north along Fifth Avenue between 44th and 72nd Streets.
22. Finalize your Halloween costume and event schedule.
23. Celebrate Columbus Day in Prospect Park with special events for kids all afternoon. Burn off the rest of their energy with a visit to one the park's top playgrounds.
24. Catch Hopalong Andrew in his regular Monday spot at City Point's DeKalb Market.
25. Hit the slide at one of our favorite Central Park playgrounds. Stick around afterward to explore a new-to-you corner of the park.
This post, first published in October 2013, is updated annually.