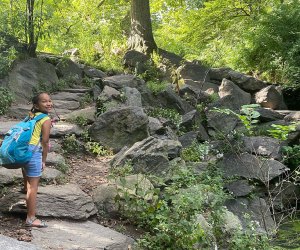 25 Fun Things To Do in NYC With Kids on Indigenous Peoples Day
New York City kids are staring down another day off. Officially rechristened Italian Heritage Day/Indigenous Peoples Day on the school-year calendar, the holiday falls on Monday, October 11, 2021. If it's snuck up on you, don't panic! There are plenty of New York City kid spots and activities ready to entertain you and your brood during the upcoming long weekend.
Fall offers the perfect chance to hit one of New York City's many destination playgrounds, of course. Still, we've also scoured our Activity Calendar and museum listings, and combed through our day trip guides to put together this list of 25 things to do with the family on Indigenous Peoples Day. So, step away from the screen and step outside to enjoy all the city has to offer.
OUR LATEST VIDEOS
2. Take a Hike
There are plenty of family-friendly nature trails within city limits for families to explore.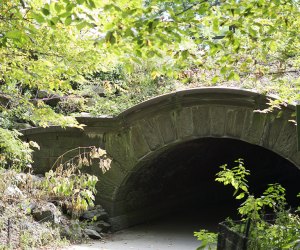 Central Park's paths offer a beautiful escape from the concrete jungle, especially as the leaves start to turn.
3. Central Park
Get lost in the North Woods, explore The Ramble, and marvel at the soaring arches in Central Park's family-friendly northern edge, hit the slides at one of our favorite Central Park playgrounds, or explore a new-to-you corner of the park.
4. Go Under the Sea
Come face-to-face with a real-life predator at the New York Aquarium's Ocean Wonders: Sharks! exhibit, and visit its newly-opened Spineless exhibit.
5. Visit Governors Island
Normally, we'd be telling you to enjoy the last few days of fun on this action-packed seasonal isle, but we're pleased to report it's now a year-round destination.
6. Explore Prospect Park With School of Wonder
If your kids have a long weekend and you don't consider enrolling them in School of Wonder's whimsical day camp in Prospect Park. Titled The Secrets of Gaia, this camp leads kids on a quest to learn how trees communicate, while exploring symbiosis and fractal patterns in nature.

Do you dare to cross the lava field at Cosmic CAMP?
7. Blast-Off at CAMP
The mini-chain's Fifth Avenue flagship has gone galactic and the whole family can enjoy an interstellar adventure together.
8. Ride a Bike
Grab your bike or rent one and hit one of these family-friendly local paths. You can also explore the newly finished Empire State Trail running from Lower Manhattan to Canada.
9. Hit an Observation Deck
If you're anticipating the opening of Summit One Vanderbilt later this month, plan a visit to one of the city's other sky-high attractions, including the Edge, Empire State Building, Top of the Rock, and One World Observatory.
RELATED: Best Things To Do With New York City Kids This Weekend

Krispy Kreme's flagship in Times Square is open for business.
10. Visit Krispy Kreme
Grab a sugary sweet treat at Krispy Kreme's Times Square mega shop. Bonus: Show a vaccine card for a FREE doughnut.
11. Have Some FREE Fun
We've found 100 things to do in NYC that don't cost a thing!
12. Do Some Halloween Prep
The official countdown to the holiday is on! If you need costume ideas, we've found 101 ideas for easy Halloween costumes.
RELATED: Pumpkin Patches, Hayrides, and Harvest Festivals Right Here in NYC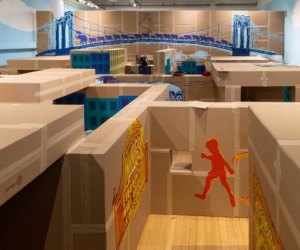 The Brooklyn Children's Museum welcomes visitors to A-MAZE-D—and more—during its Indigenous Peoples Day programming. Photo courtesy of the museum
13. Get Cultured
Book your tickets in advance for one of these must-see museum exhibits.
14. Hit the Road
Venture out of the city for one of these 30 fall day trips.
15. Romp at a Play Space
If you need to let the kids run wild, we've found a dozen budget-friendly indoor playgrounds within city limits.
6. Go Pumpkin Picking
Pick the perfect pumpkin with a day trip to one of these nearby farms or local NYC pumpkin patches.
RELATED: 30 Things We Can't Wait To Do This Fall in NYC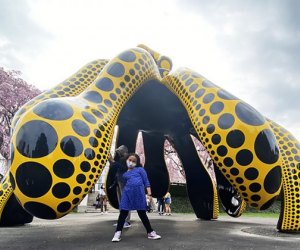 Yayoi Kusama's pumpkin-inspired art is right at home at the NYBG this fall.
17. See Kusama
Visit the New York Botanical Garden for some fall colors and a last look at Yayoi Kusama's exhibition, which closes at month's end.
18. Enjoy a Sweet Catskills Getaway
Fall is the perfect time to explore this picturesque New York region. We've rounded up more than 30 family-friendly places to play, eat, and stay in the Sullivan Catskills.
19. Get Lost in a Corn Maze
Tackle a corn maze at a local farm; there's even one right here in Queens.
RELATED: The Best Zoos and Aquariums in NYC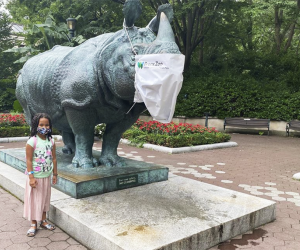 Even the hippos are wearing masks to keep zoo-goers safe.
20. Make Furry Friends at the Zoo
Read our post on seeing the Bronx Zoo like a local, then head there to make some furry friends and enjoy its Boo at the Zoo.
21. Eat All the Apples
Get creative in the kitchen with one of these apple-filled recipes after a trip to a local orchard.
22. Go Brick-or-Treating
The region's newest theme park Legoland New York is now open just an hour north of the city. Perfect for the under 12 set, there is plenty of kid-friendly amusement park fun to enjoy. Visit on October weekends to take advantage of its Halloween event.
RELATED: Fall Fun Guide for NYC Families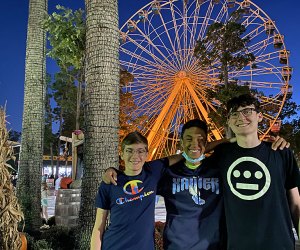 Enjoy the fall decor, photo ops, haunted attractions, and rides at Six Flags Fright Fest.
23. Get Scared
Six Flags Fright Fest is in full force. Enjoy the rides, including the brand new Jersey Devil coaster, plus plenty of family-friendly daytime thrills and teen-friendly evening chills.
24. Explore American Dream
The New Jersey mega mall is packed with family-friendly fun. Play golf with the Angry Birds, see sharks and more with a visit to the Sea Life Aquarium, build to your heart's content at Legoland Discovery Center, hit the Nickelodeon Universe theme park, or DreamWorks Water Park, and so. much. more.
25. Get Away
If you're craving more than a day trip, we've found 20+ weekend getaways nearby, perfect for a cozy fall escape.
Originally published in 2013.
Unless noted, photos by the author