Top Magicians, Magic Shops, and Magic Shows in NYC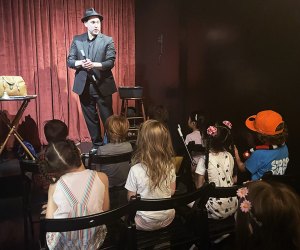 9/22/22
- By
Diana Kim
Kids love all things magic, and parents can find a handful of magicians, magic shows, and magic shops in NYC. At these mystifying destinations, kids can attend magic shows in NYC staged by world-class magicians, plus stock up on all the tricks of the trade, and even enroll in a magic class to learn the craft themselves.
From Abracadabra to The Brooklyn Magic Shop and beyond, read on for the best magic shops in NYC, plus our favorite magic classes and New York City magic shows, then marvel when your kid learns to perform unbelievable sleight of hand tricks that'll leave you amazed. Find more offbeat classes for kids in our New York City Classes for Kids Guide.
Subscribe to our newsletters to get stories like this delivered directly to your inbox.
Top Magic Shops in NYC
Don't underestimate this costume emporium in your search for magic shops in NYC. Abracadabra sells all types of magic tricks and magic supplies, plus costumes, books, props, and anything else a budding magician might need to put on a show. Its online store is extensive if you can't make it to the brick-and-mortar location.
Tannen's Magic Shop is the oldest of the magic shops in NYC and dates back to 1925. Every major magician has come through its shop to buy and browse its collection of magic tricks and supplies. You'll find invisible paint, multiplying billiard balls, magic canes, multitudes of magic tricks, cards, and magician's accessories. Tannen's also offers private magic classes in NYC and even a magic camp for older kids that counts David Blaine and David Copperfield as alumni.
While not a magic shop per se, what's a magician without a wand? Whether your little illusionist tends toward the Wizarding World or just needs a wand to wave to complete their bag of tricks, there's nowhere with a more concentrated supply than this themed store! You'll feel like you've stepped into Ollivander's when you enter the floor-to-ceiling stocked wand section at Harry Potter New York.
4. FAO Schwarz – Rockefeller Center
The allure of the trick-stocked Marvin's Magic collection at this supersized toy emporium is hard to resist, especially after spending a few minutes watching the crafty salespeople demonstrate the tricks right before your eyes. You might need to get a second job at the store to learn how to re-create the magic tricks once you get home, but kids will surely have fun trying.
RELATED: 14 Fun and Offbeat NYC Stores to Visit with Kids

NY Magic School offers small classes to help kids learn to perform magic tricks. Photo courtesy of NY Magic School
Top Magic Classes in New York City
Discover the art of magic with Matias Letelier, an illusionist and mentalist, who offers magic classes in NYC in person at the Brooklyn Navy Yard and online. Classes cater to kids ages 12 and older and beginners can enroll in a four-lesson session to learn basic tricks. There are lessons for advanced beginners, intermediate magicians, and even advanced levels.
Located on a bustling commercial street in Brooklyn, The Brooklyn Magic Shop is run by Diana and Daniel Morales. Magic classes are offered after school during the week and kids can watch a family-friendly magic show on the weekends featuring Daniel, aka "Apolino the Magician." The Brooklyn Magic Shop holds camps throughout the summer and there is a small section in the front of the store selling magic tricks and supplies. You can also host your child's birthday party here and include a private magic show.
RELATED: Kids Can Play for Free at These New York City Stores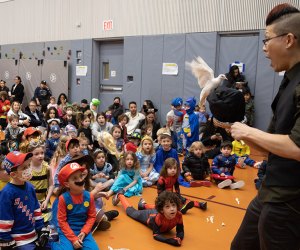 Rogue the Magician dazzles guests with his birthday party magic shows in NYC. Photos courtesy of Rogue
Best Magicians and Magic Shows in NYC
Rogue is a comedic magician and mentalist who performs at kids' and adults' birthday parties and has even performed on America's Got Talent. He customizes his magic show to make it appropriate for all kids and uses visual magic, small-scale illusions, mind-reading, music, and animals.
Max Darwin's long-running magic show is now online. Book his virtual magic experience for a group, a birthday party, or a one-on-one private session. Max also hosts a Virtual Magic Academy for kids in first through sixth grades.
In this NYC magic show, produced by David Blaine, the audience surrounds Asi Wind, creating an intense and intimate experience. Each performance is unique because every night the audience creates a one-of-a-kind deck of cards by personalizing blank playing cards with their names. Wind then uses the deck to perform amazing sleight of hand and mind-reading tricks. Performances are best for tweens ages 14 and up.
Birthday parties featuring a magic show are bound to be a hit. Book a magician online at Bazinga for a 45-minute interactive show that keeps even the little ones spellbound. Magic shows are recommended for ages 3 and older and content is catered to your particular age group. Depending on the venue, shows can accommodate up to 50 kids.
11. Magic Evan – Multiple Locations
Magic Evan has been performing magic shows at birthday parties all over NYC for the past 10 years. The positive online reviews prove he's a hit with parents and kids. Magic Evan tailors each show to the child's age, personality, and interests to ensure the party is a success. You can choose from several different birthday packages, and Magic Evan also offers virtual magic shows and magic classes.