Online Robotics Camp
Young Gates - Kids Online Personalized Classes

Artificial Intelligence with Scratch Online Camp
Young Gates - Kids Online Personalized Classes

Spark Math: Free Trial Class
Virtual
Sign up for our free newsletters.
WeeWork Recipe: 5 Minute Lemon Curd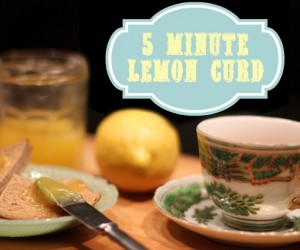 5/14/14
- By
Anna Fader
Lemon Curd. I distinctly remember the first time I tried it. I thought lemon curd was the best thing I'd ever tasted. I think I ate the whole jar in one sitting. To this day, I think of lemon curd as a delicious treat for special occasions. This recipe is so fast and easy you can whip up a small batch for a breakfast treat with toast or pastry.
Ingredients:
1 egg
1/3 cup sugar
3 tablespoons melted butter
1/3 cup lemon juice
lemon zest
1. In a microwavable bowl, stir together the egg and sugar until smooth then add the lemon juice, butter and zest. Mix well.
2. Heat in a microwave one minute. Stir and then microwave for 30 second intervals, stirring each time until slightly thickened. Total cooking time should be no more than four minutes.
3. Curd should be as thick and translucent like jelly right out of the microwave, but it will thicken up further as it cools.
Kids' work is to play. WeeWork is a Mommy Poppins series offering an easy daily activity for grown-ups and children to do together, making kids' work an important part of your day. We aim to inspire together time, creativity and fun using only your imagination and things around the house. You can see all our WeeWork activity posts here.