Great Wolf Lodge Poconos' New Interactive Video Game Style Waterslide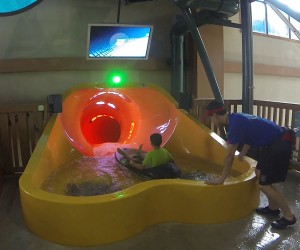 Indoor water parks are popular family destinations year-round; unlike a trip to the beach or a weekend in the woods, you don't have to worry about the weather ruining your good time. Great Wolf Lodge is always a favorite with the kids, but the resort recently invited us to check out its newest attraction in the Poconos: the interactive Slideboarding water slide.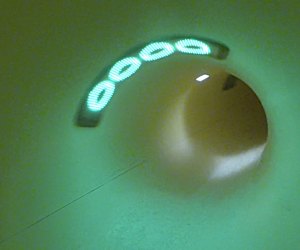 Among the first of its kind (a Wet'n'Wild in Las Vegas also has one), Slideboarding aims to combine video games and water slides into one kid-geared extravaganza. The two handles on the board each feature two color-coded buttons and you're tasked with matching the buttons to the LED light rings appearing in the tube. The board's seat rumbles when you successfully hit your target while the music genre of your choice echoes around you. Points are accumulated and levels are unlocked with each ride, all meant to encourage more trips down the tube. You can even save points "forever," ensuring you won't lose your score when it's time to go home. Sounds like every young gamer's dream, right? Well, not quite.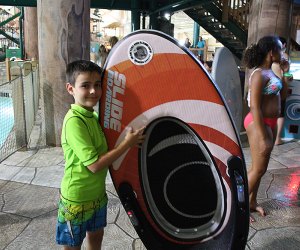 For one thing, the boards are heavy—really heavy. My almost-9-year-old had a tough time maneuvering it up the multiple flights of stairs necessary to climb to the slide. Although he eventually made it up (with assistance from me), it definitely made it a much less attractive option going forward. He almost dropped the board down the stairs at one point, which would have been a total nightmare to the people down below. Bill Colavito, GM of Great Wolf Lodge, told us the park is looking into having the boards waiting for riders at the top, which would go a long way for younger riders.
Second, the slide is not especially fast and not especially twisty, so take that for what it's worth. My son, a thrill-seeker who thinks faster is better and steeper is cooler, found it a little dull after his first two rides. I ride on the mellower side, making it more my cup of tea, so keep your kids' bravery levels in mind when choosing rides. Trying to boost your score is truly the most exciting part, and that's something you can only do if you're able to go down often.
Which brings us to the lines: Like all popular attractions, Great Wolf has its share of long lines—irritating but inevitable lines that can occasionally be exacerbated by mechanical mishaps (my husband and son waited 45 minutes for one ride after a slide went out of order). Slideboarding requires an initial three-step registration process. First you must register your nickname and password at one kiosk, and then you travel to another kiosk to link your Slideboard to the account. Right before you go down the slide, another attendant links the board again to your ride. (This process drops down to the last two steps for all rides after the first one.)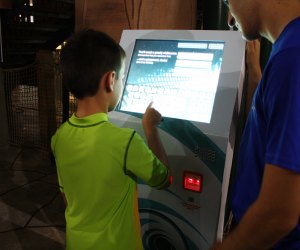 Although this might sound confusing, it really wasn't. Great Wolf Lodge had plenty of employees helping people register and moving things along. It does, however, slow things down, and when the lines were long my son sought more bang for his buck, choosing more thrilling rides over Slideboarding.
We also tried the Clubhouse Crew while we were there, which is essentially Build-a-Bear combined with the resort's ever-popular MagiQuest. After creating an RFID-chipped stuffed animal, you wave the animal in front of kiosks around the resort to complete a story. It took my kids about an hour to do the entire thing, and although it was really more appropriate for my 4-year-old, my older son still had fun playing the touchscreen games needed to unlock the next task.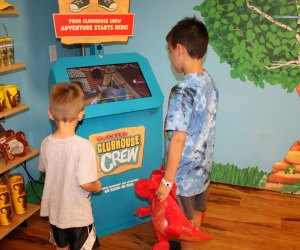 Take note if you're planning a Great Wolf Lodge trip this winter: Guests visiting in December will have the option of reserving one of the "Snowland" family suites for an extra $40. The suites will contain a white Christmas tree, plastic snowflakes hanging from the ceiling, special blankets and books to bring home, and a milk and cookies delivery from one of the characters. It's not a bad way to add some holiday magic for those families who give up holiday presents in favor of trips. Also make sure to check out our money-saving tips before you go.