How Does America's Most Playful Family Play? You Might Be Surprised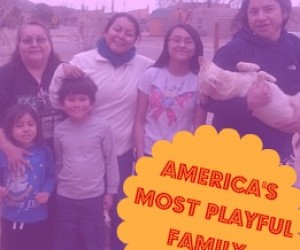 This season, we're partnering with KaBOOM! to promote a SUMMER OF PLAY. A few months back, KaBOOM!, the nonprofit dedicated to bringing play to all children, held a nationwide contest with Walt Disney Parks and Resorts to find America's Most Playful Family. Families all over the country shared the different ways they like to play, often illustrating that you don't need lots of toys or organized activities to have a great time. Play ideas can come from people of all ages, even caring adults who ensure kids get the balanced and active play they need to thrive.
You can't help but be inspired by America's Most Playful Family contest winners, the Thomases from Laguna Pueblo, New Mexico. Even though they don't have playgrounds in their community or fancy playthings, they invent games that incorporate cultural traditions and all three generations of family. Watch the video family portrait that won them the title, and then read about some of their fun games that you can try at home—no batteries needed.
Don't forget to share your family's playtime on social media with the hashtags #summerofplay and #playmatters to inspire others and for a chance to win the Ultimate Summer of Play Bash or other prizes. And check our Summer of Play gallery on Facebook to see what others are posting.
Family matriarch Trish and her daughter and son-in-law use play as a way to teach the kids valuable life lessons about health, partnerships, relationship-building, culture and tradition. They routinely use nature and their surroundings to incorporate play into their day by hiking and biking together, and using their backyard for creative play. They also build games around the five senses, which is a great way to learn through play.
Here are some of their ideas to try with your family:
The next time your family plays I Spy, discuss how sight is one of the five senses, and then really explore the attributes of each chosen object. Go beyond the obvious descriptions and challenge everyone to observe the details.
For touch, place different objects in a box and take turns guessing what's inside. Is it spaghetti or worms?
Take a walk outside and talk about the different odors and try to identify them. How does one flower smell different from another?
Observing different sounds while on a hike can also be turned into a game. What kind of bird is singing? Is that a cricket chirping?
For taste, have a blind taste test and take turns identifying different fruits or ice cream flavors.
As a final tip, try putting an imaginative twist on an old favorite. For example, don't just play tag, try zombie tag instead.
We want to know how you play. Post your playful pics on Twitter or Instagram with the hashtags #summerofplay and #playmatters or add them to our SUMMER OF PLAY Facebook gallery. Not only will you be entered to win our SUMMER OF PLAY CONTEST, you'll help inspire other families, too.
Need more play ideas for your family? Check out our SUMMER OF PLAY GUIDE for hundreds of play ideas that don't require much more than a fun attitude.