Even Kids Love The Bard at the Hudson Valley Shakespeare Festival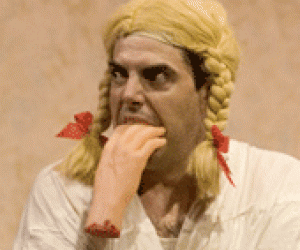 If you read our recent post on free outdoor Shakespeare performances and loved the idea, but worried your kid couldn't handle it, we've got another recommendation. The Hudson Valley Shakespeare Festival is doing performances of "The Complete Works of Shakespeare (Abridged)" that are so entertaining and funny that we had three kids (ages 5-10) at rapt attention for the entire show, laughing hysterically and (literally) quoting lines from Shakespeare the next day.
One of the geniuses of Shakespeare has always been that it works on so many levels. While we may think of Shakespeare's plays as the high brow and somewhat inaccessible, they are actually filled with lots of very low-brow humor, potty language and puns (the lowest form of humor), couched in flowery talk. Of course, The Complete Works of Shakespeare (Abridged) is a parody of Shakespeare's works, but they're working with some very rich material.
The show starts off with a very abridged version of Romeo and Juliet where three, all male, actors play the various key roles, twisting the lines for comic affect. One of our kids' favorite lines from the whole show was Romeo's plea to Juliet to "call me but love..." which becomes "call me butt love" in their version.
Hamlet
The play proceeds with lots of physical humor, bawdy jokes, cross-dressing, contemporary pop culture references, and audience interaction. They really do "perform" every play, but keep it all very fast paced so there's not a second when a kid could get bored and the entire thing ends with a five second version of Hamlet followed by an encore performance of Hamlet backwards.
Family workshop before the show
The Hudson Valley Shakespeare Festival is being staged at Boscobel, one of the Hudson Valley's historic mansions. The plays take place in a tent (it rained during our performance, but we hardly noticed) with a gorgeous view of the Hudson River as a backdrop. You can arrive early to tour the mansion or just picnic on the lawn. Food and drinks are sold at the site or you could also visit the cute nearby town of Cold Spring to make a day of it (find day trip ideas for the area in this post).
Picnicking
The Hudson Valley Shakespeare Festival runs Tuesday through Sunday with three shows in rotation (Complete Works, Much Ado About Nothing and Pericles). There are two family nights, July 14th and July 22nd in which a free workshop precedes the performance, but I would recommend going to see Complete Works Abridged, which needs no introduction, and skip the family night.
Kids get their YA-YAs out before show and during intermission
Boscobel is in Garrison New York, about an hour north of New York City, and if you don't have a car, you can take Metro-North and arrange to get picked up at the station by the "Bard Bus." Show tickets are $30 for adults and $15 for children. Find out more about the Hudson Valley Shakespeare Festival, see the complete schedule and buy tickets at hvshakespeare.org.