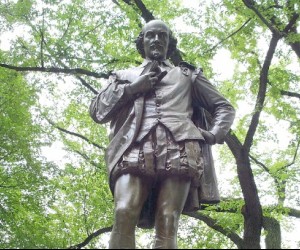 Free Family-Friendly Shakespeare in NYC Parks: Shorter & Less Crowded Than Central Park
To see, or not to see... with kids? That is the question when it comes to Shakespeare. While FREE outdoor mountings of the Bard's iconic plays abound in NYC every summer, some are more family-friendly than others. Yes, the Public Theater's Shakespeare in the Park productions in Central Park get all the press and feature big stars, but they also involve insane ticket lines and long running times, plus prickly patrons who may give you the stink eye if your child gets fidgety. Happily, lots of other local troupes put on quality, no-cost Shakespeare shows in various NYC parks. These revivals don't require tickets or reservations, are engaging and accessible, and often cut down to under two hours, so your kids have a better chance of making it all the way through (and if they don't, just leave quickly and quietly—no money wasted!).

I started taking my 9-year-old daughter to outdoor Shakespeare when she was 7, and now she's totally hooked. Here are seven FREE Shakespeare shows to enjoy with your kids this summer, plus tips on how to make the most of the experience.
Remember, performances may be canceled due to inclement weather so be sure to check the official show website before heading out.
New York Classical Theatre – Manhattan & Brooklyn
FREE
For 16 years, New York Classical Theatre has been mounting some of the most family-friendly Shakespeare in town. No seats or stage here; the productions take place throughout various NYC parks, so audiences literally follow the action from location to location, a concept that earned the company the nickname "Shakespeare on the Run." (Comfortable shoes are a must!) Kids absolutely love chasing the actors and, when appropriate, performers even break the fourth wall to keep younger viewers engaged. (We saw the troupe's As You Like It last summer, and my daughter still talks about how one of the actors came right up to her to deliver his speech.) Bonus: The shows are cut down to two hours and start at a bedtime-friendly 7pm. This summer, New York Classical Theatre is presenting:
The Taming of the Shrew – Battery Park City
Wednesday, July 8, Friday, July 10-Sunday, July 12 at 7pm
Teardrop Park, enter at North End Avenue between Murray and Warren Streets
Enjoy this battle of the sexes comedy as Petruchio tries to win the hand of Katherina, a headstrong and sharp-tongued woman hellbent on staying single.
Measure for Measure – Battery Park & Brooklyn Bridge Park
Tuesday-Sunday, July 14-August 9 at 7pm at Castle Clinton in the Battery
Bargemusic on Pier 1 in Brooklyn Bridge Park: Tuesday, August 11, Wednesday, August 12, Friday, Auguat 14-Sunday, August 16 at 7pm FREE
This seriocomic morality play explores society's divide between virtue and greed as a Duke goes undercover as a monk to meet his subjects, while his corrupt deputy wreaks havoc. Measure for Measure is considered one of the Bard's "problem plays" with jarring shifts in tone, and is probably better for kids with some familiarity with Shakespeare.
With New York Classical Theatre's Shakespeare productions, audiences literally follow the action throughout NYC parks.
The Tempest by Classical Theatre of Harlem – Marcus Garvey Park
Tuesday-Sunday through July 26 at 8pm
Richard Rodgers Amphitheater in Marcus Garvey Park, enter at 124th Street and Fifth Avenue
FREE
The first Shakespeare production my daughter ever saw was CTH's A Midsummer Night's Dream back in 2013. The company edits the shows down to a brisk 90-or-so minutes, uses rainbow and gender-blind casting, and infuses them with African dancing and drumming. We just saw CTH's The Tempest over the July 4th weekend and I can honestly say I liked it a lot more than the one going on at Shakespeare in the Park. Exiled from his home to a magical isle, Prospero conjures up a storm to bring the royals who done him wrong to his domain. Admittedly, the political intrigue can be hard for kids to follow, but they love the drunken antics of the fools Trinculo and Stephano, and the budding romance between Prospero's daughter Miranda and the shipwrecked Prince Ferdinand. Plus this mounting features lots of eye-popping costumes, some aerial work and enthusiastic dancing.
Hip to Hip Theatre Company – Queens & Riverdale
FREE
This Queens-based troupe's mission is to mount free, family-friendly classics in public spaces, mostly in its home borough. Its Shakespeare productions are cut down to 90 minutes, and every performance is preceded by a 30-minute Kids & the Classics interactive workshop. This summer, Hip to Hip Theatre Company is presenting:
The Merry Wives of Windsor
Various locations, dates and times throughout July and August; see the website for the complete schedule.
A farce about courtship and jealousy as the Bard's iconic Sir John Falstaff attempts to romance the wives of the two richest men in town, but he's not the smoothest player.
The Merchant of Venice
Various locations, dates and times throughout July and August; see the website for the complete schedule.
Though classified as a romantic comedy, Merchant is best known for its dramatic secondary plot about Shylock, a Jewish money lender who asks his latest client for "a pound of flesh" for nonpayment. Since it brings up issues of prejudice and cruelty, it's best suited for older kids with some familiarity with Shakespeare.
The Drilling Company – Midtown West & Lower East Side
FREE
This troupe actually mounts two different no-cost Shakespeare series in NYC. The veteran Shakespeare in the Parking Lot, which is exactly what it sounds like, the Bard's plays presented bare-bones-style in an outdoor garage, along with productions in the more scenic Bryant Park. This summer, the company is presenting five Shakespeare shows, but the best bets for families are:
Romeo and Juliet – Midtown West
Fridays, July 17, 24 and 31, and Saturdays July 18, 25 and August 1 at 6:30pm; Sundays July 19, 26 and August 2 at 2pm
Upper Terrace in Bryant Park, Sixth Avenue between 40th and 42nd Streets
The ultimate tragic teenage romance, as well as fodder for West Side Story and much adolescent poetry. Expect a contemporary angle with the action set in a city divided by class.
As You Like It – Lower East Side
July 9-26 Thursdays-Saturdays at 8pm
Parking lot behind the Clemente Soto Velez Cultural and Educational Center, 114 Norfolk Street between Delancey and Rivington Streets
I'm looking forward to taking my daughter to this Steampunk-style take on this classic comedy, about a whole bunch of royals banished to the Forest of Arden. Expect lots of cross-dressing, confusion and romance.
And if you really must do Shakespeare in the Park, be prepared to wait in line for hours at Central Park's Delacorte Theatre, or you can try the in-person ticket lottery downtown at The Public or the virtual one online. The Tempest plays through Sunday, July 5, and Cymbeline runs Thursday, July 23 to Sunday, August 23.
But that's not all. There are plenty of other Shakespeare productions playing throughout NYC parks this summer—we just picked out the best bets for families.
Tips for Taking Kids to Free Outdoor Shakespeare
Wait until the kids are truly old enough to appreciate at least some of it. While it varies from child to child, I'd say 7 is a good minimum age.

Choose the show wisely. The Bard's comedies, like Much Ado About Nothing, A Midsummer Night's Dream and The Comedy of Errors, are better first Shakespeare experiences than his history plays.

Discuss the plot in advance. It's helpful for kids to know the story going in. Even though they probably won't understand all the language, they will still be able to follow the action.

Bring snacks and water. Keeping the kids hydrated and full should help them make it through.

Bring jackets and insect repellent, too. It can get cold and buggy out there at night!

Try to grab an aisle seat. That way you can make an easy exit if necessary.